Tuesday is decision day on two continents, with the intensity level burning hot in the United States of America.
Jurgen Klinsmann and the United States men's national team have the chance to become legends in their country by knocking off Lionel Messi and Argentina to reach the Copa America Centenario final.
[ LIVE: Follow Copa America 2016 ]
Over at EURO 2016, the first two magic numbers for third-place teams is set, and they are five and/or plus-1. That's because the third place finishers in Groups A & B — Albania and Slovakia — are set, meaning a better finish than Slovakia earns a knockout round place for a third-place team.
Slovakia finished with four points and an even goal differential, meaning five points with do the trick, or four points and a positive GD.
[ LIVE: Follow EURO 2016 ]
Five matches today. Five! What a day for our sport around the globe.
---
Essential reading: PST talked with USMNT legend Landon Donovan on the Copa America semifinal, his generation's legacy and his broadcasting career. … Croatia's been fined six figures for its fans' throwing flares and causing in-stadium mayhem at EURO 2016.
ICYMI: Roy Keane is cool with Irish players doing whatever it takes to get to the knockout rounds. … Gareth Bale and Aaron Ramsey led Wales to the EURO's Group B title, while England stuttered to a second-place finish.
---
EURO 2016, Game 29: Ukraine vs. Poland
When: Tuesday, Noon ET
Where: Stade Velodrome in Marseille
Live updates: NBCSports.com
Ukraine is out, but will relish the chance to play spoiler to Poland. That result would still need to meet Northern Irish success versus Germany to cost Poland the knockout rounds, but Poland will also be aiming for the group title. It needs to make up a goal of difference on Germany.
---
EURO 2016, Game 30: Northern Ireland vs. Germany
When: Tuesday, Noon ET
Where: Parc des Princes in Paris
Live updates: NBCSports.com
Little known Northern Ireland was favored to finish close to last in the entire tournament, but a defeat of Ukraine has it in the discussion to advance to the knockout rounds. What it will need is a point or better against powerful Germany, which hopes to kick on offensively through Thomas Muller.
---
EURO 2016, Game 31: Czech Republic vs. Turkey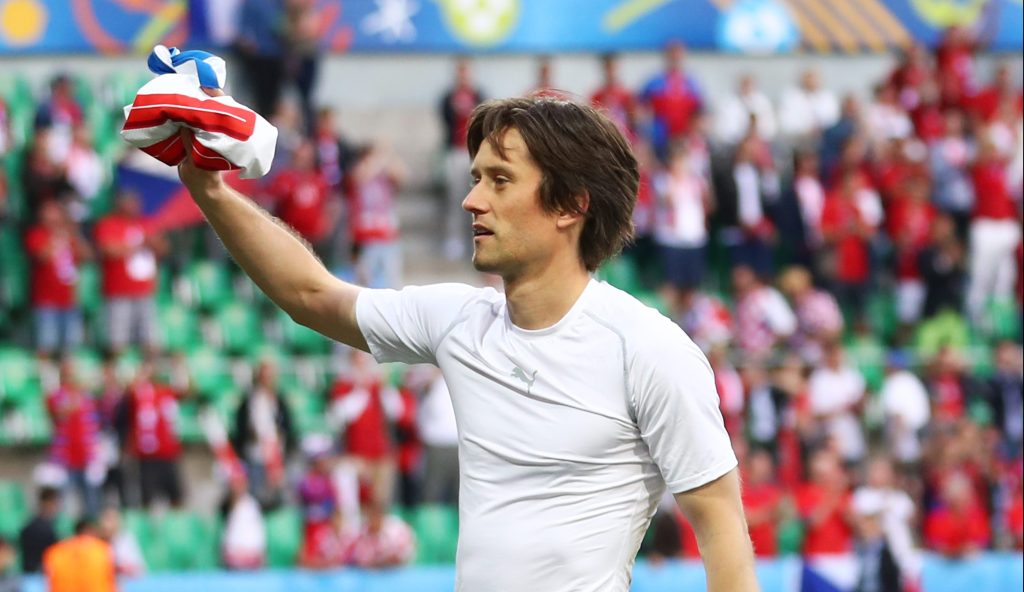 (Photo by Julian Finney/Getty Images)
When: Tuesday, 3 p.m. ET
Where: Stade Bollaert-Delelis in Lens
Live updates: NBCSports.com
The Czechs need a win and a Croatia loss, preferably either being multi-goal, to finish in the top two. Turkey needs a win by as many goals as possible and help to be one of four third-place teams to go through.
---
EURO 2016, Game 32: Croatia vs. Spain
When: Tuesday, 3 p.m. ET
Where: Nouveau Stade de Bordeaux in Bordeaux
Live updates: NBCSports.com
A draw would put both sides through, though Croatia would love to beat Spain to snare Group D. Remember, the path to the final is much easier by winning this particular group.
---
Copa America, Game 29: United States vs. Argentina
When: Tuesday, 9 p.m. ET
Where: NRG Stadium in Houston
Live updates: NBCSports.com
No, it's on the stage of a World Cup, but the United States can engineer one of the top results in the history of the men's national team with Lionel Messi and Argentina having sauntered into Texas. The Yanks will be without Jermaine Jones, Alejandro Bedoya and Bobby Wood, but it was always going to be a test. Landon Donovan thinks it'll be tight. Do you?