NICE — Iceland beat England 2-1 at the Stade de Nice on Monday as the greatest moment in their soccer history arrived.
[ MORE: England in ruins after exit ]
The Three Lions were the victims of one of the most incredible upsets in European Championship history and they didn't deserve to advance.
[ MORE: Iceland "shocked the world" ] 
The smallest nation to ever compete in the Euros has made it the quarterfinals.
Here's what we learned from a dramatic, historical night in Nice.
---
HART, ROONEY COST ENGLAND
England's two most experienced players on the pitch let them down badly. Yes, captain Wayne Rooney scored a penalty kick after five minutes but that's all he did. His touch was heavy, he overplayed, gave away possession and England's captain and talisman had a woeful game which summed up the performance of his team. He was subbed out with 2 minutes to go for teenager Marcus Rashford and was jeered off the pitch.
Plus, yet again in a major tournament a goalkeeping error led to England's downfall. In 2002 it was David Seaman who misjudged Ronaldinho's cross. In 2010 it was Robert Green who somehow let Clint Dempsey's daisy-cutter dribble through him and into the net.
Now, Hart's mistake may not have been quite as bad as those but its impact was catastrophic. In the 18th minute Kolbeinn Sigthorsson sent a tame effort towards the bottom corner. It went through Hart's grasp and in. There wasn't much pace on the effort and the Manchester City goalkeeper knew he'd dropped a clanger. Hart, for the first time in a long time, has held off strong competition to keep his starting spot as England's first-choice goalkeeper. This won't help him in the long term. He, alongside Rooney, will be blamed most for England's exit.
---
ICELAND DESERVE GREATEST MOMENT
"We are going in with a mindset that we are going to win the game. I think it is the perfect time for Iceland not to upset because we have a good team with self confidence, it is the best time ever to beat England at a big tournament. We are going in it tomorrow to win it."
Those were the words of one Iceland fan on the eve of the biggest game in their history. It echoed the views of the fans, staff and players. Iceland may be the biggest underdog story in the history of the Euros but they are in the quarterfinals and deservedly so.
In the qualifying stages they finished above Holland, Turkey and the Czech Republic. They finished ahead of Portugal in Group F and the incredibly well-organized side — a penchant of their Swedish coach Lars Lagerback — drag themselves in front after going behind in the fifth minute. Sure, there was a touch of fortune about their second but as soon as they went ahead they sat back, soaked up the pressure and frustrated England.
They had a game plan and all 11 players believed it would work. All 320,000 Icelandic citizens believed and a statement from their joint manager Heimer Hallgrimsson summed it up beautifully before the game began.
"If we beat England their lives will change, and all of our lives will change, significantly. Icelandic football will go up in reputation and the way we approach football will be different. It'll look different for us."
They did beat England and the greatest moment in Icelandic soccer history arrived.
Their fans were incredible in the Stade de Nice with their rhythmic chants spurring their players on. There will be scenes like never before in Reykjavik. In the land of the Midnight Sun, they won't stop partying until it goes dark as they face France in the quarterfinals in Paris this Sunday.
---
MESSY END FOR HODGSON
Roy Hodgson's side let him down badly and now he will pay the ultimate price. Hodgson, 68, only had a contract as England manager until the end of EURO 2016. Now that is over, he knows his time as England's boss is over.
UPDATE: He announced his resignation minutes after England lost to Iceland.
Strolling around the Promenade des Anglais and mixing with fans on the day of the game, Hodgson looked calm and relaxed. By the end of the day he was looking hot under the collar as he stood on the steamy sideline in Nice.
This is where it ends.
Even though Hodgson's four years in charge have offered plenty of moments of hope, his legacy will be one of underachievement and disappointment. He tried to rebuild England into a team full of young, dynamic atrack-minded players. They didn't show up when it mattered most.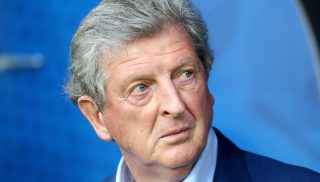 England haven't won a knockout game in 10 years at a major tournament and that unwanted stat will now be extended to 12. Hodgson won't be in charge in Russia at the 2018 World Cup, if England gets there. There are no outstanding contenders to replace him and that leaves England in a real mess. This crop promised so much, especially in attack, but they've floundered once again in a major tournament. It is an all too familiar sight for England's fans.
Hodgson's side made too many basic defensive errors. Aron Gunnarrsson has a long throw. England pinpointed that long throw as a major strength for Iceland. So, of course Iceland scores from their first long throw of the game, just 60 seconds after Rooney had put them ahead. Rooney lost the initial flick on to Gylfi Sigurdsson and Kyle Walker lost Ragnar Sigurdsson after the flick. Then came Hart's howler and here we are.
This has to go down as the biggest embarrassment in English soccer history since they lost to the USA at the 1950 World Cup. England have now played 20 knockout ties in major competitions since they won the World Cup in 1966. They've won just six of those.
There have been plenty of defeats and penalty shootout heartbreak along the way but this was difference. This was a team which was outfought and went home with a whimper.