BALTIMORE – It wasn't long ago that Southampton FC was playing in the third division of English football, still recovering from financial issues that saw the club enter administration.
Five years later and Saints were in Baltimore promoting a long-term partnership with Under Armour as the club looks ahead to another campaign in the Premier League, while also spreading their message of excellence in youth development overseas.
[ MORE: Saints' kit launch at UA's HQ ]
In each of the least seven seasons Southampton has finished in a higher league position than the previous year. Last season they recorded their highest-ever finish in the PL (sixth) and the remarkable growth continues with their first-ever appearance in the Europa League group stage assured for the upcoming season.
Mo Gimpel has seen the growth of the club first hand, starting his career as a physio for Saints' youth teams nearly 20 years ago.
Now Southampton's Director of Sports Medicine & Science Performance, Gimpel is working with a first-team that is preparing to play European football at St. Mary's Stadium.
[ MORE: Southampton's plan to grow in USA ]
Throughout the ups and downs, one thing has remained constant at Southampton: the commitment to their academy.
The Saints Academy has grown to be one of the best in the world, producing the likes of Gareth Bale, Theo Walcott, Luke Shaw, Adam Lallana, and Alex Oxlade-Chamberlain.
While in Baltimore, ProSoccerTalk spoke with Gimpel to see what makes Saints Academy so successful, and how the club's growth into a global brand is helping their youth program grow as well.
When asked about the academy, the first thing Gimpel mentioned was their educational program. When competing to sign youth players with other clubs in the area, Gimpel believes Southampton's commitment to education makes them a more attractive draw.
"If you're failing in your education, and you're not putting in your weight in education, and we've been promising your mom and dad, saying 'Give us your boy and we'll give him a good education and there's a possibility he'll become a professional footballer,' if he's not pulling his weight in education then he doesn't train. It's education first because we recognize that you need good people to then put in good work."

"Even if you don't make it as a football player, you'll have a better education than you would get at home. We create gentlemen, not just football players."
Players start coming into the academy as young as seven-years-old, with some players moving away from home at the age of 12.
As soon as those kids come to Southampton's Staplewood Training Ground, they undergo an advanced series of benchmark testing to give the coaches an outlook on their potential.
"When any player comes in, from Under-9's to the first-team, they get benchmarked. They do psychometric tests, they do physical tests. We do growth and maturation so we know this Under-14: how tall is he going to be? What's his physiology? Is he a better midfield player or is he a better right back?

For a goalkeeper, how tall is he ultimately going to be? If he's going to be shorter than 6-foot-3-inches, he's probably not going to be a Premier League keeper. It throws up a moral dilemma, do we keep him or don't we keep him? But maybe at 12-years-old, he can be a really good outfield player. So we do a whole range of benchmarks, the same with the first team."
All of this information is filtered through a high-tech software Gimpel called "The Black Box."
The Black Box is vital to Southampton's success, collecting data from players at all levels for coaches to analyze.
"We have a program in the schools that every boy in our local region, in the Hampshire area, we know him. Pretty much every boy in England who plays at a fair level, we know. The Black Box pulls in information about everyone. With that knowledge, we have coaches out in the community feeding that into the Black Box system, and then we have a development program that pulls in all the best players to bring them into the club and join the academy."

"We can compare if our Under-13 left-back is showing the same playing style as our first-team left-back. So it's now taking talent ID to another level where it's looking at the technical side as well."

"We can look at a potential target and see how they play the game compared to how we want them to play the game. If we play a style of football where the left-back is bombing on, there's no point in buying a left-back who doesn't do that."
Other top football clubs such as Juventus and Ajax have come to Staplewood to learn about the Black Box system, with the NBA's San Antonio Spurs and MLB's Kansas City Royals also working with Southampton to use the technology in American sports as well.
With such great success, Gimpel credits the Black Box with potentially saving the careers of two "late bloomers," Real Madrid's Gareth Bale and Arsenal's Alex Oxlade-Chamberlain.
"At 15 or 16-years-old, the other guys were physically just knocking Gareth Bale all over the place. Technically he was a good player, that was never in doubt, but the question was, 'Was he going to be tall enough and strong enough?' So with our screening process, we said he's probably going to be around 6-foot-1. There was a vote: do we sign him don't we sign him? We're going on this crazy equation, and we signed him, thankfully. 

"Gareth was a late developer, so understanding growth of kids is absolutely fundamental. I would throw it out there that we are definitely leading the Premier League, I would suggest we are probably some of the world leaders, in the growth and maturation of young athletes."

"At 16-years-old, Alex Oxlade-Chamberlain was playing a year down because he couldn't cope with the 16's, but we knew he was a late developer. We knew just give him time, let him grow, and he will fly. He hit his growth phase at 17, and in six months he went from being on the bench for the 17's to playing in the first-team, and Arsenal snatched him up for 12-million pounds." 

"So what we are doing now, we are going around the country and looking for all the late developing players who are cut from Premier League teams. And we say, 'Listen, come join us.' They are the gold dust."
All of the preliminary testing and Black Box data collected for youth players is also used the first-team, part of an approach that Gimpel helped create at the Academy through his time with the club. Despite the high turnover between players and managers in the Premier League, Saints do not alter their academy's structure, keeping a consistent approach throughout the program.
"The biggest thing I've done is a bottom-up approach. All the great processes in the academy you put into the first-team, and when a new manger comes in, he does not change that process. A lot of clubs the new manager comes in, he changes so much, and then he's gone in a years time. There's no continuity."
Every six weeks, each Southampton player comes in for a meeting with coaches to review their progress and set goals for improvement. These meetings are held for every player in Saints' system, from a local 13-year-old to club captain Jose Fonte.
By handling the youth players similar to Premier League professionals, Saints hope to produce a first-team made up of 50-percent of academy graduates with the duo pictured below — James Ward-Prowse, left, and Matt Targett — the latest to come off the conveyor-belt.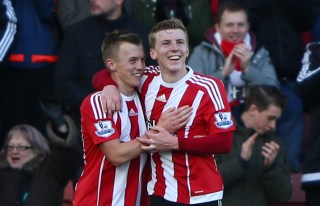 Southampton led the Premier League last season in minutes played by academy products, a testament to the success of the program.
Now a top-level side competing for a spot in the Champions League, Saints are hoping to spread their academy's values and principals outside of England.
"Our goal internationally is to be the preferred choice, the number-one brand for coaching education and player development. And to that end, we are teaming up with Under Armour looking to go into clubs in the U.S. and say 'We will help your club develop coaches and develop your processes to make your players better,' and the U.S. federation is very pleased about these things."

"The biggest U.S. problem is that parents and kids want to win every Saturday, and if they're not winning, they just move to another club. That does not breed development. Kids have to learn how to lose, they have to learn about dealing with tough times. It's not always about winning, it's about development."