Only one team is above .500 on the road in Major League Soccer this season, and that happens to be one of only three teams that have lost as many games as they've won at home.
So it goes in the parity-driven, massive-travel world of MLS.
We'd love to tell you that San Jose's eighth place standing in the West means it won't hold a candle to conference leading Dallas, or that L.A.'s rampant attack will win comfortably in Seattle.
[ MORE: Impact land Italian striker on loan]
But we'd have no right to hold those beliefs in a world where home teams, more or less, have had trouble not finding points.
In most leagues, there are precious few teams whose production isn't similar at home than on the road. For every Sevilla, Newcastle, or West Ham, there are dozens of clubs that fall along the same fate at home as they do on the road, give or take.
What that also means, however, is that we have an excellent opportunity to use the standings table as a litmus test for who's genuinely a strong team by taking victories on the road. There's reason to believe in Colorado (just two losses from eight road games) and NYC (just one road loss in eight).
Who will defy the odds this weekend? A few selections:
Dallas at San Jose
These two foes met in the same spot on May 28, and neither side scored. Oscar Pareja and Dallas have had good luck against Dominic Kinnear sides dating back to the latter's time with Houston, sweeping the season series. The Quakes haven't won since May 11, while Dallas has one loss since that same date.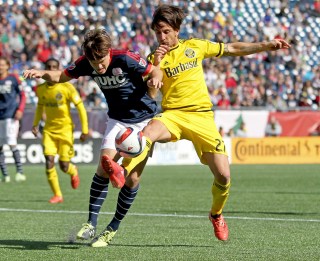 Columbus at New England
Surely last season's East champs aren't as poor as their results this year, and the Crew will have a chance to prove it when they bring their winless road mark to Foxborough to face a New England team that is leaking goals and has only taken 13 of 27 points at home. The Crew have just two points from their last four games, while the Revs have lost three on the bounce.
Friday
Houston at Orlando, 8 p.m. ET
Dallas at San Jose, 10:30 p.m. ET
Saturday
L.A. at Seattle, 3 p.m. ET
DC at Philadelphia, 7 p.m. ET
Chicago at Toronto, 7:30 p.m. ET
Columbus at New England, 7:30 p.m. ET
Montreal at Real Salt Lake, 10 p.m. ET
Colorado at Vancouver, 10 p.m. ET
Sunday
Portland at New York Red Bulls, 6 p.m. ET
New York City FC at Sporting KC, 8 p.m. ET