It wasn't so long ago — six years, to be exact — that French football had disgraced itself with a group-stage exit (finishing 29th of 32 nations) and a locker room blow-up for the ages at the 2010 World Cup in South Africa.
[ FOLLOW: All of PST's EURO 2016 coverage ]
Nicolas Anelka said some extremely unsavory things to then-manager Raymond Domenech and was ultimately banished from the national program forever; current French international Patrice Evra incited and led a squad-wide walk-out during a training session; Jean-Louis Valentin, who served as team director, resigned. All of this occurred before France's final group game had been played. It was the unceremonious, ugly end of Thierry Henry's legendary international career.
Now, buoyed by a generation of exuberant, relatable youngsters inching toward global superstardom, France finds itself back on the doorstep of footballing immortality: 90 (or 120) minutes away from being crowned champions of Europe for a record-tying third time (alongside Germany and Spain's three titles).
[ MORE: Griezmann vs. Ronaldo — EURO 2016's superstar no. 7s ]
Antoine Griezmann (6 goals) leads the EURO 2016 Golden Boot race by a wide margin, three ahead of a pair of teammates, Dimitri Payet and Olivier Giroud. We knew this France team would be a joy to watch, but Les Bleus have comfortably over-delivered on the excitement and champagne football expected of this tournament.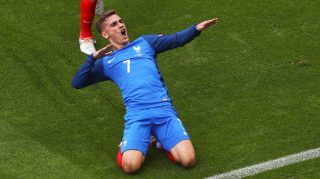 With Didier Deschamps finally settling on a Paul Pogba-Blaise Matuidi midfield-two, France have scored more goals (13) than any other side at EURO 2016. When Adil Rami found himself suspended for the quarterfinal victory over Iceland, 22-year-old Samuel Umtiti slotted into Rami's starting center-back role and retained his place for the semifinal triumph over Germany. Powerful, dynamic and free-flowing on the attack; increasingly resolute and formidable in defense — goals conceded: four, in six games.
---
It wasn't so long ago — or maybe it was; 12 years this week, to be exact — that a precocious, fleet-footed 19-year-old talent helped Portugal to the final of EURO 2004.
You're probably familiar with his work by now. He is Cristiano Ronaldo, and he finds himself 90 short (or 120 long) minutes from a feat that would cement his already-safe place, beyond any reasonable argument, as one of the game's all-time greats: leading Portugal to victory at a major tournament.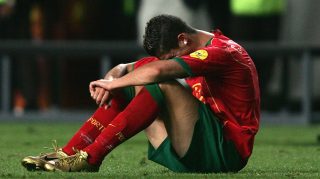 Forever intertwined with Lionel Messi in this inane "who's the best player in the world?" debate (can't we just enjoy and appreciate both of them without the need to assign their places in history before their careers are finished? … But Messi is the better player and inarguably the best of all time, for the record.), Sunday's final in Paris presents Ronaldo an unlikely opportunity to temporarily or perhaps permanently one-up his El Clasico rival as the first (or only) of the two to win a major international tournament.
[ MORE: Ronaldo revels in Portugal reaching EURO 2016 final ]
Messi has failed three summers in a row, driving him to retirement from the international game (for now, at least), leaving the door wide open for Ronaldo, who has also been close — back to the semifinals of EURO 2012 — since suffering defeat to Greece in that 2004 final in Lisbon.
Of the six players currently on three goals this tournament, Ronaldo and his Portuguese teammate Nani make up half of the non-French contingent. The 2016 squad, outside of the aforementioned ex-Manchester United wingers and 18-year-old midfielder Renato Sanches, lacks the typical flair of Portuguese teams of the past, instead opting for an ultra-disciplined approach that favors pragmatism and defensive solidity.
France will find it far more difficult to fashion scoring chances against Portugal than they have done throughout EURO 2016 so far. France will look to limit those of Portugal by pouring on the attacking pressure and pinning A Selecao inside their own half for prolonged periods. No matter which side comes out on top on Sunday, we'll have an incredible story of perseverance and a legacy forever defined to celebrate and champion at full time.