Pep Guardiola gave his first press conference as Manchester City's manager on Friday with the Spanish coach humble and gracious in front of the assembled media.
He had a simple message he wanted to convert: "we are going to try and do our best for our people."
[ MORE: Klopp signs extension ]
As well as saying he is "curious" to work with Raheem Sterling and "his dream" for Vincent Kompany is for him to be fully fit. Guardiola also spoke about renewing his rivalry with Jose Mourinho as his old foe has just taken over at Manchester United, saying that "big coaches, and he is one, make me better."
When Guardiola, 45, took over at Barcelona in 2008 he told the fans to fasten their seat belts for the years ahead. He had a similar message for City's fans to start out with.
"Fasten the seat belt… for the other side of the car," Guardiola joked.
Guardiola also revealed that he has met with owner Sheikh Mansour and the City hierarchy three times in recent weeks and is not under pressure to deliver titles right away.
"They didn't tell me 'you have to win the Premier League and the Champions League' or like that," Guardiola said. "He told me do your job as best as possible, do your job the way you are and after that we are going to see. I feel the club is behind us and supports us to reach what we need and what we are looking for."
What is Guardiola looking for? Well, he broke his philosophy down into simple terms.
"Our idea is so simple. When the opponents has the ball, take it back as soon as possible. When you have the ball try to move as quick as possible, try to create as many chances as possible," Guardiola said. "That's all and good team spirit. That is my target for my next life here in Manchester."
Asked if this would be his final job in coaching, Guardiola simply replied: "I don't think so."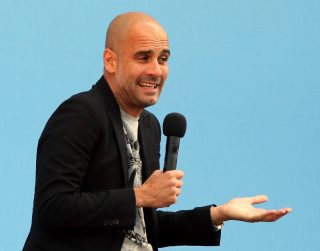 He was then asked if he had other opportunities to coach in the Premier League with Arsenal, Chelsea and Manchester United heavily linked with him in the past, but the former midfielder said it was always City.
"Seriously it was this one. I will always be grateful to this club and the people who chose me to join this country and the Premier League," Guardiola said. "So, of course, I think the coach has to sooner or later prove what it means to coach in England and the Premier League and Manchester City gave me this challenge, this opportunity, the chance and for me, I am grateful for that. I will do my best until the last day to achieve what we want."
What he wants may be more difficult to achieve in England compared to Spain and Germany. At Barcelona he was at the club from the age of 13 and worked with the youth setup and reserve teams and promoted promising youngsters such as Lionel Messi, Sergio Busquets and others into the first team as they won two UEFA Champions League titles and three La Liga crowns.
In Germany he took charge of Bayern Munich, a powerhouse of the Bundesliga, and led them to three-straight titles, plus three-straight UCL semifinal appearances. He's never finished outside the top two of a domestic league in his seven seasons as a manager, plus he's also made at least the UCL semifinal in each of those campaigns.
Guardiola openly admitted he's not quite sure what to expect from the PL but that he will learn and adapt quickly. He expects the same from his players as they mesh and create a style which works best for everyone.
"I have to adapt to the quality of my players. The way they play in Germany is completely different to Spain and I'm pretty sure — I didn't play one game in the Premier League — against Sunderland, against Big Sam I will play the first one. I am pretty sure it will be completely different in England compared to Germany," Guardiola said. "That's why I am here, to see how it is. Of course I have to adapt my ideas to the quality of the players.

"I am looking for the players to adapt to what I want because it is difficult for me to convince the players something I don't believe. In this mix we have to find each other as soon as possible and play that way. There are two or three things which won't change for the rest of my life, they will always be the same. After that the details, a player plays here, little bit back or up front, the little details, it always depends on the quality."
Spending the past 10 days in Manchester at his new gig, Guardiola has only had a handful of training sessions with his new squad. Most of his first team regulars are still away due to their involvement in the Copa America Centenario or EURO 2016 but that's meant he's had time to work with the younger players at City.
The man who promoted several stars from the academy at Barcelona is impressed with City's kids, called their talent levels "amazing" and praising the incredible facilities.
"I love to work with the young players," Guardiola said. "And I knew that they are working the last years very well and Chelsea and Manchester City are the best academies in the way they play and both clubs are fighting for the titles in the academies. I realize in a short time, one week, working with nine to ten players from the academy team, I am really impressed with their qualities. Really impressed."
Does Guardiola believe he can bring his free-flowing, attacking style to the PL and be successful?
"That is why I am here, to prove to myself that I am able to do that," Guardiola said. "Not just here but in Barcelona and Bayern Munich I would not be able to but that is the reason I am here. So I was in Barcelona where I had absolutely everything, the best player ever and most of the team came up from the academy so I knew them. Bayern Munich a club as well where you have a lot of experience for many, many things. Here is another test for my career. We would have been comfortable to stay where we were but now I feel like this is the right moment to come here and to prove myself to be able to convince these players to play the way we want. Not just I want, we want, and at the end we will see."