Portugal and France played out 120 minutes of sheer tension in the EURO 2016 final in Paris on Sunday.
[ MORE: Player ratings ]
In the 109th minute the game-winner arrived through Eder, a substitute who plays his club soccer in France as his lone goal beat France. The hosts were stunned as Portugal won its first-ever major title.
Cristiano Ronaldo's early injury stole the headlines as he was carried off in the first half and the other major storyline was the moth problem in Saint-Denis, as millions seemed to descend from the hot, steamy Parisien sky.
[ MORE: Portugal stun France, win EURO 2016 ]
The final played out in a tense atmosphere inside the Stade de France but it was Portugal who celebrated long into the night.
Here's three things we learned from Paris.
---
INJURED RONALDO JOINS THE IMMORTALS
Diego Maradona led Argentina to glory. Pele led Brazil to glory. Now, Ronaldo has done the same with Portugal without playing past the 25th minute in the final.
In the ninth minute Dimitri Payet thundered into a block tackle with Ronaldo which saw his right thigh slam into Ronaldo's left knee. Portugal's captain went down in agony, holding his leg and then receiving treatment twice, having his knee bandaged on the second occasion.
[ VIDEO: Ronaldo injured early on ]
Then, in the 25th minute, Ronaldo knew it was over. He signaled to the bench and crumpled in a heap on the grass at the Stade de France as a moth fluttered on his face. In tears, he sobbed as he took the captains armband off and gave it to Nani. Ronaldo was inconsolable and the man who had led Portuguese soccer for over a decade was distraught at missing their finest moment.
Payet will receive plenty of ire from Portuguese fans and soccer purists around the world who wanted to see Ronaldo led Portugal to glory and although it wasn't a high tackle or a particularly dangerous one, Payet knew what he was doing.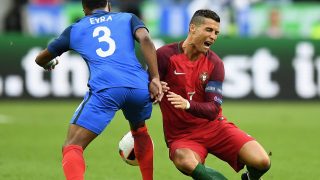 As a 19-year-old Ronaldo lost in the final of EURO 2004 on home soil as Portugal's golden generation were stunned by Greece 1-0. He has worked his entire international career to get Portugal back to a major final with his 61 goals in 133 appearances showing how he has never shirked his responsibility for the Selecao.
This final was meant to be his moment. He is Portugal. He embodies this team and throughout the tournament he drove his teammates on to new heights, scoring three times and adding three assists as well as inspiring them on and off the pitch.
Unfortunately lightning had struck twice at the Stade de France. In 1998 the French were handed a huge boost ahead of the World Cup final, the last time they hosted a major tournament. The Brazilian Ronaldo — at the time he was at the peak of his powers, the greatest goalscorer in the world — went down with a bizarre illness before the game which was never truly explained and although he played on, he wandered around the pitch lost. Brazil lost 3-0 to France and Didier Deschamps lifted the World Cup on home soil.
This time, the Portuguese Ronaldo lifted the trophy. He wasn't around to play for most of the game but his team won it for him as he yelled from the sidelines, hobbling around. They did it for Ronaldo who was fit enough to sit on the bench and led the scenes of utter jubilation after Eder's goal and then at the final whistle.
For all he's achieved in the game at club level, even though he played a small part in the final, Ronaldo finally has a major trophy with Portugal. He's craved it for so long.
This may never settle the Lionel Messi vs. Ronaldo debate (even though Messi has failed to achieve glory with Argentina and maybe never will after his retirement) but there's no doubting this title means Ronaldo has joined the immortals of the soccer pantheon.
---
FRANCE DISJOINTED THROUGHOUT
Didier Deschamps' side had to change their gameplan once Ronaldo went off. They looked uneasy and never got going.
Paul Pogba had a quiet game in midfield, Payet did little apart from injuring Ronaldo and was subbed out, plus Antoine Griezmann and Olivier Giroud had little service to work with.
France seemed to be waiting for things to happen rather than making it happen with Moussa Sissoko the only player taking the game by the scruff of the neck.
The Newcastle United midfielder resembled what Pogba should have been. So often blowing hot and cold for Newcastle in the lower reaches of the PL over the past few seasons, Sissoko was at his very best on Sunday, marauding forward time and time again, spanking long-range efforts on goal and he was the best player on the pitch. It is unlikely he will remain at Newcastle in England's second-tier for much longer.
Deschamps' decision to bring on Kingsley Coman for Payet was a good one as he whipped in a cross for Griezmann and the tournaments leading scorer somehow headed over from six yards out. He also teed up Giroud and looked lively but even Coman's spark diminished against the burgundy Portuguese wall.
Andre-Pierre Gignac hit the post right at the end of normal time and it looked like it would be one of those days for France. It was.
France came up short when it mattered most and they will have plenty of regrets about their performance against a Portugal side who soaked up the pressure and won through a hammer blow from Eder.
---
EDER ETCHES HIS NAME INTO HISTORY
Last season Eder couldn't get into Swansea City's team in the Premier League.
He joined French side Lille on loan and has since joined them permanently. He will never have to buy a drink in Portugal again after he turned, ran at France's defense and slammed home a low shot past Hugo Lloris for his first competitive goal for his nation.
Portugal hadn't lost their last 10 games to France before this final but it seemed written in the stars that they would win the trophy.
Eder will get the headlines but the likes of Pepe and Jose Fonte at central defense were sublime. Especially Pepe, who headed, tackled and drove the Portuguese on from the back. Nani was also a beast and stepped up in Ronaldo's absence and so was goalkeeper Rui Patricio. The experienced heads led Portugal to glory and the entire team dug deep, just like they have for the entire tournament. They delivered the first major title in Portugal's history.
Portugal is now unbeaten in 14 competitive games and even though they only won one game in regulation the whole tournament, plus finished third in their group, they walk away with the trophy.
Manager Fernando Santos has called his team the "ugly duckings" and there was nothing pretty about this Portugal team. However, they delivered defensive masterclasses throughout the to come out on top of 24 teams this summer.
These Portuguese Men-of-War will never be forgotten in their homeland.