Major League Soccer is making sure the first post-EURO week still has some midweek soccer to whet our appetites for the weekend, with six matches on tap Wednesday.
[ MORE: Major League Soccer's home field advantage ]
The visitors are all strong, too, meaning we'll once again see a test of MLS' insane home field advantage.
Toronto FC at Columbus Crew SC — 7 p.m. ET
The Trillium Cup rivals meet, with both failing to meet expectations this season. Columbus looks a far cry from their MLS Cup Finalist status, while Toronto has lost its last three road matches. Still, TFC has only lost once in four matches and could be third in the East with a win and help.
Orlando City SC at New York Red Bulls — 7:30 p.m. ET
The Red Bulls deserved all three points against Portland this weekend, but couldn't find a way past Jake Gleeson. Now they'll welcome in Orlando knowing that the Lions could leapfrog them with a win. We think Jesse Marsch's side finds a way to get the W at home, where MLS teams find at least some success 80 percent of the time.
Sporting KC at Chicago Fire — 8:30 p.m. ET
Chicago's been a much better team at home, but is running out of chances to make a charge into the East's playoff picture. KC, meanwhile, looks very much like the team we expected before the season, but still has just two road wins from nine contests. Peter Vermes will be circling this one as the third.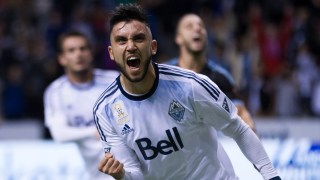 Real Salt Lake at Vancouver Whitecaps — 10:30 p.m. ET
There are similarities between these two sides, though the 'Caps had much higher expectations heading into the season. A win in British Columbia would be a huge statement from RSL and would also stop a skid of just two points from three matches.
FC Dallas at Seattle Sounders — 10:30 p.m. ET
Seattle hasn't won since May 11, and is the only team in Major League Soccer which has lost more games than it's won at home. Dallas has won three in-a-row, all shutouts, and has six wins and two draws from its last nine. Alas, the game is in Seattle.
Montreal Impact at Portland Timbers— 10:30 p.m. ET
This, quite simply, could see the Timbers falter at home. Montreal played at Salt Lake over the weekend and has a chance to stay in unbeaten in six while Portland is coming back from a cross-country trip to New Jersey. The Timbers, however, are also on a long unbeaten run — seven games — and have won their last three amongst the home din of Timbers Army.