Big Sam is closing in on one of the biggest coaching jobs in the game.
Sunderland have confirmed that the English Football Association has held talks with their manager Sam Allardyce about becoming the next manager of the English national team.
[ MORE: No approach for Klinsmann ]
Allardyce, 61, is said to be the favored choice of the FA to replace Roy Hodgson after he stepped down following England's dismal EURO 2016 campaign which saw them beaten by Iceland in the Round of 16.
Other bookies favorites to take charge of England are Eddie Howe, Steve Bruce, Jurgen Klinsmann and Arsene Wenger and multiple reports claim than the FA favor an Englishman taking the role
Sunderland released the following statement on Wednesday to address the situation:
The Football Association contacted Sunderland AFC to seek permission to speak with our manager as part of what was supposed to be a confidential discussion process with potential candidates for the position of England manager.

At Sam Allardyce's request, we agreed to this.

Sam is very much key to our plans. After what was an extremely challenging season, we are keen to see a period of stability, both on and off the field, and we want him to remain as manager of our football club.

The ongoing speculation over Sam's position is extremely damaging to Sunderland AFC, particularly at this crucial time of the season and we urge the FA to respect the disruption that this process is causing and bring about a swift resolution to the matter.
Allardyce interviewed for the position of England manager in 2006 but Steve McClaren was instead handed the job. He was overlooked when both Fabio Capello and Hodgson were subsequently appointed but now it seems as though his time has arrived to take charge of the Three Lions.
He is a manager who has received plenty of stick for his supposed route-one tactics and although his methods may be direct, Big Sam has overachieved everywhere he has been. Sure, his tactics may not be the most beautiful to watch but it gets results. Is there really much difference between the style of play of Leicester City last season and Allardyce's teams?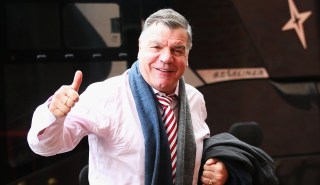 Sir Alex Ferguson has backed Allardyce for the job and the former chief executive of Manchester United, and current vice-chairman of the FA, David Gill, is also a close friend of Allardyce.
Gill is part of the three-man committee along with chief executive Martin Glen and technical director Dan Ashworth who have been tasked with picking a new England manager.
At Bolton he got them promoted to the Premier League and took them to Europe. He brought West Ham United back to the top flight and stabilized them n the top-flight and most recently with Sunderland he arrived midway through the 2015-16 season and kept the Black Cats in the PL against all odds.
No man will tick all the boxes but Allardyce seems to tick the most from the criteria the FA is supposedly looking for. He commands a room when he walks in, has a direct way of doing things and you know where you stand with him. He is a proper bloke and a real soccer man.
He has always been forward thinking when it comes to using sports science — he was one of the first managers to use the ProZone technology — and his teams are always solid units which are defensively sound and play with passion.
After their EURO 2016 debacle, England could use some strict directions and an injection of passion from Big Sam.
Is he the best candidate?
Howe is deemed too young by many but will still be a fine choice to implement the FA's long-term plan to give England a DNA which sees it play attractive, possession based soccer. Bruce is out of the same mold as Allardyce in that he's old school and has always overachieved wherever has been.
Klinsmann is obviously a star name and helped to restructure German soccer and is currently doing the same with the U.S. setup. Wenger is a long shot but hasn't ruled out speaking with the FA as the long-time Arsenal coach has just a year remaining.
Only time will tell if the FA select the right man for the job but Allardyce would certainly tackle the challenge head and use all of his experience to try and deliver a positive tournament result for England at the 2018 World Cup in Russia.