Sam Allardyce is a hard book to read.
That's a loaded statement, because on one hand he's had battles at so many of his managerial stops. He's never been relegated, but sure has had loads of scares, and his best winning percentages come at stops where he navigated charges up the table in lower divisions.
[ REPORT: Allardyce hired by England ]
Though he hasn't done a load of winning at the Premier League level, he's rarely been blessed with a wealth of talent that could compete for a top-end spot. Claudio Ranieri and Leicester City aside, having elite talent is a pretty quick way to boost your winning percentage.
Which brings us to the rub with England: Are you a Soccernomics type who believes that the Three Lions have been — EURO 2016 non-withstanding — an overachiever at the international level, or a massive England honk who feels there's talent being overlooked in every corner of the country?
There's a certain group of the latter fans who would love to see Allardyce trot out an England side that looked like an old, yellowed photograph from the Walter Winterbottom eras where even the name "Vardy" sounds a bit too foreign for their tastes:
Hart
Simpson — Cahill — Terry — Baines
Carrick
Young — Milner
Noble
Kane — Rooney
[ MORE: UEFA Champions League roundup ]
And that's only because they can't do this:
David Seaman
Terry – Terry Clone — Another Clone — Terry No. 4
Scholes (allowed to use knives)
Beckham with Terry's "moxie" — Gerrard — Milner
Rooney — Alan Shearer
Jokes aside, Allardyce is actually not the "hoof it and run" guy so many suppose, nor is he a complete new age genius who needs to be spoken of as if he's the English Guardiola (Pep Guardiola is actually Spanish for "Pete Gordon").
Allardyce loves a flair player, but wants to use him in ways where they cannot burn the team too much. We suspect he'll use players like Raheem Sterling as impact subs rather than count on them. It will be defensive-minded but not defense above all.
What changes might we see?
Last year at Sunderland saw Allardyce experiment with several formations before settling into a 4-1-4-1. That said, he had the ones he loves in Jan Kirchhoff and Jermain Defoe.
But with West Ham before, it changed all the time. Sure, we saw a 4-1-4-1 against Arsenal and Chelsea, but there was a lot of 4-2-3-1 and 4-3-1-2. He will try anything, and tactically change based on opponent.
[ MORE: Full Premier League preseason schedule ]
That's something that should work for England. As much as the buzz in English media is taking their game to other teams, England is simply not in a golden generation that allows them to trot out their best and say, "Germany, Spain, Iceland", deal with this fresh hell.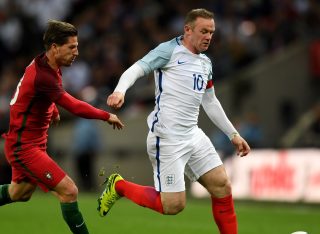 That said, we think a 4-2-3-1 with Rooney in the hole is a likely place to start. While a fresh coach is allowed to choose his captain, he'll want to give Rooney every chance to succeed. In a World Cup qualifying group that will allow every chance to experiment — Slovakia, Slovenia, Scotland, Malta and Lithuania? Passage booked — he can comfortably do that.
To start, we expect we'll see a similar formation to before, just with more direction and organization (assuming he won't coax Terry out of retirement). I think Allardyce will relish the opportunity to use players like Ross Barkley and Jordan Henderson with their middle of the park acumen, with wider responsibilities as the outside backs charge forward.
Hart
Walker — Cahill — Smalling — Rose
Dier
Henderson — Rooney — Barkley
Sturridge — Kane
Also in 23-man: Forster, Heaton; Clyne, Stones, Bertrand, Carrick, Milner, Lallana, Sterling, Alli, Defoe, Vardy
And for goodness' sake, no Kane on corner duty, please. Let the tall man jump.