The 2016 International Champions Cup gets underway on Friday with the biggest collective summer preseason tournament on the planet kicking off.
The fourth edition is the biggest so far and features 17 teams from England, Scotland, Germany, Spain, Italy Australia and France playing games in China, Europe, Australia and the USA.
[ MORE: Allardyce to England ]
American soccer entrepreneur Charlie Stillitano — the chairman of Relevant Sports which runs the ICC — and owner of the Miami Dolphins, Stephen M. Ross, are the men behind this competition as it continues to grow each summer.
Seven Premier League teams will be in ICC action with Manchester United, Manchester City, Liverpool, Leicester City, Tottenham Hotspur and Chelsea all taking part, plus European giants Real Madrid, Barcelona, Bayern Munich, Borussia Dortmund, Inter Milan, AC Milan, Paris Saint-Germain, Atletico Madrid and Juventus.
[ VIDEO: Worst own goal ever by a goalkeeper? ]
Pep Guardiola and Jose Mourinho will square off as managers of Manchester United and Manchester City for the first time in Beijing, as one of the most eagerly anticipated rivalries in world soccer begins. German giants Borussia Dortmund will join them in China.
New Chelsea boss Antonio Conte will face Jurgen Klopp's Liverpool at the Rose Bowl and they will both play AC Milan in the USA, plus Leicester City will travel to California to take on PSG and then travel back to Stockholm to play Barcelona as Claudio Ranieri's side get ready for their adventure in the UEFA Champions League for the upcoming season.
Tottenham Hotspur, Juventus and Atletico Madrid will all be based in Australia for the tournament, while local side Melbourne Victory will also take part in their homeland.
Below is the full schedule for the tournament, while there is also a pretty neat infographic via ticketbis which shows the eye-watering value of some of the squads taking part in the tournament.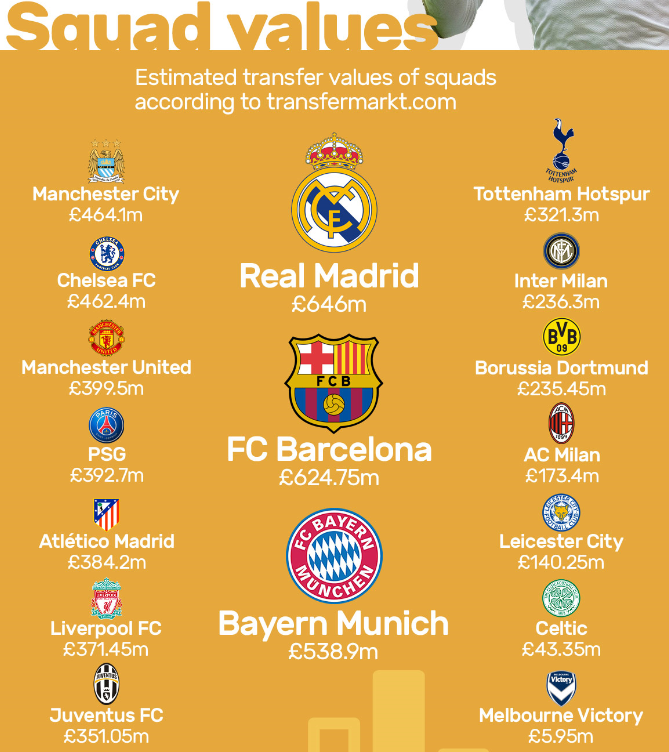 ---
Full International Champions Cup schedule, 2016-17
USA 
24 July – Inter Milan v PSG – Eugene, Oregon
27 July – Real Madrid v PSG – Columbus, Ohio
27 July – Bayern Munich v AC Milan – Chicago, Illinois
27 July – Chelsea v Liverpool – Pasadena, California
30 July – Real Madrid v Chelsea – Ann Arbor, Michigan
30 July – Inter Milan v Bayern Munich – Charlotte, North Carolina
30 July – Liverpool v AC Milan – Santa Clara, California
30 July – PSG v Leicester City – Carson, California
3 August – Bayern Munich v Real Madrid – New Jersey
3 August – AC Milan v Chelsea – Minneapolis, Minnesota
China
22 July – Manchester United v Borussia Dortmund – Shanghai
25 July – Manchester City v Manchester United – Beijing
28 July – Borussia Dortmund v Manchester City – Shenzhen
Europe
23 July – Celtic v Leicester City – Glasgow
30 July – Celtic v Barcelona – Dublin
3 August – Barcelona v Leicester City – Stockholm
6 August – Liverpool v Barcelona – London
13 August – Inter Milan v Celtic – Limerick
Australia
23 July – Melbourne Victory v Juventus – Melbourne
26 July – Juventus v Tottenham Hotspur – Melbourne
29 July – Tottenham Hotspur v Atletico Madrid – Melbourne