Sam Allardyce is expected to be named as the new England manager in the next 24 hours on a two-year contract.
[ MORE: Mourinho coy on Pogba talk ]  
This decision has split opinion but I believe the English Football Association have made a fine choice.
Quite simply: Allardyce is the right man for the job at this specific moment in time.
As soon as England decided to name an Englishman as their new manager, Allardyce, 61, was the standout choice.
Looking at some of the reasons why "Big Sam" is the man to rebuild England following their devastating exit from EURO 2016, it starts to become quite clear why the FA have tagged him to be the chief of a mammoth reclamation project.
Allardyce will need to instill belief, self-confidence and discipline into the Three Lions. If he heard that in the interview process he will be thinking 'good' because he's done that wherever he has managed before. If anyone can restore hunger to England's players, something which looked to be severely lacking this summer under Roy Hodgson, it's Allardyce.
The fact of the matter is, Allardyce has overachieved with every team he has managed. Look at the facts.
He took Bolton Wanderers from the second-tier to the Premier League's upper echelons, attracting players like Ivan Campo, Youri Djorkaeff and Jay-Jay Okocha to Lancashire. He left Wanderers in 2007 but in eight years he had transformed them with his use of ProZone and other advanced technology which allowed him to get the most out of his scant resources.
[ MORE: Everton appoint Leicester guru Walsh ]
He then had a brief stint at Newcastle United where he clashed with owner Mike Ashley but it wasn't exactly disastrous as they were midtable. He joined Blackburn for two years from 2008-10, rescuing them from a perilous situation and finishing in the top half of the table in his only full season in charge. After that he led West Ham United to promotion from the Championship to the Premier League and although criticized for long-ball tactics by his own fans, he worked with what he had and stabilized the Hammers as a PL club, building a base for Slaven Bilic to take to the next level.
Joining Sunderland in 2015 he again showed his penchant for being a master of reclamation as he kept the Black Cats up with a game to spare after they were left in a mess by Dick Advocaat. He went back to basics and found ways of grinding out results, by being horrible to play against a clinical in attack.
Now, that's all well and good but what does it prove? To me it proves Allardyce has got the most out of the resources at his disposal wherever he has gone.
He has some simple philosophies that he shares in his autobiography and also openly speaks about in the media. He is a brash character from northern England who speaks his mind and has a presence about him when he walks into a press conference. You sit up and take notice.
From a soccer point of view, he has strong values in setting his teams up to be organized and tough to beat. Ask anybody who has watched his teams play regularly. They will tell you it isn't always the most riveting to watch but he will get results and you will hardly see one of his teams collapse after leading. His players stand up and fight for each other and England need that now more than ever as they look to bounce back from a huge disappointment. They need to become hard to beat and not throw away games at pivotal moments.
In fact, looking at stats released by Opta, Allardyce's teams have won 64 percent of their games in the PL when they've scored the first goal. He is a big believer in strong defensive performances, in protecting what you have. When you look at England's results at EURO 2016 — giving up a late goal against Russia to draw 1-1 then losing to Iceland 2-1 in the Round of 16 after going 1-0 up — this is something they badly need.
Allardyce is also flexible when it comes to formations. He is not so rigid where he will play 4-4-2 or 3-5-2 consistently but he likes to mix it up. That shows that you have a manager who is confident in his own ability to organize players into shapes and systems because he believes they all want to work with him and under him. They often do. It is very rare you here a player speak poorly of Allardyce. He is honest and doesn't suffer fools gladly. That is exactly what this young England team needs.
I remember sat at a Sunderland game against Crystal Palace last season where they won 1-0 thanks to a late Jermain Defoe strike. Allardyce played Patrick Van Aanholt and Billy Jones as wing backs and totally nullified the threat of Palace's wingers Yannick Bolasie and Wilfried Zaha. He had done his homework and wasn't afraid to tweak things as the game went on and that's just one example of how he's a thinking man's coach, no matter if his gruff demeanor and penchant for chewing vast wads of chewing gum suggest otherwise.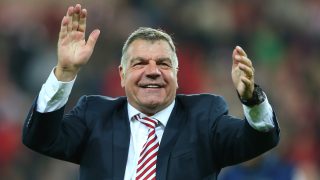 We are talking about a man who has vast experience in game management and isn't afraid to try new things. He's spoken about how he has embraced transcendental meditation for well over a decade to switch off and given the stresses and pressures of the England job, he will be doing a lot more of that in the months to come.
Allardyce is called "Big Sam" for a reason and that's not just going back to his days as a bruising central defender.
He has the ability to galvanize teams and help them achieve more than they should. He has never been afforded the opportunity to work with such a talented group of players as he will with England.
Going forward, it may not be the most exciting product to watch but Allardyce will get results. I think he may surprise a few people too because now he has great players to work with and his tactics may be slightly different than before.
Allardyce's beliefs of strong defense first will always remain but now he has the job he's craved, let's see if he can repair a damaged England side by going back to basics. Right now, he is perfect for what they need.