The new number is $133 million.
That's what Manchester United has apparently offered in a total package to pry Paul Pogba from Juventus, where the Serie A club has been ready to hold out for more from the first moment the player and club were linked.
The latest story comes from Alan Smith and Fabrizio Romano of The Guardian, who say that Juve's move for Gonzalo Higuain has not made the sale of Pogba a formality.
[ MORE: New contract for Ronaldo? ]
The thing with Pogba is that he doesn't always pass the eye test, but statistically he's close to flying colors. In some ways, he's an analytics man's conundrum.
Pogba's 12 assists tied for the Serie A lead with Miralem Pjanic of Roma, and he tied for 20th in goals with eight while blasting the third-most shots in the league (123).
Further, his role in the Juventus system was second-to-none. Only Leonardo Bonucci took more touches than Pogba's 2577, and he played 130 more minutes. Pogba's 43 interceptions are 40th in Serie A, and his tackles put him 22nd.
Quite frankly, Pogba has nearly every tool in his locker and deploys most of them despite his relatively young 23 years. He plays on the edge, but rarely crosses it.
There are concerns: He needs a steady defensive midfielder with him, one who can allow him to take his risks. While he's electric in attack and decent in defense, he won't be a hero if expected to be the focal point of possession.
[ MORE: Messi back, blonde at Barca ]
This will be paramount in European competition, where Pogba can stand to grow his resume. Yet even this sees him as an instrumental figure in both Champions League and EURO runner-up finishes.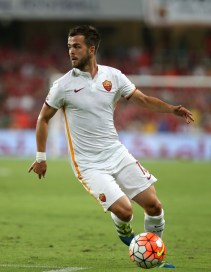 The hope with Pogba is that he'll continue his upward trend. To make Serie A comparisons, can he be Miralem Pjanic in three years, and Marek Hamsik in five?
Moreover, with the money Manchester United or Real Madrid would spend to get him, can he be better? Given Alex Ferguson's legendary status and failure to keep him at Old Trafford, there will be a group of United fans who will review his matches more than any in ages.
There are three critical things to remember as Pogba Transfer Mania reaches critical mass (It has, actually, hasn't it?):
Juventus will sell him, as Pjanic is presently an upgrade.
Despite the fee, no one should yet be legitimately comparing him to Ronaldo or Messi; Transfer records will be broken almost every year moving forward, it's just a matter of who is for sale.
Pogba is a brilliant fit for Jose Mourinho's system. The sale wouldn't make sense for every team.
We'd say that's a pretty good primer for when the sale is announced, and I think it will be, in the next couple weeks. Good luck, Paul.