With the 2016 MLS All-Star Game set to be played Thursday night (versus Arsenal, at Avaya Stadium in San Jose, Calif.), it got me thinking about the race for this year's Most Valuable Player award. (If MLS is going to continue holding the All-Star Game every year — and they are — it should include an actual break, as is the case in all other America sports.)
[ FOLLOW: All of PST's MLS coverage ]
While the field is a small one at this point of the campaign, it's also much closer than it was last year, when Sebastian Giovinco took home the honor in an absolute landslide of a vote.
Sebastian Giovinco, Toronto FC
The reigning MVP is on pace for something of a come-down in his second season in MLS, but when you put up 22 goals and 16 assists in your debut campaign, can you really expect to replicate that kind of production from one year to the next? Still, 11 goals (on the most shots in the league – 124) and 7 assists through 20 games (Giovinco has played in 19) has him on pace for 18 goals and 12 assists. Of course, when you consider he snapped a skid of eight games without a goal with a hat trick Saturday night, and that he's unlikely to endure such a slump through the final 14 games, 18 and 12 should be considered the proverbial floor.
TFC have scored just 25 goals this season, and Giovinco has scored or assisted 18 of them (72 percent).
As for TFC's present standing and how that impacts Giovinco's MVP candidacy, fifth place through 20 games is a disappointment considering this was to be "the year" where they were less of a collection of talent, and more a functional team. Of course, injuries (and national team call-ups) have robbed the Reds of Michael Bradley, Jozy Altidore and Will Johnson for lengthy periods already. That TFC find themselves presently a playoff team, and a measly six points back of the Eastern Conference's top spot with two games in hand, should benefit Giovinco's case more than hurt it.
David Villa, New York City FC
This one's pretty simple: NYCFC weren't supposed to be anywhere near the top spot of the East this season, yet that's where they find themselves at the break, and Villa has spearheaded their unlikely run by scoring 13 goals (most in MLS – on 117 shots – 46 more than the next-closest player) and one assist through 22 games (Villa has played in 21). The question is this, though: will Patrick Vieira's side still be there come the end of the season? So much of Villa's claim to MVP is that he's been the best player on one of the best (and certainly most surprising) teams in MLS this year.
If they're to fall back into the pack (they're just two points clear of the New York Red Bulls following Sunday's 4-1 derby disaster, and only four points from fourth), Villa will quickly fall from MVP candidate to "the best best player on a subpar team."
Ignacio Piatti, Montreal Impact
The Impact have, for my money, the most complete roster in the Eastern Conference. Didier Drogba is arguably the most dominant goal-scoring force MLS has ever seen (8 goals in 12 appearances this season; 11 in 11 last year), and the depth in midfield and defense is unparalleled, yet Piatti has been the unrivaled star through the first 20 games of the season (he has played in 18). His 12 goals and 5 assists are rivaled only by Giovinco's numbers, and he's been a far more consistent contributor than the Italian (never more than three games without a goal, while playing as a non-forward, unlike Giovinco).
The knock on Piatti has always been his inability to stay healthy and approach a pace of 30 appearances in a single season. Finally consistently healthy in 2016, he's taken his short-term production and replicated that same kind of output over 90 percent of his team's games this season. If he can reach 30 games played this year, Piatti has the best chance of stopping Giovinco from becoming the first back-to-back MVP winner in league history.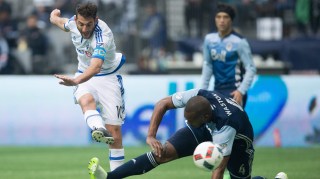 On the fringe, with a chance to catch the leaders: Sacha Kljestan (New York Red Bulls – 5 goals, 12 assists), Diego Valeri (Portland Timbers – 9 goals, 5 assists)