Sam Allardyce gave his first press conference as the new manager of the English national team on Monday and the overriding theme was easy to pick up: confidence.
Allardyce, 61, strode into the room with a huge smile on his face and gave forthright answers, as expected, on his appointment as new boss of the Three Lions.
[ MORE: Manchester derby cancelled ]
The former Sunderland manager insisted England hasn't "hit rock bottom" and admitted this "will be the greatest challenge for me in my long career."
Asked about his style of play and his somewhat direct tactics clashing with the now widely-stated DNA of the English FA, who want to be a passing team, Allardyce shared his belief that he has always adapted his playing style to the players at his disposal.
"I think choosing styles of systems depends on the players available and who we are playing. My coaching technique is to try to give players the opportunity to win football matches, home or away, and make them aware of the opposition," Allardyce said. "I think the bonding of the team is exceptionally important and trying to create that team spirit and have some fun. I have enjoyed my life in the game, this job is the pinnacle and I want to enjoy this the most."
He also pointed to diminutive forward Jermain Defoe playing up front on his own last season for Sunderland and the Englishman scoring 18 goals.
Allardyce is still trying to dispel the myth he is a long-ball merchant and it could take some time to convince England's fans despite the overall reaction to his appointment being a positive one.
When asked if Wayne Rooney would still be his captain when his first game rolls around — a World Cup qualifier at Slovakia on Sept. 4 — Allardyce was coy, not confirming if Rooney would indeed be his skipper.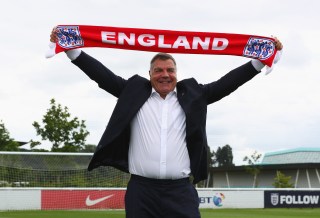 Allardyce also gave some interesting comments when asked about the possibility of having a winter break in the Premier League and the former Bolton Wanderers, Blackburn Rovers, Newcastle United and West Ham United boss was crystal clear in his belief that the PL should take a break.
"I have been an advocate of that for 10 years or more. The demand on players is enormous," Allardyce said. "The Premier League is the best league in world so demand has to be on the players. It would help the Premier League and us at international level if we could try and achieve it. In my time when we finish at Christmas, in January and February it is always the most difficult time to get players through."
With the English national team the youngest in terms of average age at EURO 2016, Allardyce was asked about the potential of the players he is inheriting.
"It is not potential anymore, it has to be reality and they have to stand up and be counted. The young players have a lot of experience now and some has been bitter. They don't want to feel like that again," Allardyce said. "Potential is not a word I want to use, you want the quality player to produce his best performances immediately. This squad of players is very experienced and going forward hopefully will produce better."
One thing is for sure, "Big Sam" tells it like it is and we can expect plenty more honest answers in the years to come as England first aim to qualify for the 2018 World Cup in Russia and then improve drastically on their recent poor record in major tournaments.