Luciano Spalletti takes his longest pause before answering a question on the massive and controversial transfer fees paid out for Serie A stars Gonzalo Higuain and (probably) Paul Pogba.
Some of his players, like Francesco Totti, have been very vocal in their distaste for Higuain's departure from Napoli for one of the highest fees in football history, but Spalletti understands what's going on.
The 57-year-old AS Roma manager has been around the block, highlighted by two stints each with Roma and Udinese as well as parts of five seasons with Zenit Saint Petersburg which included a pair of league titles.
[ MORE: Klopp frowns at Pogba fee ]
And when it comes to making more than $100 million on a player, you do it. As for buying a player like that, it's a different story.
"You have to sell that player because you can turn that into two or three very good players," Spalletti said in a translated interview Friday with ProSoccerTalk. "I think it's the best thing. Personally, I wouldn't spend that kind of money on a single player, but these clubs have very high goals like winning the Champions League."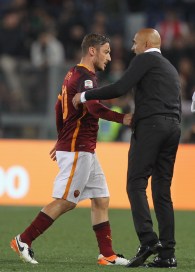 Of course Spalletti has that goal as well.
The manager was speaking ahead of Roma's date with Liverpool in St. Louis on Monday, one of two dates in North America. I Lupi faces the Montreal Impact on Wednesday before heading home to prepare for its Aug. 20 Serie A opener against Spalletti's former club, Udinese.
Spalletti's second stint with Roma saw the club go to the UEFA Champions League's Round of 16, and his familiarity with success in the competition bodes well for the club moving forward.
He shepherded i Lupi to the quarterfinals in 2006-07 and 2007-08 before being bounced in the Round of 16 in the final season of his first stint, and also led Zenit to two UCL Round of 16s.
[ MORE: Higuain, Napoli boss trade barbs ]
Roma also finished third in Serie A despite being mid-table when Spalletti took over. He'd like to better that this season, after selling superstar Miralem Pjanic but picking up Stephan El Shaaraway and making standout defender Antonio Rudiger's loan permanent.
"I can count on a very good squad," Spalletti said. "It won't be easy to build on the season, but we want to keep doing what we just finished."
PST asked Spalletti about the quartet of Italian coaches who've taken the step to the Premier League. Claudio Ranieri won the Premier League with Leicester last season while Francesco Guidolin helped rescue Swansea City.
Now Chelsea has hired Italian mastermind Antonio Conte, and Watford has brought in Walter Mazzerri. It's a source of pride for coaches in Serie A.
"Italy has a great tradition of coaches and production," Spalletti said. "The Italian league allows you to build a coach with valuable experience that you can later pass on at international levels. The two coaches, Conte and Mazzarri, are two great coaches who have proven their class."