As Paul Pogba's return to Manchester United moves closer, where will it rank on the list of the most promising moves of the summer?
Putting cost aside given the giant budgets of world football, Pogba's move will probably top the proverbial pops once completed.
[ MORE: Guzan finds new PL home ]
Yet this summer has been an incredible one for transfers, with so many Premier League teams leading the way in business, that names like Sadio Mane, Michy Batshuayi, Nico Gaitan, and Nolito miss out list (and they are just the tip of the iceberg).
Here's our Top Ten so far
10. Mario Gotze, Bayern Munich –> Borussia Dortmund
Will a return "home" do the trick for the World Cup clinching attacker?
9. Henrikh Mkhitaryan, Borussia Dortmund –> Manchester United
The Armenian attacker was somewhat unheralded. No more.
8. Andre Schurrle, Wolfsburg –> Borussia Dortmund
BVB reaps the rewards from a still questionable Chelsea decision.
7. Granit Xhaka, Borussia Monchengladbach –> Arsenal
The big money man is a perfect fit for how Arsene Wenger likes to play.
6. Gonzalo Higuain, Napoli –> Juventus
Whether his big season was an aberration or not, that's a lot of dough.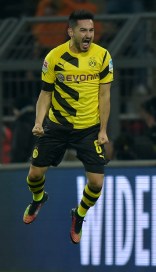 5. Ilkay Gundogan, Borussia Dortmund –> Manchester City
His possession game should be a jewel in Pep Guardiola's crown.
4. Miralem Pjanic, Roma –> Juventus
One of the best in the world could even be an improvement over Pogba.
3. Zlatan Ibrahimovic, Paris Saint-Germain –> Manchester United
Let's hope he doesn't read this and see he's not No. 1 (and soon to be No. 4)
2. Mats Hummels, Borussia Dortmund –> Bayern Munich
Technically announced a while ago, but Bayern is almost unfair. Enjoy, Carlo.
N'Golo Kante, Leicester City –> Chelsea
An absolute beast, and a player that will seamlessly slide into Antonio Conte's plans as a center piece.