Kelley O'Hara and the U.S. women's national team begin their quest for gold at Rio 2016 on Wednesday as the Olympic soccer tournament kicks off.
The USWNT have won three-straight gold medals — including four golds in the five Olympic soccer tournaments to date — and are the heavy favorites to defend their Olympic title in Brazil this summer.
[ STREAM: Watch every game from Rio 2016 ]
O'Hara, 27, was part of the U.S. side which secured the gold medal at London 2012 and after adding a World Cup winners medal to her trophy cabinet in 2015, the Sky Blue FC star is aiming for more glory as part of Team USA.
Speaking exclusively to ProSoccerTalk in the build-up to the Olympics in association with Coppertone, O'Hara is eager to experience the rush of competing in the Olympics once again.
How hopeful is she that the U.S. can bring home a gold medal this summer and become the first-team ever to hold both the World Cup and Olympic titles at the same time?
"Extremely hopeful," O'Hara said, energetically. "Everyone's goal is always to win the gold medal and no women's soccer team has ever won a World Cup and then won an Olympic gold medal so we all want to be the first team to do that."
In terms of the competition in front of the USWNT in Brazil, it is perhaps the strongest-ever field at a women's Olympic soccer tournament. Six of the top 10 FIFA-ranked teams in the world will be competing
"Every year women's soccer continues to grow and countries continue to get better," O'Hara said. "I think this tournament will be even harder than London was in 2012. I think France is going to be a contender and also Brazil, being the host country, will also be one."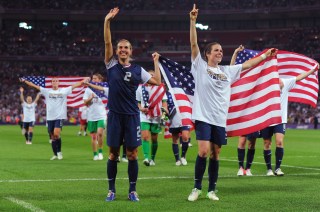 At the London 2012 games O'Hara played every single second as the U.S. launched a memorable run to the gold medal match and beat Japan 2-1 at Wembley Stadium to win gold.
How did she feel after winning that title?
"When the final whistle blew and we knew we had won and there was no more stress and no-one could ever take away our gold medal, it was incredible," O'Hara said. "I was one of the youngest players on that team and just knowing that I didn't let any of the older players down, that was kind of one of my biggest stresses during the tournament. I wanted it for them. Obviously for everyone and for myself, but just knowing that I didn't screw anything up and we had the gold medal was pretty cool."
Fast forward three years and O'Hara was again tasting success, this time with the USWNT at the 2015 FIFA Women's World Cup in Canada.
In the semifinal win against Germany she came onto the pitch in the 75th minute and scored her first-ever international goal nine minutes later to seal the USA's spot in the final against Japan which they would go on to win 5-2 and become world champs. Reflecting on that goal, O'Hara was happy to play her part.
"Probably from my individual performance at the tournament, that goal was pretty incredible. I was just so happy to be able to help the team in any way possible," O'Hara said. "Putting in that goal meant we were up 2-0 with about 10 minutes left of a semifinal, that pretty much guaranteed we were going to be going to the final. That was an incredible feeling."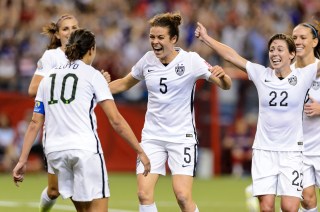 Following on from that World Cup success was a huge victory tour of games around the country and an open-to bus parade of New York City as the USWNT rode down the Canyon of Heroes with the trophy in a glorious ticker-tape parade. That was the highlight of the World Cup success for O'Hara.
"I would say they ticker-tape parade was pretty cool. None of us really knew what to expect going into it," O'Hara said. "We didn't really know the type of turnout we would get so riding down Broadway and seeing people completely packed from the buildings all the way to the sidewalk. And then every block we passed people were just all the way down each block. It was insane. It was just really cool to see and especially to see everyone from New York come out and support us."
Originally a forward during her standout career at Stanford University which saw her win the Hermann Trophy as the top collegiate player in 2009 and excel in attacking roles for the U.S. youth teams, O'Hara has gradually shifted further back during her career. Able to operate as a winger or a full back after former USWNT coach Pia Sundhage switched her there before London 2012, O'Hara now operates a more defensive role for the U.S. national team.
When asked what her preferred position is, she gave this honest answer.
"I just like playing soccer," O'Hara laughed. "I'll play wherever you put me. I honestly don't have a preferred position. Whatever the coach needs I can do that. All the different positions I've played have some fun aspects to them and maybe some not as enjoyable but at the end of the day soccer is soccer and I just like to play."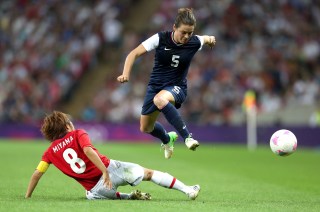 When she takes the field at Rio 2016 O'Hara will be representing Team USA. Is that any different than representing, and winning, a tournament like the World Cup with the U.S. national team?
"It is different because in the Olympics you are playing for Team USA and all these other athletes are competing and you feel a part of this big athletic movement," O'Hara explained. "Then for the World Cup it is just purely football and everyone's focus is just on our one team. It is different in that way but other than that, winning is winning. A gold medal is a gold medal."
Like most of the U.S. national team, O'Hara is now pretty familiar with winning gold medals at Olympics and World Cups and this summer the entire nation will be hoping her gold rush continues.