The game in 100 words (or less): At his current rate (which is absolutely ridiculous), Sebastian Giovinco is on pace to break Landon Donovan's MLS goals (144) and assists (136) records in seven seasons, give or take a month or two. Donovan, the undisputed best player who spent the majority of his career in MLS, compiled his numbers over parts of 14 seasons. Through his first 55 MLS games (one and a half seasons), Giovinco has racked up 37 goals and 26 assists, and he's now the odds-on favorite to become the first player in league history to win back-to-back MVP awards, as well as the first back-to-back Golden Boot winner (he now leads David Villa by two goals and has a massive edge in the assists tiebreaker — 10-1). Anyway, Giovinco scored his fourth MLS hat trick (his second in four games)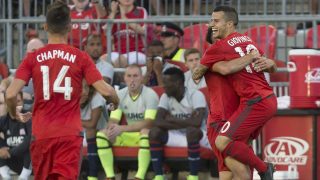 on Saturday as Toronto FC beat the New England Revolution, a team with one real center back on their roster (which they chose not to address during the summer transfer window). TFC are now a point behind New York City FC for the Eastern Conference's top spot, with a game in hand.
[ MORE: Previewing the rest of the MLS weekend ]
Three moments that mattered 
20 — Giovinco hits a wicked shot past Shuttleworth for 1-0 — Just about every game in which he plays, Giovinco does something that makes me say, "That's really difficult to do, it's not supposed to look that easy," but for him it is.
29′ — Giovinco floats one in for 2-0 — Ahem. Read, again: the above soliloquy.
76′ — Giovinco gets his hat trick from the spot — Giovinco and the word "goal" go together like spaghetti and meatballs.
[ FOLLOW: All of PST's MLS coverage | Standings | Stats | Schedule ]
Man of the match: Sebastian Giovinco
Goalscorers: Giovinco (20′, 29′, 76′ – PK), Bunbury (88′), Altidore (90+3′)
---
The game in 100 words (or less): Meanwhile, the Didier Drogba-less Montreal Impact, many folks' favorites to represent the East in MLS Cup 2016, were busy grinding out a 1-0 home victory over the Houston Dynamo, the last-place side in the Western Conference. Matteo Mancosu scored the game's only goal, a late winner on a (series of) touch(es) of absolute class, propelling the Impact beyond the Philadelphia Union, who drew with D.C. United on Saturday, and the New York Red Bulls, who play on Sunday, for third place in the East. Mauro Biello's side remains three points back of second-place TFC, and is now just four back of NYCFC.
[ MORE: Previewing the rest of the MLS weekend ]
Three One moments that mattered 
76′ — Mancosu scores a stunner to take all three points — Mancosu may just go down as one of the biggest signings of the summer transfer window. With Drogba suspended, and always a risk to miss a game through injury, the Impact now have an above-serviceable backup at striker.
[ FOLLOW: All of PST's MLS coverage | Standings | Stats | Schedule ]
Man of the match: Matteo Mancosu
Goalscorers: Mancuso (76′)