Ahead of the new Premier League season Arsenal's fans should be filled with optimism.
Should is the key word there.
[ MORE: Every PL season preview ] 
Last season they finished second in the PL, their highest finish since 2005 which came a season after they last won the PL in 2004. Despite a second place finish and keeping their team together, there's a lingering sense of dissatisfaction among their fans.
Unlike many of the other PL giants, the Gunners don't have a new manager coming in ripping things up and starting a fresh. There's stability, star players and promising youngsters and, of course, Arsene Wenger.
[ MORE: Best XI's for PL teams ]
Wenger is entering his 21st season in charge of Arsenal but his contract runs out next summer. Wenger, 66, has work to do to get a new deal but it's the same old story. He won't have anywhere near as much money to spend compared to his rival. He signed central midfielder Granit Xhaka for $40 million this summer but he's unlikely to be given another $40-50 million to spend in the final 23 days of the summer transfer window on a clinical finisher he desperately needs.
That's just the way it is at one of the best run clubs on the planet.
Speaking ahead of the new campaign Arsenal's chief executive Ivan Gazidis said something their fans probably didn't want to hear, even though they know it's reality.
"We can't afford to outgun competitors that have far more money. We have to be very careful, very selective," Gazidis said. "We would not be successful if we simply went out into the transfer market and tried to outgun our competitors.

"We're run in a self-sustaining way, and a way that we believe in, because we believe it gives us certainty for the future and enables us to plan our future with confidence. That means we can't afford to make huge mistakes in the transfer market. We can't afford to outgun competitors that have far more money to splurge on transfer fees than we do. So we have to be very careful, very selective about how we do things."
So, why Chelsea, Manchester City, especially Manchester United, and even the likes of Liverpool spend big this summer, Arsenal is running the risk of being left behind by their rivals.
For now, they're more than good. With Mesut Ozil, Alexis Sanchez, Xhaka, Petr Cech and Olivier Giroud they have game changers. Their prudent policy of spending big on one player each summer has seen them build up a solid squad and they should challenge for the title this season.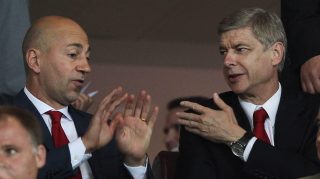 Yet this summer, like last summer, was the time to kick on. While their rivals continue to be in transition — Man United, Man City, Chelsea and Liverpool have all been at that point in the last 12 months, some of them longer than that — Arsenal has played it safe rather than taking advantage of a prime opportunity.
They blew it last season. Every knows it. Leicester City were worthy winners of the Premier League trophy but we all know that Arsenal has the better squad if you look at the individuals and key additions would've stopped them dropping silly points.
Yes, the Emirates Stadium is wonderful. Yes, for so long they paid that debt off and now revenue levels are ever-rising. But Arsenal is walking the fine line between running the club as a business and as a club. At its core, the point of setting up a club is to win every game you compete in. Right?
Apart from two FA Cups, Arsenal hasn't won much in the last 10 years. Yes, they've finished inside the top four for the last 20-straight seasons under Wenger which is a remarkable level of consistency. However, as we saw towards the end of last season on social media, at stadiums and in the street, Arsenal's fans spoke loud and clear calling for Wenger to be fired and asking for a change of policy at boardroom level.
[ EXCLUSIVE: Arsenal legend Ian Wright tells fans to protest ] 
They are frustrated because it seems like nothing will ever change and many would warn Arsenal's fans that they should be careful what they wish for if they truly want Wenger out. Ask fans of Liverpool and Manchester United. In recent years they would've loved the kind of consistency and stylish play Wenger guarantees.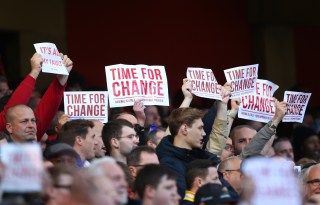 The problem is, it is difficult to know what the ambition is for Arsenal this season.
They currently have a center back crisis. Per Mertesacker is out long-term. Gabriel just went down. Laurent Koscielny isn't fully rested from EURO 2016. Shouldn't Wenger be spending big on an area he needs to strengthen anyway? Nope.
On the opening day of the season youngsters Callum Chambers and Rob Holding (he's never played a game in England"s top-flight) could line up against Liverpool. If Arsenal lose big and their defensive issues aren't addressed, we could see similar protests return before the month of August is out.
Maybe Arsenal's fans ask too much of their club to go out and spend hundreds of millions on new players like Man City and Man United continue to do. That big spending won't happen but there is some middle ground here. Arsenal's fans are ambitious and many would argue their board and club doesn't match those ambitions.
It's hard to argue with financial sensibility in a time of huge spending and players going for around $100 million each. It really is. But it's not hard to imagine that Arsenal can push the boat out a little more to take advantage of the instability of their rivals over the next 2-3 years. Due to frugality, they've already missed the chance to win more trophies over the past 12-18 months.
Can they afford to not spend big this summer and risk falling further behind in the next 12 months and beyond?