Landon Donovan is disappointed the U.S. men's national team is not in Brazil for the 2016 Olympics.
In fact, he's sad.
[ MORE: Donovan on Swansea role ]
The 34-year-old former USMNT and Major League Soccer star had a taste of the Olympics in 2000 in Sydney and believes that the U.S. not qualifying for Rio is a "missed opportunity" to entice more fans to the sport in the USA.
[ MORE: Every PL season preview ]
Earlier we revealed exactly how Donovan is involved as part of an American ownership group which bought Premier League club Swansea City this summer, but the all-time leading goalscorer for the USMNT is still mainly concerned with issues on home soil.
How disappointing is it to sit back and watch the entire nation in awe of the Olympics but for the U.S. not to have a men's soccer team in it?
"It is very disappointing. In the UK or other parts of the world it is not that big of a deal but for us in this country, we have a lot of fans who only tune in during the World Cup or during the Olympics. So we've missed this opportunity to have a bunch of people watch who wouldn't normally be watching," Donovan said. "So for us, that's difficult because we only get so many opportunities to grow our sport that quickly. Our league is doing well. Our national team is doing well. But this is an opportunity that you can't replace."
Donovan was part of the 2000 Olympic squad which made it to the bronze medal match but lost to Chile and was the youngest member of that squad. He revealed the experience of competing with Team USA still resonates strongly with him today.
"Apart from the soccer part, it was just a really fun experience," Donovan said. "That's why it is sad for me that the men's team isn't the Olympics for the U.S. because it is a fun sporting experience but more than that it is just a fun life experience. For me it was really enjoyable, we did really well and almost earned a medal. I absolutely wish I had an opportunity to play in another one because I only got to play in one."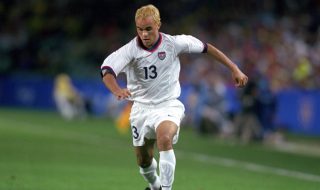 What does Donovan make of the U.S. women's team — Jill Ellis' squad won Group G and will face Sweden in the quarterfinals — and how they've done at Rio 2016 so far as they aim to win their fourth-straight gold medal?
"I don't think they've been perfect in the way that they've played but they've had good results and I think the goal in any tournament like this, for a team who has a real chance to win it, is to peak at the right time. They are playing well enough to win and if they can play better I don't see any reason why they can't win the tournament again."
In terms of the men's team, Donovan was unsure exactly why the U.S. U-23 side has been unable to qualify for both the 2012 and 2016 Olympics under Caleb Porter and Andi Herzog but he doesn't believe it is strictly down to the talent level of the players.
"I don't personally see it as a talent thing. When you say talent I assume you mean the amount of talented players that are born in this country and I think we have plenty of talented players," Donovan said. "I think what we are lacking, and I think England probably sympathizes with too, is that we are not developing players at a high enough level yet. Countries that are consistently good in world football are the countries that are developing players consistently. That's where we need to get better. That takes time. We haven't had great youth coach's because we've never had people who know what they are talking about. Now we actually have those people who are former professionals, former players at a high level who are teaching our kids. That will help a lot."
Donovan is a big advocate of giving U.S. youngsters a chance to flourish in MLS but believes they aren't getting the chance to do so. He is the head coach of the MLS Homegrown team who play during at the All-Star Game festivities each year and the former San Jose Earthquakes and LA Galaxy forward is passionate about how the USA can develop better players consistently.
Looking at the bigger picture, how can the U.S. produce better players at a younger age who can not only go on to represent the U.S. in the Olympics but also the USMNT? Does the academy setup in Major League Soccer have a big role to play in the future if the U.S. is going to qualify for tournaments and do well on the international stage?
"There's no question and it is part of the answer. You need 12, 13, 14, 15, 16 years olds players to get better and better. Equally as important for me is kids that are 6, 7, 8, 9 and 10. Right now we have too many coaches at that age who care about winning as opposed to caring out developing players and making them better. That's a big problem, for me," Donovan said. "If we ever want to get to the next level then we have to get that sort of mentality out of our game. We have to say that we want to develop players and we don't care if we are making a ton of money or the next coaching gig is based on winning. If you're an under 8s coach your next coaching gig should be about how many players you are developing. That's where I think you get better."