On Wednesday the news broke that U.S. Soccer had banned Hope Solo for six months from the USWNT and had terminated her contract as a member of the national team.
In truth, we all saw this coming.
[ MORE: Boufal to Saints close ]
The official reason given by Sunil Gulati, president of U.S. Soccer, was that Solo's comments following the USA's shock defeat on penalty kicks to Sweden in the quarterfinals at Rio 2016 were "unacceptable and do not meet the standard of conduct we require from our National Team players."
Solo, 35, said that Sweden played like "a bunch of cowards" and argued that "the best team did not win."
Were the comments out of line? Yes. Were they in the heat of the moment? Yes. Were they worthy of a six-month suspension from the USWNT? No.
Then again, this whole episode is about far more than Solo basically lambasting Sweden for being a long-ball team. This storm has been brewing for some time with multiple incidents of indiscretion leading to this inevitable outcome.
Gulati said as much.
"Taking into consideration the past incidents involving Hope, as well as the private conversations we've had requiring her to conduct herself in a manner befitting a U.S. National Team member, U.S. Soccer determined this is the appropriate disciplinary action," Gulati added in the statement.
Solo is currently locked in a legal battle with a half-sister and nephew over alleged domestic violence — Solo continues to claims she is innocent — from 2014, while there was also the incident in 2015 involving Solo and her husband, Jerramy Stevens.
The latter was arrested and charged with a DUI after he and Solo took a team mini-van from the USWNT hotel in California and drove around the streets before being pulled over outside the team hotel by police with Solo reportedly dragged from the scene kicking and screaming. Solo was banned by U.S. Soccer for 30 days on Jan. 31, 2015 for that incident but was recalled by Jill Ellis for the 2015 World Cup and was a star during the USWNT's World Cup win.
Those two unsavory incidents coupled with the huge wave of negativity from the people of Brazil at Rio 2016 — home fans booed Solo constantly and chanted "Zika" every time she kicked the ball after she posted several pictures on social media showing her preparing for the Zika virus outbreak in Brazil — were enough for U.S. Soccer to act in this manner when Solo gave them yet another reason to investigate her.
USWNT head coach Ellis flew to Seattle with Dan Flynn, U.S. Soccer's secretary general, to deliver the news of the suspension and although Solo will still be able to play for Seattle Reign FC in the NWSL (U.S. Soccer is reportedly handing her three months severance pay on the contract they terminated which also includes her salary for NWSL play) she will miss two upcoming games for the USWNT in 2016.
Will the USWNT be weaker without Solo? Of course they will but this ban shows they believe they are ready to move on without her. After 16 year and 202 caps with the USWNT, Solo is not indispensable anymore. She has been one of the greatest players in women's soccer history and probably the greatest-ever goalkeeper. Yet, Gulati and U.S. Soccer had to make a firm stance after giving Solo chance after chance to clean up her act.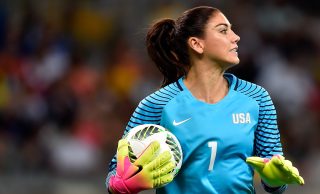 It doesn't take a master decoder to work out the subliminal message buried in Gulati's comments in the statement released by U.S. Soccer.
In a nutshell it says: enough is enough. You were on your last chance and you blew it. It is highly likely than since January 2015 Solo has been repeatedly warned that if she steps out of line again there would be severe consequences.
Right now Solo will not be available to play for the U.S. until Feb. 2017 and even then it seems highly unlikely she will return. After a distinguished career on the pitch, Solo's erratic behavior off it has finally caught up with her.
The lengthy ban for her outspoken rant against Sweden was undoubtedly excessive and there is a big question mark about the notion of free speech here. She spoke her mind vehemently about her distaste towards Sweden's tactics but it wasn't like Solo swore or used discriminatory language when speaking about Sweden. She just didn't agree with their tactics.
Yet, that "coward" rant was likely the final straw in a long line of indiscretions which even Solo, perhaps one day, must admit have painted both herself and U.S. Soccer in a poor light over the past few years. She is outspoken and the passion, as misguided as it was, which fueled these comments is also what has taken her to the top of the game.
Sometimes, though, enough is enough. The punishment from U.S. Soccer for this specific outburst may seem harsh to many but it likely marks the end of Solo's glittering, controversy filled, USWNT career.