HUGE CLUBS, HUGE IMPACTS
When it was announced that Pep Guardiola, Jose Mourinho and Antonio Conte would be taking charge of Manchester City, Manchester United and Chelsea respectively, pursuits drooled for days at the thought of the tweaked tiki-taka, ruthless efficiency and passionate counter attacks all three would respectively bring to their teams.
In fits and starts we are already seeing the style of each manager seeping through his team.
[ MORE: Watch full PL match replays ]
Three teams in the Premier League have 100 percent records: Manchester City, Manchester United and Chelsea. And three weeks into the season we are already clearly seeing the ideologies of Pep, Jose and Conte in their teams. That, my friends, is exciting and is also exactly why they are world-class managers.
Mourinho is under no illusion that a fast start means nothing.
"We don't want to start well, we want to finish well. We want to be champions," Mourinho said after United's last-gasp win at Hull City.
Of course Mourinho and Co. have been handed vast amounts of money to overhaul their squads. That helps massively and although Conte has spent big on Michy Batshuayi and N'Golo Kante, he has totally transformed the mentality of the same under-performing group of Chelsea's players from last season. That deserves huge credit and is testament to the huge job he's done in preseason to turn things around.
All three are box office, all three bring something unique in their coaching styles and all three are ruthless perfectionists. Even though their teams are perfect in terms of points gained, they won't be happy as performances haven't been of the highest caliber in the full 90 minutes of each of their three wins.
[ MORE: Latest Premier League standings ]
Guardiola's City purred in the first half against West Ham United and Stoke City with fast-moving attacking interchange boggling the mind, but faded in the second. Mourinho's United started fast against Southampton as they got the ball wide often and delivered telling crosses but labored against Hull before winning it late on. Conte's Chelsea have struggled to break down stubborn West Ham and Watford outfits but have been solid defensively and their pacey counter-attacks blew away a lackluster Burnley.
All three coaches have a clear philosophy of playing and we've already seen that their methods are working in the short space of time they've been with their new group of players.
There have been moments for real optimism for all three superstar coaches but there's also been enough moments of underachievement to keep them on edge. They all live on the edge. It is what makes them great. Until one of Guardiola, Mourinho or Conte has the PL trophy in his grasp on May 24, 2017, they won't be content. Even then, they'll already be planning out how to replicate their success.
[ VIDEO: Premier League highlights ] 
Premier League Schedule – Week 3

| Result | Recap & Highlights |
| --- | --- |
| Chelsea 3-0 Burnley | Recap, watch here |
| C. Palace 1-1 B'mouth | Recap, watch here |
| Everton 1-0 Stoke | Recap, watch here |
| Hull City 0-1 Man Utd | Recap, watch here |
| Leicester 2-1 Swansea | Recap, watch here |
| Man City 3-1 West Ham | Recap, watch here |
| Saints 1-1 Sunderland | Recap, watch here |
| Tottenham 1-1 Liverpool | Recap, watch here |
| Watford 1-3 Arsenal | Recap, watch here |
| West Brom 0-0 M'boro | Recap, watch here |
These three are born winners. These three are at massive clubs. These three already looked destined for a straight shoot-out for the Premier League title this season with any questions marks about Arsenal, Tottenham and Liverpool to suggest they'll be playing for fourth.
It's early days yet but the early signs suggest the powerhouse gaffers will deliver at the powerhouse clubs.
Only one manager can win it all but philosophically they've already made their mark. That's impressive in just over eight weeks.
---
WHO NEEDS WHAT?
As we enter the final two days of the summer transfer window in the Premier League, plenty of teams are still scrambling to sign players before the deadline at 6 p.m. ET on Wednesday.
[ MORE: Premier League schedule | stats ] 
Below is a handy checklist to have as the needs for PL teams are clear to see. Will the following clubs splash the cash to get more cover in the following areas?
Chelsea: Central defender
Liverpool: Left back/Goalkeeper
Tottenham: Winger
Arsenal: Center back/Striker
Man United: Central defender
Man City: Full backs
Everton: Striker, central midfielder
Southampton: Striker
Watford: Central defenders/Striker
West Ham United: Winger
Hull City: Center back/Winger/Striker/Attacking midfielder/Goalkeeper
Sunderland: Center back/Striker/Central midfielder/Goalkeeper
Stoke City: Striker
Leicester City: Striker
Burnley: Striker/Winger
Bournemouth: Center back
Swansea City: Striker/Center back
West Brom: Striker/Attacking midfielder
Crystal Palace: Attacking midfielder
Middlesbrough: Central defender
Plus here a few other things to keep an eye as the deadline approaches…
Team who could do with selling a few: Man City, Everton Leicester City, Middlesbrough, Chelsea, Man United
Big deals to watch: Manolo Gabbiadini to Everton from Napoli, Marcos Alonso to Chelsea from Fiorentina, Joe Hart loan move to Sunderland. Jose Fonte to Manchester United, Islam Slimani to Leicester City, Wilfried Zaha to Tottenham Hotspur, Loic Remy to Crystal Palace
---
USMNT: CAMERON, GUZAN, GOOCH IN ACTION; PULISIC ON THE MOVE?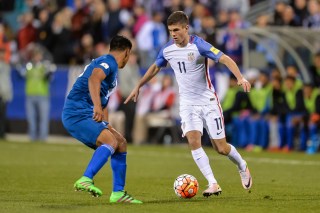 With the U.S. national team playing two crucial 2018 World Cup qualifiers in the next 10 days, Jurgen Klinsmann's men still have plenty of work to do. The USMNT roster for the games against St. Vincent and the Grenadines on Sept. 2 and Trinidad and Tobago on Sept. 6 was announced on Sunday and there were no real surprises. It will certainly hurt Klinsmann to be without forwards Clint Dempsey and Gyasi Zardes who are both unavailable due to injury.
[ MORE: How are USMNT looking? ]
Two Premier League players have been called up to the squad with Stoke City's Geoff Cameron and Middlesbrough's Brad Guzan both included, and some could've argued that a third, Lynden Gooch, could've been called up.
It is most likely the Sunderland midfielder will be called up in October for the friendly matches against Cuba and New Zealand after the California native has become a regular fixture in the heart of the Black Cats' midfield. Gooch, 20, has started all three games for Sunderland this season and has impressed with his poise on the ball, positional sense and passing ability. Klinsmann will surely be ready to hand the U.S. U-20 star a call up to the full national team in the coming months.
As for Cameron and Guzan, the former has started the last two games at center back for Stoke as they beat Stevenage Town 4-0 in the EFL Cup and lost 1-0 at Everton in the PL. After having flu-like symptoms at the start of the season, Cameron is back in as a regular for the Potters and has looked as solid as ever at the heart of the defense. In his fifth season with Stoke, Cameron is a guaranteed starter for the U.S. and was the only man to play every single second of their fourth-place finish at the Copa America this past summer. With John Brooks missing through injury, Cameron will hold the U.S. defense together.
[ STREAM: Every PL game via NBC Sports  ]
Guzan didn't start Boro's first PL game but with Victor Valdes out injured the former Aston Villa goalkeeper has played well in their win over Sunderland last week and a draw at West Brom. Guzan was called into action on plenty of occasions against the Baggies and will remain the USMNT's undisputed numero uno. On a related note, we lost another U.S. national team player from the PL as DeAndre Yedlin left Tottenham Hotspur and made the move down to the Championship with Newcastle United.
Another U.S. international rumored to be on the move is teenage sensation Christian Pulisic.
The 17-year-old Borussia Dortmund attacking midfielder has been linked with a move to Red Bull Leipzig in the Bundesliga and Stoke City in the Premier League. I can confirm the latter were never in for Pulisic, but an interesting rumor has cropped up linking the Hershey, Pennsylvania native with Liverpool.
Pulisic was signed by former Dortmund manager, and current Liverpool boss, Jurgen Klopp in January 2015. With whispers going around about Liverpool making a $14 million bid for Pulisic late last week, I spoke to Klopp and asked if Pulisic was a player Liverpool were interested in.
Here is his response to ProSoccerTalk:
"No transfer rumors. I have no comment for this. Absolutely nothing to speak about," Klopp said. "That's for all the other cases too. When we know something and when we are close to doing something then we will inform you… or a little bit later."
It is believed Pulisic wants to move elsewhere to play regularly but quite frankly Dortmund would be foolish to sell him right now, especially after they nurtured him for the past two years and he's already shown he has supreme quality on the ball and an innate ability to pop up in the right spots in attack.
Watch this space.
---
Premier League Playback comes out every week as PST's Lead Writer and Editor takes an alternative look at all the action from the weekend. Read the full archive, here.