A roundup of all of Saturday's action in the Premier League…
[ FOLLOW: All of PST's PL coverage ]
Manchester United 1-2 Manchester City — FULL RECAP
Saturday's Manchester derby lived up to every bit of the two weeks' worth of hype, and maybe more. There were no fisticuffs between Jose Mourinho and Pep Guardiola — only a warm embrace and a pair of handshakes — but the two sides more than made up for it on the field, particular in a first half that saw all three goals scored in a span of 27 minutes. Kevin De Bruyne scored the opener, and then nearly Man City's second if not for striking the post to set up Kelechi Iheanacho for the tap-in. Zlatan Ibrahimovic answered with an effortless side-volley (WATCH HERE) not long before halftime, but that's as close as the Red Devils would get.
Stoke City 0-4 Tottenham Hotspur — FULL RECAP
Seemingly nothing has changed since Tottenham were 4-0 victors away to Stoke last April. Mauricio Pochettino's side simply overwhelmed Mark Hughes' Potters in sending out a fair warning to the rest of the PL: "Excuse us, please don't forget about us." Heung Min-Son bagged a brace with a goal either side of halftime, and Dele Alli and Harry Kane each scored their first goal of the season. Spurs are the only side to have conceded just two goals through their first four games of the season (both Chelsea and Everton have conceded two through three games).
Liverpool 4-1 Leicester City — FULL RECAP
Jurgen Klopp's Reds are downright terrifying, once in full-flight. We saw it on the opening day of the season, and we saw it again on Saturday. The defending champions looked a shell of the title-winning side of last season, again, as Roberto Firmino (twice), Sadio Mane and Adam Lallana blitzed them for four goals, two on either side of halftime.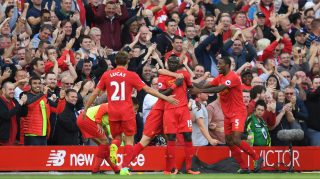 Arsenal 2-1 Southampton — FULL RECAP
Arsenal came from 1-0 down to top Saints in controversial fashion (you'll have to judge for yourself) and keep pace with Spurs, Liverpool and Man United in the race for the top four. Laurent Koscileny was the scorer of perhaps the most unlikely bicycle-kick goal of all time, but only after the Gunners went a goal behind when Dusan Tadic's free kick found the back of the neck via Petr Cech's back, via the crossbar.
West Ham United 2-4 Watford — FULL RECAP
West Ham went 2-0 up on Watford after Dimitri Payet's ridiculous rabona assist (just click the link below already), and that was the last time a professional footballer wearing claret and blue was seen all day. Odion Ighalo and Troy Deeney brought the Hornets back to 2-2 in a five-minute stretch just before halftime, and Etienne Capoue and Jose Holebas bagged their side's third and fourth goals, respectively, after halftime.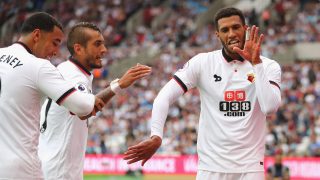 Middlesbrough 1-2 Crystal Palace — FULL RECAP
Christian Benteke opened his goalscoring account for Crystal Palace on Saturday, heading home Wilfried Zaha's delicately lofted cross for the game's opening goal in the 16th minute. Boro hit back through Daniel Ayala in the 38th minute, but Zaha grabbed what proved to be the winning goal in the 47th minute, a powerful left-footed striker from the top of the penalty area which Victor Valdes hadn't the faintest hope of saving.
Bournemouth 1-0 West Bromwich Albion — FULL RECAP
Bournemouth striker Callum Wilson is back from the torn ACL that cut short his promising 2015-16 season, and looking once again like the man who scored five goals in seven games a year ago. Saturday's late winner, which came via the deftest, silkiest, smoothest of backheel flicks in the 79th minute, was the 24-year-old's first goal of the season.
Burnley 1-1 Hull City — FULL RECAP
The season is only four games old (10.5 percent of games played), and Hull (7 points) are already 17.5 percent of the way to the magical marker of 40 points, at which point they'll be nearly impossible to relegate. On Saturday, Mike Phelan's side looked destined for their second straight defeat after winning back-to-back games to begin the season, but Robert Snodgrass scored a 94th-minute equalizer to salvage a draw and inch the Tigers one point closer to safety.