QUESTIONS ARRIVE FOR MOURINHO
There's no way Manchester United should have still been in with a chance of winning the Manchester derby at half time on Saturday at Old Trafford.
In the first half they were 2-0 down and were played off the pitch, battered mentally and physically by Manchester City and Pep Guardiola.
[ MORE: Watch full PL match replays ]
Jose Mourinho knew it. The 75,000 fans inside the stadium knew it. Millions watching around the world knew it.
Mourinho had got his tactics wrong and made a drastic change at half time — Henrikh Mkhitaryan and Jesse Lingard, who had both come in for their first PL starts of the season and were hooked off — and by then it was too late, even after Claudio Bravo's clanger allowed Zlatan Ibrahimovic to half the deficit which is more than United deserved at the interval.
[ MORE: 3 things learned on derby day ]
Saturday's 2-1 derby defeat thanks to Kevin De Bruyne's first half brilliance and Guardiola's ability to mix up his teams style of play in each half provided a much-needed reality check for Mourinho and United. In the long run this might not be the worst thing in the world.
Before the derby this weekend they beat an evolving Bournemouth side, edged past a disjointed Southampton and beat battling Hull City at the death. Proper perspective has arrived but right now Mourinho's pride will be smarting. Big time.
[ MORE: Guardiola wins tactical battle ]
Even though he got his decisions on tactics and personnel wrong on the big day, Mourinho pointed to too many of his players having off days on derby day, plus key decisions by referee Mark Clattenburg going against his side. In the case of Bravo's lunging tackle on Wayne Rooney after the City goalkeeper had a loose touch in the box, he has a point. It should've probably been a penalty kick and a yellow for Bravo.
That injustice did not let Mourinho excuse his teams first half performance in his post-game press conference. He didn't hold back.
"I'm clearly disappointed with the first half, disappointed with some really poor individual performances that affected the overall performance of the team," Mourinho said.
He also clearly regretted starting Mkhitaryan and Lingard and admitted he would've taken them off earlier than half time, if he could.
"I made a couple of decisions that I thought the individual qualities of certain players would give me what I know that I want and I didn't get it," Mourinho said. "At the same time because we were losing the ball so easily under the pressure they were making, we were never able to bring the defensive line. I didn't change [the team] after 20 minutes because I don't want to destroy the players. I didn't want to make three changes at half time but if there were a free number of changes and changes during the first half were normal … I would have done it after 20 minutes."
[ MORE: Premier League schedule | stats ] 
Here is a tactical analysis of how Guardiola's side — led by the intelligent pressing of De Bruyne and David Silva as they dispossessed Marouane Fellaini, Paul Pogba and Rooney time and time again in midfield in the first half — dominated, and then Pep switched things up with Fernando on in a holding role in the second half. City had a real plan to take the game to United and then deal with the threat of a more direct approach and higher pressure in the second half.
Guardiola won the tactical battle. Mourinho and United's plan didn't work at all. But that's not his biggest issue to address.
Speaking to reporters after the match, the comments about his players being impacted by the big occasion of the derby seemed the most telling.
"What I told them at half time was that for some of you, it looks like you are trying to do what I told you not to do. It was this. I told 20 times to Bailly 'never play a first possession ball. Never. Never do that because that is where they want to press.' He did it 20 times during the game," Mourinho said. "I think really some of the boys, they felt the dimension of the game. Everything around the game, the derby, the big game, Man United v Man City, the focus and the attention. I felt that some of the guys felt it. It has nothing to do with experience or age because you have the kid [Marcus Rashford] who comes on and plays like it is an under 18 game against Salford City.

"It is about the individual and every individual reacts differently to the dimension of the occasion in different ways. It is difficult to predict. It gets easier when you know the players well. You see how they react. Probably in the next big Premier League game I will know who can accept the dimension of the game, which is very important."
United is still a work in progress and the fact they didn't rise to the big occasion of a local derby against a fellow title contender will teach Mourinho a lot more about his group than if they'd grabbed an undeserved point.
That's the major positive United should take from a derby day humbling at the hands of Mourinho's old foe Guardiola.
---
SPURS, ARSENAL, CHELSEA AT DIFFERENT PLACES
Aside from Man City making a statement by laying down the law to United, three other legit title contenders had contrasting fortunes this weekend.
Premier League Schedule – Week 4

| Result | Recap & Highlights |
| --- | --- |
| Arsenal 2-1 Saints | Recap, watch here |
| B'mouth 1-0 WBA | Recap, watch here |
| Burnley 1-1 Hull | Recap, watch here |
| Liverpool 4-1 Leicester | Recap, watch here |
| Man Utd 1-2 Man City | Recap, watch here |
| M'boro 1-2 C. Palace | Recap, watch here |
| Stoke 0-4 Tottenham | Recap, watch here |
| Sunderland 0-3 Everton | Recap, watch here |
| Swansea 2-2 Chelsea | Recap, watch here |
| West Ham 2-4 Watford | Recap, watch here |
Tottenham Hotspur brushed aside Stoke City 4-0 thanks to a dominant second half display at the bet365 Stadium. Heung-Min Son scored twice, plus Dele Alli and Harry Kane got in on the act as Mauricio Pochettino's side have quietly remained unbeaten as they prepare for their return to the UEFA Champions League this week.
Stoke were poor and Spurs were ruthless to make it eight points from their opening four games of the season.
As for Spurs' north London rivals Arsenal, they labored to victory over Southampton thanks to a last-minute penalty kick which, well, wasn't a PK. Olivier Giroud and Jose Fonte challenged for the ball in the box and referee Bobby Madley pointed to the spot in the 93rd minute. Santi Cazorla slotted home to give the Gunners an unconvincing win as new boys Shkodran Mustafi and Lucas Perez made their debuts but Saints squandered chances after going ahead in the first half.
[ MORE: Latest Premier League standings ] 
Fonte's comments from his Instagram post below says it all. Arsenal got away with one — see Mesut Ozil's Tweet — but they now have back-to-back wins and seven points from 12 to start the season.
"Just want to say thank you for the support and also for every fan that came to the game today," Fonte said. "No one more than me feels hard done by and disappointed, you can feel the same but not more then me. When Giroud asks me who gave the penalty away that says it all, if you haven't watched the game and come to criticise please save me that! We will keep our heads up and eager to turn this bad fortune around. Once again I appreciate the love."
Across London, Antonio Conte's Chelsea are no longer perfect as they rescued a point late on at Swansea. The Blues dominated the first half but only led 1-0 at the break through Diego Costa's strike. A rash challenge by Thibaut Courtois then saw Gylfi Sigurdsson score from the resulting penalty kick and Leroy Fer then looked to have bundled Gary Cahill over unfairly before squeezing home a shot. Chelsea had let in two goals in three minutes and Conte looked stunned.
The Blues had Costa to thank for grabbing a point as his bicycle kick made it 2-2 and although Conte was disappointed to lose his 100 percent record in the league the Blues' offense was clicking into place rhythmically with Costa at his bullish best as the focal point. Aside from a sloppy decision from Courtois and an incorrect decision from the referee, Chelsea would be joint-top of the league with Man City.
It is all set up rather nicely for a huge Friday Night Football clash between Chelsea and Liverpool (Watch live, 3 p.m. ET on NBCSN and online via NBC Sports) this Friday at Stamford Bridge.
Speaking of Liverpool…
---
PULISIC TO LIVERPOOL?
The transfer window is closed in the Premier League but that doesn't mean interest isn't already being placed for this January when it reopens.
I'm hearing Christian Pulisic, 17, remains a target for Liverpool who reportedly made a bid for the Borussia Dortmund and U.S. national team starlet right at the end of the summer transfer window in August.
A source has told ProSoccerTalk that Liverpool will bid for Pulisic in January when the transfer window opens, with the USMNT youngster very eager to link up with his former boss once again. Klopp was the man who brought Pulisic to Dortmund as a 15-year-old from Pennsylvania and although Klopp refused to comment on speculation linking him with Pulisic when I asked him on Aug. 27. there is definite interest in the player.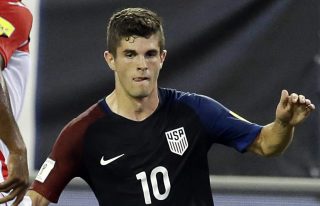 Of course with Pulisic's star rising all the time thanks to exploits with the USMNT last week on international duty, his price will continue to rise. It is believed Liverpool only offered $15 million for Pulisic in August and it is not out of the question to think that Dortmund, who have nurtured his talent over the past few years, would want closer to $25 million for the youngest-ever USMNT goalscorer in World Cup qualifying.
Now, the size of the bid aside, would Pulisic be any better off at Liverpool than Dortmund?
He was an unused sub for BVB in their shock Bundesliga defeat against Red Bull Leipzig at the weekend and with Klopp already possessing a vast array of attacking talents in Pulisic's position — Adam Lallana, Sadio Mane, Roberto Firmino and Philippe Coutinho to name a few — you have to wonder if his pathway will be equally blocked at Anfield as it currently is at the Westfalenstadion. When you take into account that Klopp's meticulously assembled attacking machine trounced stingy Leicester City 4-1 at Anfield on Saturday, it does seem like Pulisic would perhaps be even further away from a first time slot at Anfield if he moved. We've all seen his talent though, and clearly Klopp believes in him.
[ STREAM: Every PL game via NBC Sports  ] 
At this stage of his career Pulisic needs to be playing regularly and even though the thought of him starring for Liverpool under Klopp is one which makes U.S. fans salivate readily, it may not be the best thing for his future. Whatever happens, we'll have to wait until January at least to find out what lies in store for the next chapter in Pulisic's incredible rise.
Premier League Playback comes out every week as PST's Lead Writer and Editor takes an alternative look at all the action from the weekend. Read the full archive, here.