SOUTHAMPTON — Seven years ago this week Southampton were gearing up for a League One game against Yeovil Town as they sat on -5 points at the bottom of English soccer's third-tier just months after being rescued from going out of business.
In July 2009 they were saved by Swiss billionaire Marks Liebherr and ever since Saints have been in safe hands. Still, they would never have dreamed about nights like this back then.
[ MORE: United lose to Feyenoord ]
On Thursday they beat Sparta Prague 3-0 in their first-ever foray into the Europa League group stage as Charlie Austin scored twice in the first half to put the game beyond doubt and Jay Rodriguez added a late clincher.
The victory was a moment to savor and was also time for reflection about the incredible journey the club has been on in the past seven years, with seven-straight seasons of finishing in a higher league positions than the last.
[ MORE: UCL Thursday roundup ] 
Just like it did last season during their brief stint in the third qualifying and play-off rounds of the Europa League, this competition has captured the imagination of the people of Southampton and their supporters. Chatting with a few Saints fans in London last week after their 2-1 defeat to Arsenal, all the talk was about what the best hotels and bars in Prague and Milan were as they dream about seeing their team play at the San Siro as opposed to playing at Hartlepool's Victoria Park not too long ago.
[ STREAM: Every PL game live on NBC Sports ]
In and around the city on Thursday there was a sense of optimism about the foreign clubs heading over and the new challenges ahead. The last time Saints were in this competition proper (not the qualifying rounds) was the first round against Steaua Bucharest in 2003. Before that they had four brief stints in the competition in 1971 and three times in the early 80s, never making it past the second round of the old format of straight knockout.
The city of around 300,000 people on England's south coast had waited some time for European nights like this. They are determined to enjoy it.
As the late summer sun shone down on restaurants in Ocean Village marina, there was excited chatter among fans beforehand. The locals were ready for their first extended spell of European action.
"This is a phenomenal achievement for us. This is where we want to be," Saints fan Derek Coles said outside the stadium before the game as a brass band played and home fans danced.
Drawn in Group K alongside Italian giants Inter Milan, Czech outfit Sparta Prague and Israeli champions Hapoel Be'er Sheva, this is an adventure to savor for Southampton's fans, players and staff.
After finishing sixth in the Premier League last season following an incredible late season surge which saw only Leicester City pick up more points than them from January until May, Saints deserved the reward of being in the Europa League. Many clubs in the PL don't see it as a reward. Bigger teams like Liverpool, Manchester United and even Tottenham Hotspur felt it was a drain on their chances of finishing in the top four and getting back into the Champions League.
Not Southampton. Nobody in Southampton's squad knows that more than captain Jose Fonte.
After joining Saints in January 2010 in the third-tier, the veteran Portuguese defender is the only remaining player from their time in League One. This summer Fonte won EURO 2016 with Portugal as his form for Southampton saw him handed his national team debut just before the age of 31. He hasn't looked back since and he intends to make sure Southampton continue their rise.
"We want to improve on last year. Already we improved by getting to the group stages but we want to get to the knockouts and get as far as we can. Everyone is excited," Fonte said. "It is just another chapter in our history together. A very, very proud moment. In 10 years when we look back on everything we achieved together, it is going to be great but now we need to do the job."
So far this season there have been plenty of moans and groans from some sections of Southampton's supporters. Maybe they are feeling a bit hard done by with Ronald Koeman leaving for Everton over the summer plus star names Sadio Mane, Graziano Pelle and Victor Wanyama also moving on. With two draws and two defeats from their opening four Premier League games, new manager Claude Puel finally secured his first win in charge but there is cause for optimism with new signings Nathan Redmond and Pierre Emile-Hojbjerg impressing, plus club-record signing Sofiane Boufal will be ready to play in the coming weeks as he returns from injury.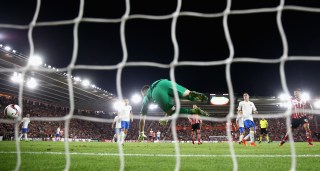 Following higher positions each season since 2010, there perhaps need to be a small reality check among Southampton's fans about what is achievable this season.
Terry Brewer was stood outside St Mary's eating fish and chips from a bag as he soaked up the atmosphere of a European night down on the banks of the River Itchen. Brewer didn't get to see Saints in Europe last season with his wife falling ill and sadly passing away.
This season he has a season ticket and he knows Saints may not be seeing many more nights like this with the perennial giants of English soccer sorting themselves out over the summer.
"All of Southampton's fans want European football every season but we keeping losing managers and players and we keep on getting away with it. We can't keep on getting away with it," Brewer said. "This is a reward and a celebration for last season but if we finished in the bottom of the Premier League table this year, it won't be much of a celebration, will it?"
Speaking to many fans around the city, they agree a top 10 finish, plus a good run in the Europa League and the domestic cups would be more than adequate this season. Of course everyone at the club wants to continue the upward trajectory but last season's sixth-place finish was about more than a late season surge, it was also about perennial powerhouses such as Liverpool and Chelsea having down years so Saints could jump ahead of them.
Saints made the most of their opportunity to secure Europa League action and this European adventure is a bonus. One their fans intend to soak up and enjoy.
"Every fan will be celebrating the fact that this could be their only European journey for maybe the next 10 years," Coles said. "You can't keep selling all of your players every season and expect to remain in the top flight."
On nights like Thursday, you'll find many Saints fans casting their minds back to those bleak days in League One. Some would even have shed a tear when they saw their club walk out to compete in the group stages of a European club competition for the first time in history.
"As a club it is amazing to be in this competition and Southampton have come far to be in this competition," Southampton's defender Virgil Van Dijk said before the game. "We need to enjoy it, but still we have a lot of opportunities coming to hopefully progress in the group, too."
In the aftermath of Liebherr's takeover in 2009 it was hard to imagine the initial five-year plan to get them back to the Premier League was achievable after their rapid spiral into administration and to the brink of the abyss. It was, in truth, the best thing that ever happened to the club. They rebuilt the entire structure and worked their way back up through the leagues after being a founding member of the Premier League in 1992-93 then relegated in 2005 after a 12-year stay in the top-flight.
Their savior, Markus Liebherr, passed away in 2010, just over a year after purchasing Saints, but his legacy lives on everywhere you look.
His daughter Katharina is now the owner and she intends to fulfill her father's legacy. Despite a slow start to the current PL season, Saints have to remember where they've come from. The majority do and walking around Southampton there's a painted mural of Liebherr's face on a bridge over a train line leading to the stadium, plus the main building at the club's pride and joy, the $50 million Staplewood training base which is home to their world famous academy, is called the Markus Liebherr pavilion.
After Saints went 2-0 up against Sparta Prague and some of the early tension in the stadium dissipated, the home fans immediately sung about one man: "There's only one Markus Liebherr!"
Southampton is a club who is enjoying their European adventure and after working so hard to get there, they don't intend to leave in a hurry with Thursday Night Lights a welcome sight on the south coast. There is a sense of "now what?" among most fans, now that Saints have achieved everything they wanted and more. There's also a sense of realism that finishing in the PL's top four may be out of the question, for now.
With the squad Southampton has, should they be prioritize making a deep run in Europe over pushing for another top six finish in the Premier League?
"With the squad we've got at the moment, I don't think it makes much of a difference if we rotate the team around for these games," Brewer said. "But I'm glad we've got this."
Brewer speaks for the masses. Southampton's fans are glad they have the Europa League and are determined to enjoy and savor their rare European adventure.