It takes a lot to earn plaudits for a third kit, given that in a lot of ways they simply seem another way to squeeze money out of fans.
But Manchester City's third kit for 2016-17, revealed on the club's site Tuesday, is really sharp. The club is expected to wear it on road nights in the UEFA Champions League.
[ MORE: Klinsmann "changed mentality" of Spurs ]
Starting with orange and slowly working in purple before being taken over by the second color, we would imagine the Clemson soccer teams may be ringing up their uniform dealers in the near future.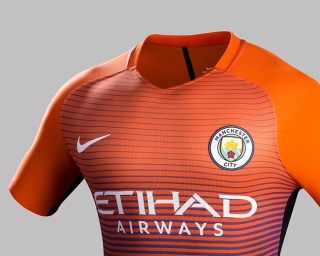 I come from a bit of a hockey background, and almost always think any sort of change kit should at least be in the same neighborhood of the main color scheme, but I dig this. Maybe I'm overtired. Am I wrong, PST readers?
The only thing that bothers me is keeping the crest in its original colors. There's quite a clash going on in the chest, and we've seen teams like Arsenal and Real Madrid nimbly maneuver the colors when making similar bold uniform choices.