Tottenham Hotspur will be without Harry Kane for at least a few weeks and probably longer.
How will they cope?
[ MORE: Bellerin to Man City, Barca? ]
Mauricio Pochettino confirmed on Tuesday that Kane, 23, has damaged ligaments in his right ankle and gave no time frame on when he will return to action.
Media reports suggest Kane will be out for around 8-10 weeks which would mean a return in mid-November at the earliest. That means he will miss key games against Manchester City, Leicester City and Arsenal in the Premier League and also games home and away against Bayer Leverkusen and a trip to CSKA Moscow in the UEFA Champions League.
[ MORE: United's midfield mess ] 
Whatever way you slice it up, losing Kane is a big blow for Spurs. He's scored 51 goals in 88 PL appearances since bursting onto the scene in November 2014 and he's been their top goalscorer in each of the last two seasons. Plus, Kane has missed just four PL games since the start of the 2014-15 season and Spurs have lost three and drawn one of those.
However, Pochettino is trying to take some positives from Kane's injury.
"We need to be positive, now the damage is done and we can only be positive and try to help him to become stronger than before," Pochettino said. "It's important to help him, it's a good opportunity to build not only his fitness and his mentality but to work hard in different aspects to help him to become more strong."
Kane had failed to find the net in his opening four games of the season for Spurs after a disappointing EURO 2016 campaign with England but the striker had scored in each of his last two Premier League games for Spurs in wins over Stoke and Sunderland. That said, this rest may do him good as he's pretty much played for two years straight after playing for England at the U21 European Championships last summer and at EURO 2016 this summer.
Now that Kane is out, what options do Spurs have? Here's three.
---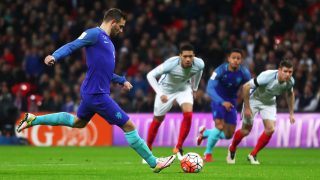 1 – Vincent Janssen – The most obvious choice, the Dutch international now has his chance to shine in the Premier League. Outspoken in his desire to leave AZ Alkmaar this summer to head to White Hart Lane, Janssen has had a handful of starts as the main striker with Kane playing just off him. They didn't work out too well but now that Janssen, 22, is set to get an extended run in the team, we will see what he's made of. In truth, the leading score in Eredivisie last season and Kane are very similar players in that they are old fashioned center forwards who love to get on the end of crosses but can be seen dropping a little deeper to start attacks. Here's your big chance, Vincent.
---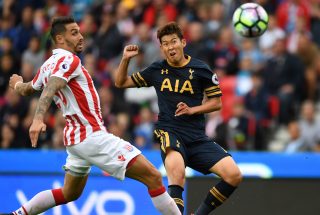 2 – Heung-Min Son – He's played central before for Spurs last season in cup competitions and it didn't quite work out. Now, though, Son is in good form and was the man of the match against Sunderland on Sunday and scored two goals away at Stoke last week. The South Korean has mainly operated out wide for Tottenham but he did play in a central role for Bayer Leverkusen during his time in the Bundesliga. Another really option for Pochettino, which would also open up a slot out wide for Erik Lamela to stay in the team.
---
3 – False nine or youth – This is a little drastic but if Pochettino doesn't think Janssen is ready to start then he could have use a false nine in Christian Eriksen or Dele Alli. If either of those drops deep, then the likes of Son or Lamela can make runs in behind opponents defenses. Again, very drastic, but if neither Janssen or Son work then it could be the play. Also, there are a few youngsters from Spurs' academy who could step in with Josh Onomah getting plenty of minutes over the last 12 minutes, plus young striker Shayon Harrison (currently injured too) or winger Marcus Edwards could be drafted in. Pochettino is a big believer in youth so don't rule this out.