Landon Donovan spoke on the Dan Patrick Show on Wednesday about his miraculous comeback for the LA Galaxy earlier this month.
[ MORE: United train in parking lot ]
Donovan, 34, retired from soccer in December 2014 but after almost two years out he decided to come out of retirement to play through the end of the 2016 season for LA as Bruce Arena's men struggled with an injury crisis.
The all-time leading goalscorer for the U.S. national team told Patrick that "it just felt right, I don't really have an explanation other than that" about his comeback while also stating that he wanted to help out his former team the Galaxy and also play in front of his eight month old son Talon. Donovan also said he would not have returned to play for LA and in MLS again if he didn't have a son.
Donovan was then asked an inevitable question: if U.S. Soccer called him and asked him to return and help the team, would he return?
"If I felt I could actually help and contribute then yeah, of course. That is a million miles away. I've played a total of 20 minutes in two years."
He was then asked by Patrick if he would accept any offer from Jurgen Klinsmann — he left Donovan off the USMNT's 2014 World Cup roster in a huge shock and since then Donovan has openly criticized the German coach — to be on the U.S. national team coaching staff.
"Umm… again, if I felt I was able to contribute I'd consider it," Donovan said. "What did you want me to say? Why not?"
In a lengthy, revealing interview a laid-back Donovan discussed his current physical status and despite coming off the bench and scoring a late equalizer for LA at Sporting Kansas City last week, he admits he's nowhere near fit enough to play in Major League Soccer.
"No I'm not in shape," Donovan said. "It makes you realize that to be in real elite athlete shape, you forget how difficult that is and how much work goes into it. I went in to a game last week and played for five minutes and I was absolutely exhausted. This was at the end of the game when everyone had been playing in 85 degrees heat. It is going to take a while but I'm enjoying it."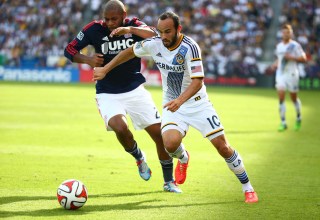 That fitness issue is probably because Donovan was completely done with soccer since retiring in 2014.
He got married, had a kid and had moved on with his life. Until now.
"Sitting home the past two years I have had zero desire to go and run around a soccer field. I don't play soccer any more at home. I play tennis, I go work out, I run. I don't play soccer any more. That's not what excites me any more," Donovan revealed. "But this opportunity seemed like it was two things. One was a chance to help the team. Two, I know my son is only eight months old and he's not going to remember anything but I do want to have memories with him on the field with me and have something to show him one day. One day at 13 he probably says 'dad, I don't care about that crap. Why did you do that? That was dumb.' But what if he doesn't?"
Asked if being left out off the U.S. roster for the 2014 World Cup was a key factor in him retiring a few months later, Donovan said his mind was already made up way before that happened.
He did however suggest just how fresh he's feeling right now, and comments like this will keep plenty of people intrigued to see if he continues to play beyond the 2016 MLS season.
"What happened in the last two years, I've come back and started training and my body now feels young and excited to be around it. Maybe just having a break was important," Donovan said. "I was very fortunate to not have many major injuries while I was playing but along with that means you don't get a lot of breaks. It just wore me out… I feel rejuvenated and fresh and I don't know, maybe I will suck when I go out there and play but it will be enjoyable and hopefully I can help."
Could Donovan help the U.S national team in their upcoming World Cup qualifiers? Even for the master of the comeback, that may be one step too far.