A roundup of all of Saturday's action in the Premier League…
[ FOLLOW: All of PST's PL coverage ]
Arsenal 3-0 Chelsea — FULL RECAP
Arsene Wenger was appointed Arsenal manager 20 years ago next Saturday, deservedly making the upcoming week all about the legendary Frenchman. On top of his two decades of guidance, Arsenal also fans have a 3-0 thrashing of London rivals Chelsea to celebrate. Saturday's meeting at the Emirates Stadium was over not long after it started, Alexis Sanchez and Theo Walcott putting the Gunners 2-0 up inside the first 15 minutes. Mesut Ozil made it 3-0 not long before halftime, and that was that. The best Arsenal performance since … when, exactly? It's been a while.
---
Swansea City 1-3 Manchester City — FULL RECAP
Will Pep Guardiola ever lose a game drop a point in the PL? That almost seems the more proper question, rather than, "When will he?" Swansea were his latest victims on Saturday, with many thanks due to the return of Sergio Aguero (suspension) and the brace he scored. Raheem Sterling bagged the other for Man City, a spectacular piece of dribbling that left Kyle Naughton's body on the floor and his soul in Aguero's back pocket (WATCH HERE).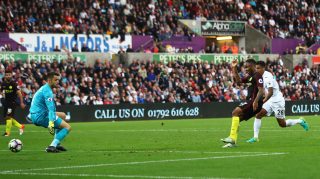 ---
Manchester United 4-1 Leicester City — FULL RECAP
Wayne Rooney was dropped to the bench, and voila, Man United were a devastating attacking team against Leicester. Coincidence? The world may never know. The personnel move did allow Paul Pogba to play further up the field, just behind Zlatan Ibrahimovic, which resulted in the world-record signing scoring his first goal for the club. It came in the 42nd minute, and it capped off a four-goal first half for United, which also saw Chris Smalling, Juan Mata and Marcus Rashford on the scoresheet.
---
Liverpool 5-1 Hull City — FULL RECAP
James Milner's pair of penalty kicks led the way for Liverpool, who also got goals from Sadio Mane, Philippe Coutinho and Adam Lallana, in a 5-1 demolition of 10-man Hull. Coutinho's goal was the pick of the litter (WATCH HERE), and perfectly exemplified the ruthless nature of the Reds' devastating attack. Now level with Arsenal and Everton, just one point back of Tottenham Hotspur, Liverpool are unquestionably in the race for the top four, and one of a few clubs with an outside shot at making a play for the title if everything falls their way.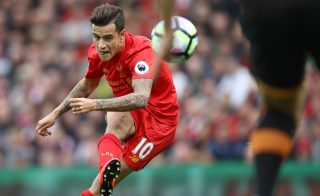 ---
Middlesbrough 1-2 Tottenham Hotspur — FULL RECAP
Heung-Min Son's first season in the PL was a largely forgettable campaign for the Tottenham attacker — four goals in 28 appearances — but after a full season in England, and a regular place in the starting rotation in 2016-17, the South Korean has matched last season's output of goals already, through three appearances this season. Nos. 3 and 4 came in the first half on Saturday, helping Spurs to six games unbeaten on the season (one of two sides without a loss). No Harry Kane, no problem for Mauricio Pochettino.
---
Bournemouth 1-0 Everton — FULL RECAP
Everton were the side stricken from the ranks of the unbeaten on Saturday, losing 1-0 away to Bournemouth. The goal, scored by Junior Stanislas in the 23rd minute, was one of just three shots on target between the two sides. What the Cherries and Toffees lacked in quantity, Stanislas more than made up for with quality (WATCH HERE).
---
Sunderland 2-3 Crystal Palace — FULL RECAP
The spending power of PL clubs is simply unmatched the world over. For proof, look no further than Palace, a relatively small club in the grand scheme of the world's game, spending $41 million on Christian Benteke this summer. A year after transfer rumors linked the big Belgian to some of the biggest clubs in Europe, he's signed for last season's 15th-place finishers. On Saturday, he's scored his second goal in four games for the club, the 93rd-minute winner at the Stadium of Light. Imagine being, say, Atletico Madrid, AC Milan, Inter Milan, Schalke, or any club of that size, and saying to yourself, "We'd love to have Benteke, but Palace are in for him. We can't compete with that." Palace, by the way, came back from 2-0 down to win 3-2 against Sunderland.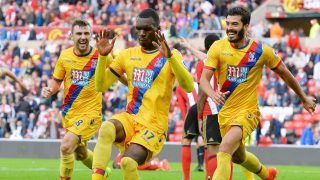 ---
Stoke City 1-1 West Bromwich Albion — FULL RECAP
The hits just keep on coming for Stoke and Mark Hughes. The Potters just had to survive a few minutes of stoppage time, and victory was theirs for the first time in 2016-17. Instead, Salomon Rondon grabbed a 91st-minute equalizer, and Stoke would settle for their second point of the season. Fortunately for Stoke, Sunderland's loss means the Black Cats replace them at the bottom of the league.
---
Sunday's PL schedule
West Ham United vs. Southampton — 11 a.m. ET, NBCSN/NBCSports.com | FULL PREVIEW