Patrick Vieira is making the most of life in New York City as he team continue to become a major player in Major League Soccer.
[ MORE: Latest MLS news ]
Born in Dakar, Senegal, Vieira explores New York in his spare time and often visits Harlem to eat in authentic African restaurants as he enjoys the rich cultural offerings of the Big Apple.
In his debut season as a head coach at the senior level, Vieria, 40, has already enjoyed plenty of success, leading New York City FC to the playoffs in Major League Soccer in just their second season as a franchise. His star is rising as a coach.
With impressive performances on the pitch from star names Frank Lampard, David Villa and Andrea Pirlo, plus youngsters Jack Harrison, Khiry Shelton and Steven Mendoza emerging, all is well at Yankee Stadium as Vieira and NYCFC prepare for the postseason.
Speaking exclusively to ProSoccerTalk from a community event to promote healthy eating among children in Harlem, which Vieira attended alongside NYCFC's Sporting Director Claudio Reyna, defender Jason Hernandez and Lampard, the former French national team captain revealed just how much importance he places on his team being an integral part of the NYC community.
"It is really important for us because we have some responsibility in the community as well," Vieira said. "These kids are New York City FC fans and to get the chance to meet some of the players, to come to this event, it is really important and we know that New York is a big city with the five boroughs so it is important for the supporters to be involved in all of the five boroughs."
As a second-year team, NYCFC has continued its impressive attendance records in MLS with an average crowd of over 26,000 in the Bronx making them the fourth best supported team in the league. They are always trying to find new ways to connect with the vibrant community they've only recently become a huge part of.
Speaking passionately about how he wants his team to not only win games but represent NYC in an authentic manner through their play on the pitch, it is clear Vieira feels at home in the hustle and bustle of the USA's largest city.
"That is the aim. That is what we try to do, to represent New York City. I strongly believe that the city is really dynamic city, 24 hours a day there is something to do and this is how we want to represent the city," Vieira said. "We want to be really offensive, really dynamic and play with a lot of energy. Of course it is not going to be easy but we need to find a way to do it because we want to represent the city."
But how exactly does that mantra manifest itself on the pitch in their style of play?
"It is about attacking football, an attacking way of playing, it is scoring goals and I think at times we have done it quite while," Vieira admitted. "It is also to play with a lot of energy, passion and for the players to give 100 percent. You can win the game, you can lose the game… but what is important is that when the players are on the field, they give everything."
The pace and passion with which Vieira talks represents the city too. It is full of life and fast.
Vieira was speaking from Ginny's Supper Club, located in Harlem, as esteemed chef Marcus Samuelsson hosted a "Healthy Hat Trick Cooking Class" for kids from East Harlem's Lexington Academy. The aim of the event was to teach the children how to cook healthy meals for themselves and Vieira was enthused to connect with a future generation of NYCFC supporters.
"I believe we are in one of the most important places in New York, in Harlem. It is a really authentic place with authentic restaurants and authentic chef, one of the biggest chefs in the world. When you know his story to get to where he is now, for myself and the football club to be here is really important," Vieira said. "When you look at the kids who are here, they love the game, of course, but I think it is important to explain to them that it is not only football. You can be a chef like Marcus who has been really successful and the interaction between the players, Marcus and the kids has been really good."
Of course, the main reason Vieira is in New York is to continue his coaching education after excelling as a the leading man for Manchester City's development squad from 2011-15. The former Arsenal, Juventus, Inter Milan and Man City midfielder who won the World Cup and European Championships with France is quietly going about his job and is not losing any focus on why he's taken on a completely new challenge in MLS.
With a steely focus, he is eager to continue to get better each and every day.
"I'm visiting different places [in NYC] but I am here because of my job," Vieira said. "My number one priority is to do well with the team and to be a better coach every single day. When I have a day off there is a few places I go to visit and of course Harlem is one of them. But I know why I am in New York. It is my priority to be a better coach."
From the coaching side of things, his opening season in MLS couldn't have been much better. Sure there's been some speed bumps along the way but despite making the playoffs by beating the Chicago Fire last Friday in front of their home fans at Yankee Stadium and currently tied for first place in the Eastern Conference, Vieira wants more. Much more.
"We are in a really good period. We had some ups and downs during the season but to qualify for the playoffs was just a small step to what we want to do as a football club. We want to be successful. We want to win silverware. Of course being in the playoffs is a step up but it is just a small one compared to what we want to achieve."
With New York City FC the top goalscorers in MLS with 55 through 31 regular season games, going into the pivotal final few matches of the regular season with the Conference title on the line, plus with the playoffs lurking, Vieira wants his side to stay true to their playing style despite some criticism about their defensive play this season.
Will the pressure situation of playoff soccer impact that outlook at all?
"What is important is to believe in ourselves. We managed to play some games really well to get to the playoffs but the playoffs is of course, win and you keep going, lose and you're out. I want us to really focus on what we've been doing since the beginning of the season," Vieira said. "I think we've had a clear philosophy of how we want to play and we have to stick to that philosophy and not try to do something that we didn't try already and which didn't work. I think our togetherness has helped us to be there and we just have to believe in that."
Veterans Lampard, Villa and Pirlo will play a key role in the postseason and Vieira is counting on them to led the team.
"They have a lot of experience on the field and off the field, so that's why they will help and be really important in the playoff time," Vieira added. "I am really quite pleased because I have a really good mix between young players and experienced players and I think if we manage that well, we will give ourselves some more chances."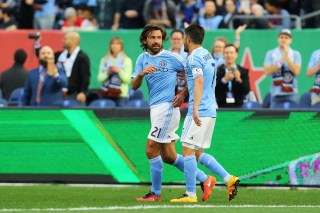 In his debut season in MLS, there's been widespread chatter about how impressive Vieira has seamlessly handled the challenge of moving to a new country, plus coaching in a new league while he is still developing himself as a coach.
When it comes to what Vieira expected of MLS, he has been pleasant surprised be all that he's experienced in NYC, so far.
"I didn't really know what to expect when I arrived but I am happily surprised because there are a lot of good players, it is really competitive and the atmosphere in the stadiums is really good. I have really enjoyed my experiences, so far."