SUNDERLAND — Lynden Gooch is living his dream in the Premier League.
From Santa Cruz, California, Gooch left home at the age of 16 in 2012 to join Sunderland's academy and pursue his dream of becoming a Premier League player.
So far, so good.
[ STREAM: Every PL game on NBC ] 
Gooch, 20, made his Premier League debut for Sunderland away at Manchester City on the opening day of the season back on Aug. 13 and from an early age he's been driven to chase his ultimate dream in England.
The confident yet softly spoken American midfielder has an English father and an Irish mother, something which helped open his eyes to opportunities across the pond, and Gooch began training with Sunderland every summer from the age of 10.
Speaking exclusively to ProSoccerTalk, Gooch revealed that after watching the Premier League throughout his childhood in California, he had to make the move.
"I've always wanted to be a Premier League player and I've always wanted to play in England. I'm English, you know? I'm Irish as well. I've got so many family members over here and it has always been a dream to play in this league," Gooch said. "It is an amazing place to play. To be here for four years and to be here for another three, it is amazing."
After being handed a surprise debut by new Sunderland manager David Moyes, Gooch has made six starts so far this season for the Black Cats in all competitions. He admitted in a Facebook live chat with ProSoccerTalk on Thursday, see below, that Sunderland's passionate fans generate the "best atmosphere in the Premier League" and he is striving to do whatever he can to help the team he supports recover from a poor start to the season which has seen them fail to win any of their opening six games in the PL.
Sunderland square off against West Bromwich Albion this Saturday (Watch live, 10 a.m. ET online via NBC Sports) in what is being billed a must-win game to kick-start their season.
Gooch said that after making his initial breakthrough into the first team in both central midfield and out wide, he aims for consistency to help his team get back to winning ways. What does he see himself adding to Sunderland's midfield?
"Getting the ball, giving it and getting it back, committing a player and dribbling past someone. I like to create things. I like to hit long balls. I like to switch the play. I think I've got a bit of everything," Gooch said. "I've got that long ball in me and I can play the simple pass but I can dribble past someone and I've got a bit of pace. I just try to give as much as I can and be creative and add some flair. I just want to be a positive player and make sure I can make an impact going forward."
[ VIDEO: Premier League highlights ] 
As we chat in the players lounge at Sunderland's Academy of Light training ground, with a strong breeze whipping up outside the window as trees creaked in England's north east, there are pictures on the wall behind us of scholars who have made the grade at Sunderland. Jordan Henderson, Jack Colback and Jordan Pickford are among them and there was Gooch, signing on with former manager Martin O'Neil smiling widely. Gooch had a huge grin on his face too. "That was one of the best days of my life," said the self-confessed Mackem.
The debate about innate ability vs. learned ability arose. Gooch grew up in a soccer mad family in Santa Cruz and played for PDA center of excellence which went to Sunderland when he was 10. On that tour of England he played in a trial game against Sunderland's academy and scored a hat trick in the first half. The Black Cats kept tabs on him ever since and he trained with the club each summer until he signed a two-year scholar deal in 2012 and then a new three-year pro deal in April.
Can you teach how to ghost past defenders and pick out passes?
"Players just have that. You either see it or you don't," Gooch said. "I think I've had that since I was a kid and I've always been brought up by my dad to play with both feet. I'm very strong with both feet and always have been. I think that is really important, to be able to go either side of where a defender is or play a pass. You have to be able to do that if you want to play in this league."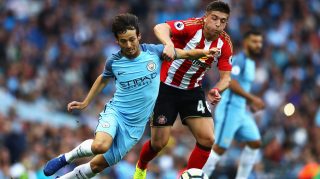 When you watch him play, Gooch reminds you of a certain U.S. national team legend.
With his ease on the ball, ability to dribble and penchant for scoring and creating goals (that helped him win the Premier League U-21 Player of the Month last September) you can see a similarity to Landon Donovan. That's probably because Gooch grew up idolizing him when Donovan played for the San Jose Earthquakes in Major League Soccer.
"I was at Spartans Stadium every week watching him play," Gooch said of Donovan. "He was my idol as a kid, as much as probably every American kid who was playing. It's amazing to see him come back and continue playing and score a goal against Kansas City. He has definitely been a role model. I actually got to meet him last year in Manchester which was really nice. It was good. He is a nice guy and nice to meet him but I was a bit starstruck. It was amazing to meet him."
There's another goalscoring hero who is an idol of the Californian's too.
"I've always looked up to Wayne Rooney," Gooch said, nodding his head. "I think I was watching the game when he scored against Arsenal for Everton, his first goal, and now I am working with the same manager [David Moyes] so it is funny how things work out like that. I see a lot of myself in Wayne. Obviously he is in a different league with the career he's had but in terms of strength and being able to play in so many different positions, I've always looked at him as a role model and to try and be like him."
Tales of Gooch's rise is music to the ears of U.S. national team fans as many salivate over the prospect of a USMNT young talent playing regularly in the Premier League. Jurgen Klinsmann has already reacted positively to Gooch becoming a starter at Sunderland and it would not be surprising to see him play for the full U.S. national team in the coming months.
He admits that he wants to play for the USA, despite qualifying for both the English national team and Republic of Ireland, but being left out of the U.S. U-20 World Cup squad in 2015 by Tab Ramos was not only a tough pill to swallow but something which spurred him on.
"That really hit me quite hard," Gooch said. "I thought that without a doubt I deserved to be in that squad. I'd been in every single squad up until that point. That was very hard to take but it definitely made me want to prove them wrong even more and show them that they made a mistake."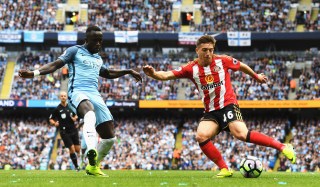 On the U.S. front, Gooch is one of a number of promising attack-minded midfielders coming up through the ranks. Christian Pulisic has stolen most of the headlines at Borussia Dortmund with his stunning breakthrough, and that success is spurring Gooch on to reach new heights.
"I played against him [Pulisic] in preseason when we played Dortmund but obviously I've heard and I've seen him play. Even here people are talking about him in the dressing room so everyone can see how good he is and what he brings," Gooch revealed. "Being so young, he just turned 18 years old, he is doing fantastic and it will be great to play with him as well."
That burning desire to push on to bigger things with Sunderland and the U.S. national team drives Gooch on. Even if many still question his decision to leave the sun-kissed beaches of Santa Cruz behind to pursue his dream in the chilly, windswept city of Sunderland in the far north east of England. He lives with his girlfriend and her family (who Gooch says he owes so much too for taking him in over 5,000 miles from his home) and he and Talia are moving in together for the first time in November.
Even with his entire family now back in Santa Cruz (including his brother who is, of course, a professional surfer), life is good for Gooch.
"People still ask me 'why have you come to Sunderland from California!?' Well, I wanted to be successful. I wanted to be a professional footballer. I wanted to play in the Premier League and I want to play for this football club. Hopefully I can do that for a long time," Gooch said, proudly. "Some people are still surprised at how far I've come. It was a no-brainer for me. As soon as I could've come to this club. I would've come early at aged 14, or 12, whenever… I would've came."
Is he surprised how fast all this has happened?
"The start of the season has been surprising not only for me but for everyone around the world, in the States and here at the club as well. It came as a shock to start the first game and to continue playing. I've started six games so that's been amazing so far. It is something I didn't see coming but I've worked really hard to get this opportunity."