Bob Bradley is settling in at Swansea City following his first days as a Premier League manager.
[ STREAM: Every PL game live online ] 
In an exclusive chat with ProSoccerTalk, his first interview with a media outlet since taking the job, Bradley spoke in length about his first few days at Swansea's training ground, plus the decision to leave Le Havre in France's second-tier and what this opportunity means for American coaches in the future.
Bradley, 58, became the first-ever American to manage in the Premier League when he took the Swansea job on Monday and ahead of his first press conference as Swans boss on Friday, he revealed just how big of a deal it was him personally to move to the PL and pits his wits against some of the best coaches on the planet.
"The Premier League speaks for itself. If you look at the managers who are now in the Premier League and how for any manager the challenge of working in the Premier League is something to shoot for, of course, in that moment, that is an opportunity that means a great deal," Bradley said. "Those were the discussions I had with Vince Volpe [Le Havre's owner] and I appreciate that he understood that. This is the first time I have ever left a team during a season because I think when everyone knows that when I'm in, I'm there to try and steer that team to the goal. This time, when you add everything up, I go back to one important thing and that's what Swansea City Football Club is all about. I am excited and the people here have been so welcoming."
The American coach will manage in the PL for the first time against Arsenal on Oct. 15 (Watch live, 10 a.m. ET online via NBC Sports) and he revealed that negotiations with Swansea happened swiftly following an initial chat.
Once their interest in his services became clear, it was go time.
"As is so often the case everything happened very quickly. I was completely focused on the team with Le Havre and we had a stretch of very good training as we were getting ready for the Sochaux match and then everything started to develop quickly," Bradley revealed. "When that happens there's no real sense of timing. There's no real sense of what's happening. It is usually just a starting point where a club is sizing up it's situation and understand if they need, at some point, to make a move and what are the options. The quick first discussions are just the kind of discussions where you hear a little bit about the situation for the club and they try to find out a little about how you think and how you do things, and again I've done that many, many times.
"You continue with your regular work. Of course, it's football. At that point there's no real sense if any of it is leading anywhere but even for the future those kind of discussions are always important and it is way people get to you know if that any point down the road there's a change then maybe you're a name and maybe you've made an impression and that means something to them. In this case it just meant that things changed quickly and they were now thinking about a change and at that point it was really a couple of days and I was pleased with the situation."
With many influential figures and fans in the U.S. soccer community hailing Bradley's hiring as a landmark moment for soccer in the USA, Bradley is grateful of all the support he receives back home.
[ MORE: US soccer reacts to Bradley's new gig ]
That said, he's a realistic enough to know that doesn't mean much on the ground in Swansea. He needs to be successful and win the respect of his players, staff and fans in and around the Liberty Stadium. That's the first big challenge for the former U.S. national team head coach.
"This point is very important. I know that this part of the story and is important for the game in the United States. It has always been a battle for coaches and players to earn respect. That's never been the reason that I've done things but I've always understood that's part of the responsibility. But, that story doesn't mean one thing here," Bradley said. "The only thing that matters here, like I said, you have people who love Swansea City Football Club. People who live and breathe for the club. I've never called myself an 'American manager' I'm just trying to be the best manager I can. I appreciate the story in the United States but I also understand and agree that here it is just about the club and for me earning respect with the players, earning respect with the supporters and making sure the team which steps on the field every week is the team all of those incredible supporters can be proud of. That's the responsibility and I'm excited for the opportunity."
Earlier this week Bradley took charge of his final game in charge of Le Havre, as he left with a win and leaves them three points off top spot in Ligue 2.
As he mentioned, this is the first time Bradley has ever left a team during the season in his lengthy coaching career but he felt like the chance was just too good to turn down.
"In a perfect world I would've wanted to finish the season, just like last year, go to the finish line, and do everything to get Le Havre to Ligue 1. Everyone knows we missed by a goal last year. The idea to grow throughout the season and get to the end and still be fighting for Ligue 1, that's what we had discussed and worked for from the first day of preseason. It's football and you don't control timing and sometimes opportunities come up," Bradley explained. "It leads to quick discussions inside Le Havre. I have full resect for Vince Volpe and I appreciate the discussions that took place over the course of a couple of days. I was pleased we could finish with a win. I felt like after 10 games at Le Havre we were three points out of first place, fifth overall and still moving in a good direction. Once you feel like that has been finished properly then it is a rapid fire transition into a new situation."
How do you even go about entering a new situation at a Premier League club and meeting all the important people, plus making your own mark on the club, in such a short space of time?
"Again it's the ability to start to get an idea how the club works. Who are the key people on the technical side, how do other people get things done? Get a sense of what training has been like. What is their everyday schedule like? What's been working? What needs change? Start to talk a little bit with players and start to get feedback. You go in and very quickly you've got to start to decide how are we going to begin this process? At that point it is not that every decision is final, you can always adjust. Those initial days are critical for me. You only get one chance to sort of get things off on the right foot. A lot goes into the early days. People in the club, this part has been fantastic."
Bradley also spoke about how his experiences with tiny Norwegian side Stabaek feel very similar to his early days at Swansea.
Stabaek had little money but plenty of passion and in two seasons from 2014 the New Jersey native took them to the Europa League after they had just been promoted to the Tippeligaen.
"It reminds me a little bit of when I went to Stabaek," Bradley said of his early days in South Wales. "When I had the first discussion, the impression I got at Stabaek was that there were a group of people and 20 something years ago they had this idea that they could go to the fifth league to the fourth league and take their little club and get to Tippeligaen. They did it. At a certain point a few things didn't work out on the business side and financially the roof caved on. As I arrived the team hit rock bottom, they had gone down to the second league and had just gained promotion. Financially there were issues. What impressed me at Stabaek at that moment was that the same people who were there at the beginning were still there. They hadn't disappeared. They still hadn't lost track of that initial dream. I got an initial sense of how good those people were and how passionate they were for the club and how the supporters who had been there since day one had never lost faith. My first impression was that these are the people I want to work with."
"When I heard first about Swansea, I knew a little bit about the history of the club. I certainly knew in recent years the football has been good and they've had some very good managers. There's a great documentary called "Jack to a King" and what it is all about is another version of what I saw at Stabaek. It's people at a certain point when the club needed help, they put up money and kept the club alive and that's how important this club is to the community. Since I've been here I've met just great people, people who have been involved at this club for a long time. The only thing I say in every case is that I'm proud to be here and I will do everything to fit in with the passion they have for the club. I will do everything to be part of that and to try to make a team they can all be proud of. I've always enjoyed working in these kind of situations. This opportunity with a club like Swansea, for me it is incredibly special."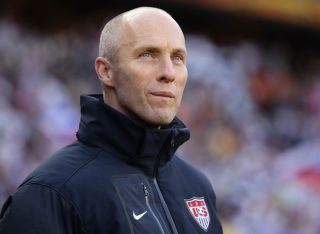 Bradley is keen on trying to develop a special environment quickly at Swansea's training ground and revealed his previous trips to Manchester United's Carrington training base to visit Sir Alex Ferguson have always stayed with him.
He hopes to create that same family feel at Swansea in the coming months.
"I have always talked about when I was the U.S. national team coach, what it was like when I'd go to Carrington. What always struck me was how with all the great players and all the success, how Sir Alex's personality was all over every part of the club," Bradley revealed. "He knew everyone's name and how he would joke with people in the kitchen. People sometimes from the outside have opinions of me but if anybody took the time to talk to equipment men and women I've worked with, medical staff, assistant coaches, behind-the-scenes it has always been important to me to understand to make sure that every one of those people knows how important they are. How to joke with them. How to thank them. For me, this is how you establish within a club how you treat people, how everybody's opinion counts. You try to lead the way in making sure that's a place where people are excited to come everyday.

"I've done it everywhere. I did it at Princeton, many friends that were part of Princeton soccer I still hear from today. Every stop of the way in MLS, with the national team and then it's been interesting for me in Egypt, Norway, France, you don't have to change your way of doing things. Even when the language isn't perfect. You find other ways. You engage people. If it's their birthday you make them give a speech. You find out about their families. You make it so that people are excited to come and be part of something. The thing that I have enjoyed in the first few days here is that as I do that, I get the sense that counts a lot here and people appreciate that. We are off and running, there's a lot to do but that's what the first days have been like."
What about the situation he has inherited at Swansea?
With four points from their opening seven games of the Premier League season, there's a sense that the Swans are sinking fast, as Francesco Guidolin's firing and a current 17th place in the PL table suggests.
[ MORE: What does this mean for American soccer? ]
However, with defeats to Liverpool, Leicester City and Manchester City, plus a draw against Chelsea, they've had some very tough games to start the season. Bradley's main aim is to get them moving in the right direction again and then go from there.
"Without a doubt, it was a tough set of fixtures early on. Without a doubt the team hit a run of bad luck," Bradley said. "I have never met Francesco Guidolin but I've always heard he's a really good man and obviously his football career as a manager speaks for itself. Sometimes when that happens, a team losing a little bit of confidence, it is not about coming in with a new plan. It is about restoring some confidence. It is about reestablishing some good habits. That is what the early days are all about. You need to make sure the players feel good. With the right kind of work and right kind of refocusing, we are going to get some confidence again and we are going to push ourselves forward. That's been the message but it has to be carried out in the form of good work and good training. After a couple of days that's the direction we are going in."