Tomorrow marks one year to the day that Jurgen Klopp took charge at Liverpool.
On October 8, 2015, Klopp signed a three-year deal to take charge of the Premier League giants — he has already signed an extension on that contract — and on Oct. 9 last year he strode into the "Reds Lounge" beneath the Centenary Stand to meet the media for the first team. As usual, Klopp did not disappoint.
[ MORE: Klopp dazzles on unveiling ]
He dubbed himself the "Normal One" when asked about Jose Mourinho's opening press conference at Chelsea back in the day and also spoke about his belief that after four years he would have at least one Premier League title under his belt. That ambition, plus plenty of clever quick-witter quips, brought roars of laughter from the packed press conference and everyone watching around the world.
Over the last 12 months Klopp has been just as engaging as he strives to push Liverpool back to glory. Sure, his beard may have got longer (and grayer) but he seems to be having the time of his life.
There's no doubt the enigmatic German coach has had a huge impact at Anfield in a relatively short space of time and it is safe to say that now his team truly look like his team.
Last season they reached the final of the League Cup and the Europa League — losing both in agonizing fashion as defeat to Sevilla in the UEL final meant no UEFA Champions League action this season — but they did slump to an eighth-place finish in the PL as cup competitions took their toll on his squad with defensive frailties costly and still there's some question marks over some of the defending.
Some of the high points were big wins against Arsenal and Leicester this season, big win against Chelsea and Man City last season, plus the crazy 5-4 win at Norwich and the memorable victory against his old club Borussia Dortmund in the Europa League at Anfield. Some lows include a defeat against Manchester United and the second half implosion against Sevilla in Basel but even those negatives have all been a key part of the journey.
However, after a full Klopp preseason, Liverpool's squad is looking fired up and has impressed early on this season with wins against Arsenal, Chelsea and Leicester City, plus a draw at Tottenham Hotspur.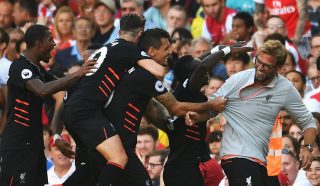 Liverpool is the highest scoring Premier League team this season, and in the whole of 2016, and with no European commitments this campaign the 49-year-old German coach is getting plenty of extra time to work on the training ground with his team.
When it comes to the individuals in his squad, quite a few things have changed. In have come goalkeeper Lorus Karius, defender Joel Matip, midfielder Georginio Wijnaldum and exciting forward Sadio Mane with a host of big-name departures as Martin Skrtel, Mario Balotelli, Joe Allen and Christian Benteke were all sold. There have been a few bumps along the way with Benteke, Daniel Sturridge and others but the ideology Klopp brings means you're either with him or without him and he doesn't suffer fools gladly.
Klopp has created a different vibe at Liverpool in a relatively short space of time but for him it must be pleasing to feel he has the backing of the board, the fans and his own players. He sounds and looks confident and Liverpool definitely look to be in a very healthy position for the future.
Every player on the pitch has bought into Klopp's methods — just look at the exuberant celebrations (broken glasses and all) with their manager many times after scoring — and sitting in fourth place with 16 points from their opening seven games of the season, Liverpool is looking like a genuine title contender this season and finishing in the top four seems like a realistic aspiration with Adam Lallana, Philippe Coutinho, Roberto Firmino and Mane all hitting new heights in a dynamic, attacking system.
A lot has happened in the 12 months Klopp has been in charge and most of it has been very, very good.
In the video above you can recap they key points from Klopp's opening press conference 12 months ago and see if they match up with his time in charge, so far.