Okay, let's try and make sense of this.
According to a report in the Sun Chelsea will offer Eden Hazard plus cash to try and lure central defender Leonardo Bonucci from Juventus to Stamford Bridge.
[ PREVIEW: USA v New Zealand ]
Hazard is 25 years old at two seasons ago he was the best player in the Premier League and linked with a $100 million plus move to Real Madrid. Bonucci is 29 and although he's a fine defender, how many to years does he have left in him? Four or five. Tops.
That's not to say that on some level this deal doesn't make sense.
Per the report it is claimed that Juve is interested in a player plus cash deal with Chelsea for Bonucci but they want central midfielder Cesc Fabregas and more money rather than Hazard. With Paul Pogba, Andrea Pirlo and Arturo Vidal leaving in recent years, it is easy to see why Juve may want some extra experience in central midfield but then again they have Miralem Pjanic, Sami Khedira and Claudio Marchisio around.
As for Hazard, news of him being offered up by Chelsea's new Italian manager doesn't really bode well, does it?
Since Conte arrived at Chelsea there have been a few brief flashes of Hazard's brilliance (the goal against Burnley and positive displays against West Ham United and Watford early in this campaign stick out) but he still seems a long way away from the player who ripped PL defenses apart during the title-winning season of 2014-15.
So, is Bonucci really that good?
Simply put: Conte thinks so.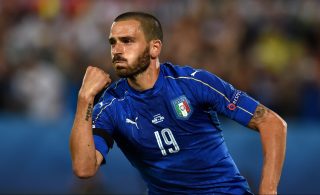 The central defender joined Bari just as Conte left for Juventus in 2009 but soon they linked up as the ball-playing center back helped Conte and Juve dominate Italy. Bonucci was also an integral part of Conte's defense for the Azzurri from 2014-16 and with Manchester City and Chelsea said to be circling and willing to pay $75 million for the man who began his career as a central midfielder, maybe his past work with Conte will hold the key to Chelsea winning the race for his signature.
Whether or not this happens in January, we will have to wait and see. For Bonucci, it was probably a smart move on his part to not yet leave the reigning four-time champs of Italy and regular UEFA Champions League action for a Chelsea side currently in the wrath of transition. If in January Conte is under pressure and his team is languishing outside the top four, then maybe Bonucci stays in Turin. If Chelsea is pushing for at least a top four finish then maybe he makes the move.
Bonucci, and Juve, hold all the aces here.
It looks like Conte is determined to bolster his defense (an ageing John Terry, haphazard David Luiz and mistake-riddled duo of Branislav Ivanovic and Gary Cahill haved failed to impress him as a unit, thus far) and with Hazard, Fabregas and plenty of cash, he has made it clear Bonucci is his man. Juve knows that and just like they did with Pogba over the summer, they won't let an integral member of their team leave for anything less than top dollar.
Get ready to hear plenty more rumors regarding Bonucci and Chelsea in the coming months. It will be intriguing to see if Hazard's name stays around in the conversation.