LONDON — All eyes were on Bob Bradley on Saturday as he became the first-ever American to coach in the Premier League.
From an entertainment standpoint, his PL debut didn't disappoint.
[ MORE: Thriller at the Emirates ]
Dressed all in black and pacing along the edge of his technical area throughout the encounter Bradley, 58, has waited his entire career for his chance in one of Europe's big league. Within 33 minutes he must have been cursing his luck.
Two sloppy defensive mistakes handed Theo Walcott two gift-wrapped goals but then just before half time Gylfi Sigurdsson curled home a beauty. 2-1. Game on. Bradley punched the air in delight. In the second half Swansea continued to give up easy chances as a moment of magic from Mesut Ozil made it 3-1. Swansea weren't done. Far from it.
Bradley's side pulled one back through Borja Baston and when Granit Xhaka was sent off for scything down Barrow, the Swans smelt blood. It was an exhausting encounter and try as they might Swansea couldn't break through Arsenal and nick an equalizer. In truth it appeared more likely that Arsenal would grab another on the break as Walcott hit the inside of the post and clipped the bar at the end of two lethal counters.
The New Jersey native admitted afterwards that there's plenty to work on, especially defensively, if the Swans are to drag themselves up the table and away from the relegation zone.
"That was an exciting game but obviously it didn't finish the way we wanted. I didn't like our start," Bradley said. "I thought we were slow to step out, gave them too much space. That's a team that if you let them pull you around you feel like there's always big spaces and they play through the lines. That part of the game I didn't like. That coincided with from our end, two poor goals."
What about the positives?
"Somewhere in there we started to play with more confidence. The tempo picked up, we started to close down a little bit more. We saw moments when we could press and win the ball higher. You get to 2-1 at half, that's pretty positive…. We kept at it," Bradley continued. "At the end we are disappointed but I think the feeling among the players is that we had a very good week of training and now if we can take the starting points we saw today and keep going 30 more times then there's a chance to become a really good team."
Speaking to some of Swansea's fans outside the stadium before the game, there was a real sense of positivity brewing about Bradley's arrival.
[ VIDEO: Premier League highlights ] 
Fans agreed that it was the right time for Francesco Guidolin to be replaced and despite some initial unrest about Bradley's arrival, most had no real issues with the new majority American owners (Jason Levien and Steve Kaplan) plumping for one of their countrymen to lead the team.
"No matter what, Swansea's fans will back Bradley."
That was the main message lifelong Swansea fans Mark Richards wanted to get across as he stood outside in the wonderful autumn sunshine in north London before the game.
"This American guy has probably come in off the back of the new owners and from my understanding he sounds like a disciplinarian," Richards said. "I expect him to get the players training harder than Guidolin did and I expect a result out of them. At the end of the season, if he's still got his job, he's done his job for us."
ProSoccerTalk asked Bradley about the reaction he received from the fans during the game as they drove their team on late on as they pushed hard for an equalizer.
"In the short time I've been at Swansea I know how special the 'Jack Army' is and the connection between those fans and the community. To look into that part of the stadium and see those people, I would expect that they're not satisfied but maybe, like me, they saw a few things today that makes them say 'alright, we like what we see,'" Bradley said. "That doesn't mean that you get ahead of yourselves. The work you do to become a good team, no matter the league, is real. It is hard work and you try to convince the players every day that the reason most teams don't become good is that they are not capable of real work week in and week out to improve in so many areas. I like this group. It has been really nice to come in and see the response."
The response was positive but what are the expectations for Bradley's team from the fans? Simple: stay in the Premier League.
"Just to keep us up and push for midtable. We're a better side than where we are at the moment, by far. We've proved that in a few performances under Guidolin but not for a whole 90 minutes," Richards said.
Swansea fans Alun Jones and his son stood outside the Emirates before the game and he admitted he had been impressed by Bradley's forthright press conferences in his early days as Swansea boss, plus the snippets of training sessions Swansea's media team have been streaming live online.
"He might make us a bit more solid, maybe some more grit to the team," Jones said. "I'm looking forward to it. Hopefully he can bring us some success, keep us in the Premier League. That is all that matters. To play good football and stay up, that's the key thing."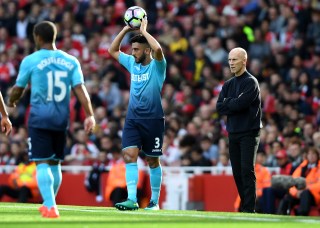 Amid all of this talk of playing well and staying up, there were plenty of emotions off the pitch for Bradley on Saturday too.
Starting his coaching career in the NCAA in the 1980s, he's now worked his way up to the most watched and most competitive league on the planet. As he looked around the Emirates Stadium before kick off, he was drinking the atmosphere in. Bradley admitted it was a proud moment for him to arrive in the PL.
"It's not like I spend all day thinking about it but it was a proud moment to walk out there today. I don't get ahead of myself," Bradley said. "I was also trying to figure out the sections in the stadiums because over the years I've been able to look around and find my wife and my daughters but I couldn't figure out what section was which so I couldn't find them today."
Even if he couldn't find his family, the "Jack Army" in the far corner kept on his side and there's a steady feeling that they not only respect Bradley's honesty but were happy with the soccer they saw on Saturday.
[ MORE: Watch full PL match replays ] 
It seems that despite some initial trepidation from Swansea's fans towards a manager with no previous Premier League experience being hired, most are warming to Bradley and his methods.
So, what about some Star Spangled Banners being held up by Swansea's fans soon in honor of Bradley?
"I'm not sure about that. We wouldn't mind a having a few Dallas Cowboys cheerleaders perhaps coming along to our games," Richards joked.
Despite plenty of excitement around his first game in charge, Bradley knows there's still plenty of work to do.
"There is not one of us that walks out today and feels good. No chance," Bradley told ProSoccerTalk. "But I think we can still look at some of what happened on the field today and say that's what we need to be about. That's the kind of football we play, that's the kind of mentality we can build on. It's a start. Whenever you go in to work you try and establish your players a starting point."
The starting point was a ruthless lesson against one of the best teams in the Premier League but Bradley's Swansea showed enough to suggest they'll be more than fine this season. Modou Barrow was a constant pest out wide, Sigurdsson dangerous and Leroy Fer broke forward from midfield. Defensively it needs to improve, but it's a start.
Bradley can now start to shake off the endless questions about becoming the first-ever American to coach in the Premier League and get to work.
After this performance most at Swansea, both on the pitch and in the stands, are on his side.