As we creep ever closer to the months of November and December — the proverbial meat and potatoes of the Premier League season — contenders separate themselves from pretenders, which is exactly what we expect to see this weekend.
[ FOLLOW: All of PST's PL coverage ]
As an added bonus, Saturday and Sunday's slate of games also sees a former hero return to his old stomping grounds as an undeniable, revenge-crazed villain.
Stop the rot
Manchester City vs. Southampton — Sunday, 8:30 a.m. ET (NBCSN/NBCSports.com)
Man City are winless in their last four games (two draws, two losses) in all competitions, and the people are beginning to think Pep Guardiola isn't a miracle worker. In those four games — the worst of which was Wednesday's embarrassment at the hands of Barcelona — City have conceded 10 goals and scored just four of their own. The goals will undoubtedly come, but the defensive spine — Claudio Bravo, John Stones, Nicolas Otamendi, Fernandinho, Ilkay Gundogan/Fernando — has looked terrifyingly shaky in recent weeks.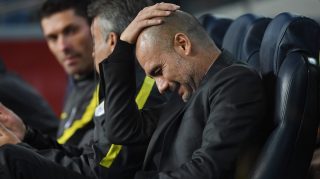 Mourinho's return
Chelsea vs. Manchester United — Sunday, 11 a.m. ET, (NBCSN/NBCSports.com)
Oh, you hadn't heard that Jose Mourinho is set to return to Stamford Bridge for the first time since being fired last December? Well, you'll hear about it once or twice more before the weekend is finished. What kind of reception will "The Special One" be given? Will he sprint to the endline and celebrate with his players upon scoring a late winner? After a red-hot start to the season (three straight wins), it's all gone a bit sideways for Man United with just one win in their last five games. Wayne Rooney is now a permanent fixture next to Mourinho on the United bench, which has been a long time coming. Chelsea, on the other hand, have won two in a row, without conceding a single goal, since being thrashed by Arsenal three weeks ago.
Long unbeaten runs to continue
Bournemouth vs. Tottenham Hotspur — Saturday, 7:30 a.m. (NBCSN/NBCSports.com)
Arsenal vs. Middlesbrough — Saturday, 10 a.m. ET (NBCSN/NBCSports.com)
Liverpool vs. West Bromwich Albion — Saturday, 12:30 p.m. ET (NBCSN/NBCSports.com
In ascending order, Liverpool, Arsenal and Tottenham are six, seven and eight games unbeaten in PL action. With eminently winnable games on the docket on Saturday, all three sides should be expected to keep the pressure on City in the title race. Tottenham are, of course, the PL's last remaining unbeaten side, though it's now been three weeks (two draws) since they last tasted victory and handed City their first defeat of the season. Across north London, it's hard to argue against Arsenal as the PL's unstoppable force at the moment (six straight wins, by a combined score of 16-5).
These are (not) the champions
Leicester City vs. Crystal Palace — Saturday, 10 a.m. ET (NBCSports.com)
Leicester City are really going for it in the Champions League (three games played, nine points won), but at what cost? With just two wins on the PL season (just one in their last five), the defending champions have already conceded this season's title to one of a half-dozen other sides. The Foxes have one of the worst defensive records in the PL this season (14 goals conceded in eight games), with Palace and an in-form Christian Benteke (three goals in five games) visiting the King Power Stadium this weekend.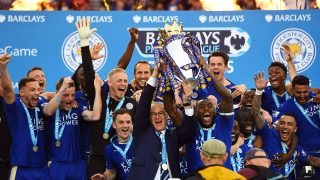 Win it for America, Bob
Swansea City vs. Watford — Saturday, 10 a.m. ET (CNBC/NBCSports.com)
Or, you know, for yourself and/or Swansea, the club which believed in you and made you the first-ever American manager in the PL. Last week's spirited defeat away to Arsenal was unquestionably good for morale around the Liberty Stadium, but moral victories are worth not a single point in the league table. Bob Bradley's task is clear: he is to lead the Swans to safety this season. Thus, home games against mid-table sides are the games he'll be targeting for a mild upset and all three points. In order to do so, they'll have to be much better defensively than they have been thus far (15 goals conceded — fourth-most in the PL).