A pair of important yet relatively unsung players could make things interesting at the top of the table this weekend.
Tottenham, sitting third in the Premier League standings, travel to Bournemouth in an early Saturday game without critical defender Toby Alderweireld.
The 27-year-old Belgian is the Premier League's newest Iron Man, having played every single league minute for the club since he joined in the summer of 2015, a massive string of 46 matches that ended this past weekend when he was forced off after an hour against West Brom with a knee problem.
[ WATCH: Stream all 10 games in Week 9 of Premier League action ]
Alderweireld's injury was a let-off, with the club initially fearing worse but scans midweek showed no lasting damage. However, he has been ruled out for this weekend, and for the first time Mauricio Pochettino will have to craft a teamsheet without his most reliable player. Pochettino moved Eric Dier back to central defense for the midweek match against Bayer Leverkusen, but with Dele Alli and Victor Wanyama teaming up to replace Dier in front of the back line, Spurs struggled to create much of anything and were ultimately lucky to find themselves with a point from a 0-0 draw.
Should Pochettino wish to return Dier to the defensive midfield so as not to lock his more creative players down, he could use 22-year-old Kevin Wimmer to deputize at central defense. The Austrian defender has made just 10 Premier League appearances for Spurs, all coming in a row last season during a spell without Jan Vertonghen, a spell which saw the club register seven wins and a single loss conceding seven goals.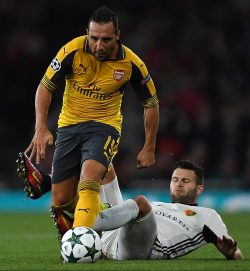 Just a single place above Spurs in the Premier League table sits Arsenal who face a similar situation. Santi Cazorla, the often unsung midfield playmaker in a squad among more flashy stars, will potentially miss this weekend's date with Middlesbrough thanks to an Achillies problem he suffered after being kicked by a Ludogorets player in the midweek Champions League match. With Granit Xhaka suspended and Aaron Ramsey also injured, the Arsenal midfield is looking relatively thin, but none of those other misses bear similar to that of Cazorla's.
Cazorla has yet to return to his stunning form from two seasons ago, with injuries having derailed his consistency since, but he still remains a key part of the Arsenal machine. The Spaniard has started every Premier League match this season but one, mostly back in a deeper midfield role, pushed back alongside a defensive midfielder thanks to the form of wingers Alex Iwobi and Theo Walcott. Without Cazorla, Francis Coquelin and Mohamed Elneny will be forced into the side. Coquelin started the season in poor form and has seen less of the field since, while Elneny has been a squad player since joining in January.
The deeper role has seen Cazorla's productive numbers decline, with Mesut Ozil's creativity now front and center, but the 31-year-old's importance as the link between back and front remains strong, with a 91% passing accuracy through the season's first eight matches. Elneny and Coquelin will have to figure out a way to recreate Cazrola's ability to push the team forward to break down Middlesbrough's stout defensive shape.
[ MORE: JPW gives his picks for this weekend's Premier League games ]
Lastly, Chelsea is looking resurgent this season under Antonio Conte, and while not injury related, they could be without a similarly productive piece for this weekend's massive matchup with Manchester United. One of the only bright spots in Chelsea's lost season last year, Willian has maintained his ability to produce from the edge this season , but could be sidelined on Sunday due to the loss of his mother.
Through eight matches this season, the Brazilian has concocted 23 chances for his teammates, a stunning rate that has him third in the Premier League despite having missed two of those eight games. Should he continue this pace, Willian would end up with 110 chances created this season, a number that would have sat him second last season behind just Mesut Ozil's 125.
Last time out, Chelsea didn't miss Willian against a shell-shocked Leicester City side that seemed to unravel after Diego Costa's seventh-minute goal, but against Manchester United it seems unlikely that Marcos Alonso and Victor Moses could again fill the shoes of the Brazilian. With Oscar also possibly out, Conte will need to rely even more on his outside backs in the attack, leaving the wings potentially exposed to the likes of Juan Mata, Marcus Rashford, Ashley Young, and Jesse Lingard.
The top of the table is suffering from some important losses, and those could see chaos reign this weekend.