MILAN — As Southampton's players walked out at the San Siro to play Inter Milan on Thursday, many of their huge band of traveling fans had tears in their eyes.
They never thought they'd ever see this.
Saints lost 1-0 to Inter in a game they dominated and they were punished by the three times European champions after missing five glorious chances to score.
Still, what a journey it's been.
From League One in 2009 to the Europa League in 2016 – some perspective: Inter won the Champions League, Serie A and Coppa Italia treble under Jose Mourinho in 2010, while Saints won the Johnstone's Paint Trophy and finished 7th in League One — Southampton's fans didn't lose sight of the miraculous turnaround in their fortunes, even if one of the biggest nights in club history ended in defeat.
"There were tears in my eyes when I first arrived and saw it all," Saints fan Adam Gray recalled as he stood in central Milan on Friday. "It was because it was a recollection of where we'd been and we are now is where we want to be. It was a realization that now we are here."
For Saints fans "here" is Europe and they took over Milan for the past few days with thousands chanting along the Navigli Canals, the square in front of the Duomo Cathedral and all over the cosmopolitan, thriving hub of Italy's economy.
[ MORE: Europa League schedule/tables ]
As they reveled in their dream away day in Group K – Saints had never made the group stage of the Europa League before and had brief and sporadic campaigns in Europe in the 1970s, 80s and in 2003 — there was always a lingering feeling to remember just how far they've come.
Six years ago to the week of the Inter game, Saints lost at Huddersfield Town in the Championship just a few months after gaining promotion from the third-tier.
Back then the San Siro and Milan seemed a million miles away.
Reaching Europe was a pipe dream which was talked about in the halls of St Mary's following Swiss billionaire Markus Liebherr saving the club from extinction in 2009. Nobody truly believed it would happen. But it was happening and Saints fans couldn't stop pinching themselves.
This was happening.
Lifelong fans John McManus and Martyn Wolfe stood in the San Siro and looked down at their team taking on Inter: "It's just surreal," they both said, with a wry smile.
Close to 7,000 Saints fans packed into the away end of the San Siro, with Internazionale happily giving an extended ticket allocation after the initial batch sold out quickly.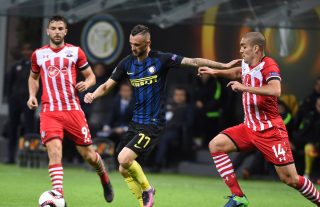 It was said to be one of the largest ever allocations for a team who had gone to the San Siro. The Milanese people were stunned as retro Panini stickers of Saints cult hero Francis Benali were popping up all over town (at metro stations, local bars and bus stops) plus a friendly atmosphere was present throughout the three-day Southampton takeover with no hint of any trouble with the locals.
This was a once in a generation (maybe once in a lifetime) experience for Southampton's fans.
---
THE BUILD UP
Southampton's players and manager, Claude Puel, knew how much this game meant.
In the prematch press conference at the San Siro stadium on Wednesday, ProSoccerTalk asked manager Puel, who only took charge this summer, if he would play his strongest team given the significance of the occasion.
"I don't know my best team because all the time we can change five or six or nine players. For the moment we continue a good way with all the players," Puel said. "It's important to keep all the squad with a good concentration. If we want to stay with good results and a good physical level for all the games it's important to respect all my players."
"For example, of course this game is very important to us but after it is very important also the game away against Manchester City. All the games are important but for me my job is to have every time a good balance on the team with good players and good feeling between them, a good acquaintance. This is my job."
The job of the fans was to get behind their team and that they did.
.@SouthamptonFC fans in full flow here in Milan. #SaintsFC #UEL #Milan pic.twitter.com/dqHxybPsfp

— Joe Prince-Wright (@JPW_NBCSports) October 20, 2016
Walking around the streets of Milan, St. George's banners were hung up with "Pride of the South" and "Southampton FC" emblazoned across them. There was dancing in the streets and late night chanting in bars. It was everything you could expect from a big European game. Except, Saints aren't usually involved in matches like this.
This whole European campaign is seen as not only a reward for finishing sixth in the PL last season, but also their journey since the brink of extinction in 2009.
It tastes even sweeter given the fact they were knocked out of the Europa League in the playoff round the season before. That was only their second European campaign since 1981 and the thought of away days like this were snatched away from them at the final hurdle.
Then again, it could be a lot worse.
"I was talking to people and asking, what was our lowest point? Before the start of that 2009-10 season we had -10 points and no owners and were going to places like Rochdale and Hartlepool. Now we are in Milan and we are going to Prague. It's incredible. It's been a journey," said Rich Caddick with a wide smile on his face.
Milan's three airports — Linate, Malpensa and Bergamo — were packed with smiling Saints fans as they streamed in on journeys across from England. Some caught trains from Switzerland and neighboring Italian cities and some even traveled from New York City and other far flung destinations for this game. Many would stay for days after the game and some arrived early this week.
Everywhere you looked old friends were bumping into each other in bars and squares and for a few days Sotonians felt at home in Milan.
Good morning from Milan! La Gazzetta dello Sport & plenty of coffee. Locals astonished by number of @SouthamptonFC fans in town. #SaintsFC pic.twitter.com/BvGQaFnhiD

— Joe Prince-Wright (@JPW_NBCSports) October 20, 2016
The contrast between the traveling band of supporters and the Milanese businessmen and women was stark. In amongst people dripping with Louis Vuitton and Prada were Saints fans tucking into a slice of Pizza with a pint in one hand and belting out a song.
On game day well over 7,000 Saints fans descended on Milan as tales of supporters buying corporate tickets and seats in the home end filtered through. It felt like a lot more than 7,000. A lot more. From the square around the Duomo Cathedral in central Milan to the bars lining the Navigli Canals in the south of the city red and white stripes were everywhere.
Before the match the plea from fans was simple: "Play the strongest team. This is it. This is the game we care about."
#SaintsFC fans warming up in Milan well over 24 hours before kick off at San Siro in @SouthamptonFC v @Inter. #UEL #EuropaLeague pic.twitter.com/pcoM526HEK

— Joe Prince-Wright (@JPW_NBCSports) October 19, 2016
A victory would give Southampton one foot in the Europa League knockout rounds in their first-ever appearance in the Europa League group stage. That didn't happen with Charlie Austin, Steven Davis, Jose Fonte and Nathan Redmond not in the starting lineup.
---
THE GAME
The first time you walk up to the San Siro, it takes your breath away.
Especially on a foggy evening when the upper reaches of the iconic venue are shrouded in mist. It all added to the occasion.
Inside the stadium the crowd of just under 30,000 was made up almost one quarter Southampton fans.
They didn't stop signing all night long.
Goosebumps. The sound of 7,000 @SouthamptonFC fans giving it some at the San Siro. 🇬🇧⚽️🇮🇹 #saintsfc @EuropaLeague pic.twitter.com/cJduQOpvtv

— Joe Prince-Wright (@JPW_NBCSports) October 20, 2016
To put this feat and occasion into American sporting terms, it is like a small college basketball team getting to the Sweet 16 and playing a powerhouse school at an iconic venue. It was a case of a small town against a big town. A small, yet proud, club against one of the biggest on the planet. We could keep going on with the comparisons but you get it. The stature of the two sides on the global stage is vastly different.
It's not David vs. Goliath but Thursday's game was a situation Saints' fans never thought they'd be in.
"In 2008 we were thinking we were going to lose our club and all of a sudden we are now in the San Siro. It's amazing," lifelong Saints fan Karen Arkell said. "There are Saints fans who would have never experienced anything like this and there are younger a generation coming through who are getting used to it."
The game itself saw Saints throw everything at Inter but somehow fail to score. From Jay Rodriguez's early miss to James Ward-Prowse's shot which whistled wide, then both Charlie Austin and Virgil van Dijk having two great chances to score but saved by Samir Handanovic who was the clear man of the match as his manager Frank de Boer saluted him after the game.
Teams out here at San Siro. Let's go! Massive away following from #SaintsFC of 7,000. #UEL pic.twitter.com/KZXgfzvJid

— Joe Prince-Wright (@JPW_NBCSports) October 20, 2016
At the final whistle Southampton's fans were deflated. Down but not out was the message as their quest to reach the knockout rounds of the Europa League and continue this European adventure carries on.
The singing carried on, both at the final whistle (see below) and all over Milan as a mood of celebration was still around (along with a tinge of disappointment) as the cool Milanese air felt a little chillier than it would have had Saints secured a famous win.
"I am absolutely gutted. We could have had them. We should have won," Gray reflected. "We just need to invest in putting those chances away. It put a little dampener on the mood after the game but at the end of the day, we are still here. There's progress and we are enjoying that. The atmosphere was awesome. Better than any Saints game I've ever been to."
7,000 strong, incredible support from @SouthamptonFC fans here at the San Siro despite a 1-0 @EuropaLeague defeat to @Inter. #SaintsFC #UEL pic.twitter.com/1qUSRnN6XH

— Joe Prince-Wright (@JPW_NBCSports) October 20, 2016
The fact that pretty much every Saints fan was "gutted" at losing 1-0 to Inter Milan at the San Siro says it all. They've come a long way in a very short space of time.
"It's just surreal," Wolfe and McManus said again as they sat in a trendy bar near Navigli Grande as Saints fans mixed with locals after the game.
Several players saluted the supporters after the game with captain for the night, Virgil van Dijk, perfectly summing up the emotions from everyone connected with the club.
"I'm so proud to be a Southampton player with those supporters. They deserved more and so did we."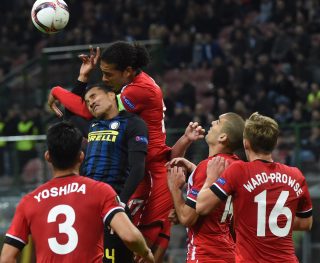 ---
THE JOURNEY CONTINUES
As strong coffee was sipped readily on Friday morning along Milan's busting streets after a few days of celebrating Saints' resurgence, there was a realization that this may be as good as it gets.
Two mid-size teams in the Premier League, Southampton and Leicester City, are both in the group stages of Europe courtesy of their unexpected top six finishes last season. But with perennial powers strengthening this season, it will be a lot tougher to reach this tournament for the foreseeable future.
"This year with so much investment at Everton and teams like Chelsea and Liverpool improving, we won't finish in the top six. I'm sure," Gray said, reluctantly. "This is here for us to enjoy. This is it. Until the next time…"
Until the next time arrives (if it does at all), Saints' fans will follow their team wherever they go. Do fans of the smaller clubs appreciate these occasions more?
"I think they appreciate it more than big clubs," Saints fan Rob Peters said as the sun shone down on his red baseball cap outside the Duomo cathedral. "We may not be in Europe for another few years. The big clubs take priority, so, as Saints fans, we have to just go for it."
Ruddick agreed.
"Big clubs do it every season. They take it for granted," Ruddick said. "They know they are going to come away again next year. We don't. So we make the most of it while we can."
May 2010🗓
– Inter win treble under Mourinho
– #SaintsFC 7th in League One & won JPT

October 2016 🗓
– Saints v Inter in Europa League
👏⚽️ pic.twitter.com/lvVsX8gPG2

— Joe Prince-Wright (@JPW_NBCSports) October 20, 2016
Now they've had a taste, Saints feel like they belong at this level.
Flicking through Gazzetta Dello Sport on Friday, the player ratings showed that Saints' team ranked higher than Inter, as did the manager, and the man of the match was Inter's goalkeeper. Little Southampton went to the San Siro and roughed up the 18-time champs of Italy, who were scratching their heads as to how they won.
"For a game that wasn't so crunch — last night's game wasn't so important in the grand scheme of things, really — for a game like that, the atmosphere was unbelievable," Gray admitted. "Everyone was right behind them. We've had a great few days and we couldn't have asked for anything else… Other than a win."
With home games against Inter and Hapoel Be'er Sheva and a trip to Prague in late November (Saints only have 1,700 tickets for that game, which they've already sold out, but speculation says that double that are amount are expected to make the trip), everything is to play for in Group K with just three points separating first from fourth.
Can Saints make it through to the knockout rounds as one of the top two teams?
"I'm a little bit nervous about it now after last night," Peters admitted. "If we lose the next game at home against Inter we are in a little bit of trouble. We are good enough to go through. That's for sure. We totally dominated them last night."
There was a lingering feeling of what could've been (the amount of Saints fans I heard say 'I just wanted to see us score at the San Siro' was outrageous) among supporters but tales of parties in night clubs, bars and elsewhere long into Thursday night and Friday morning were rife.
"People were definitely deflated after the game but then we left the stadium, we got back into the city and then just kept singing in the pubs… Until five o clock this morning!" Caddick laughed. "The whole experience was the most important thing."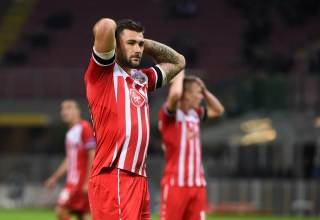 This experience will never leave Saints' fans and players. It is something few clubs of their size get to taste and it was a moment to savor.
Can it happen again? Can Saints' qualify for Europe by finishing in the PL's top six this season?
"It is just beautiful," Gray said as he looked along a busy side street ahead of his girlfriend flying out to meet him for a quick vacation until next Tuesday. "The atmosphere has been great. It is just great to be here and now we wait for the next one."
When that next one is, we will have to wait and see. Fans are already singing about making their way to Stockholm, Sweden, where the Europa League final is being held on May 24, 2017.
Although that may be a tad hasty, Southampton's trip to Milan showed the team from the biggest city on the south coast of England is ready for the biggest of stages.
With fans landing back home, the home game at St Mary's against Inter Milan in two weeks sold out early on Friday morning.
Europa League fever continues to grip Southampton and their fans don't want the European adventure to end.
Ever.