On Thursday, Patrick Nyarko will hit the RFK Stadium pitch with DC United for just his second playoff game of this decade, and he's going to make sure no member of the Black-and-Red takes the opportunity for granted.
"I walked into the locker room after we clinched a spot and the guys were like, 'Whatever'. DC had been in the playoffs the last few years," Nyarko said with a laugh in a Tuesday conversation with ProSoccerTalk.
"I was like, 'Guys! I'm excited, man. I haven't been here in a while. I'm overly ecstatic.' Hopefully we can get it together, make a run, and create something special."
[ MORE: MLS Cup predictions ]
The 30-year-old Ghanaian international with one cap was once one of those who took team success as a given. Nyarko walked off the College Cup pitch for Virginia Tech in 2007 and was picked 7th overall by the Chicago Fire. He promptly appeared in the MLS Cup semifinals in each of his first two seasons in Chicago.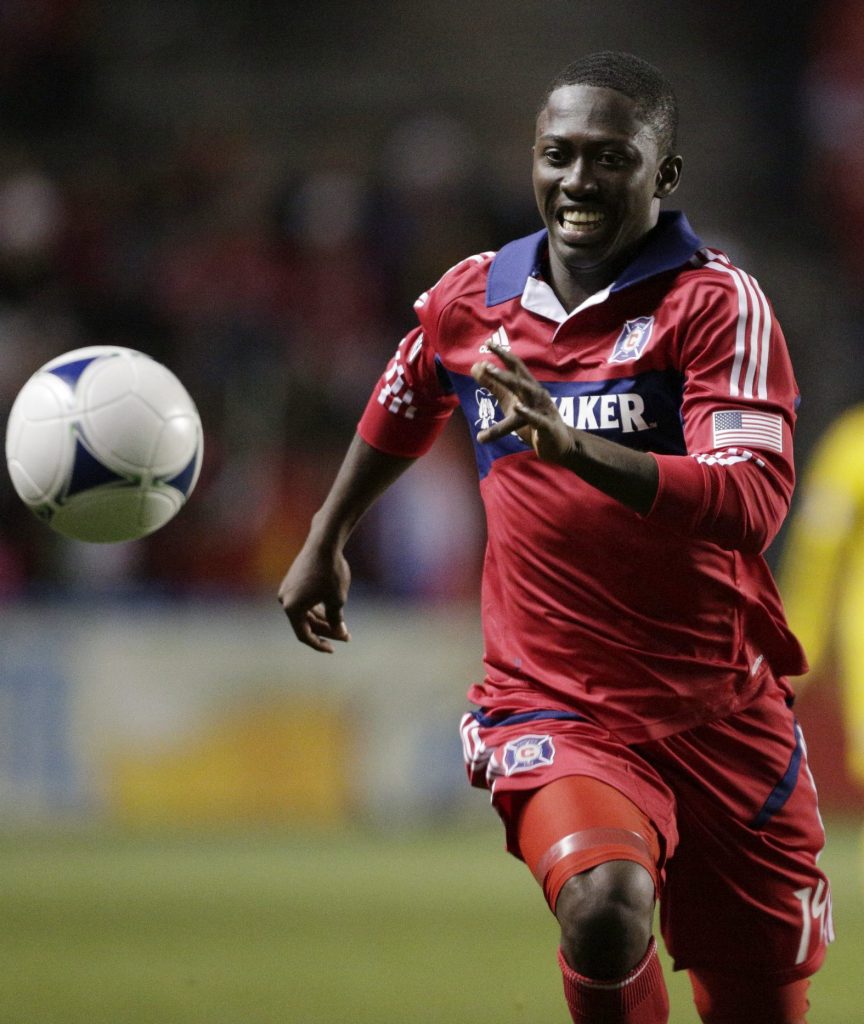 "I thought this was how things went. With the teams we had, I thought it was going to be an eternal thing and we would always enjoy these things," Nyarko said.
It turns out postseason success isn't as simple as that. Aside from a 2012 knockout round loss to Houston, the longtime Fire man didn't see playoff action.
So Thursday, yeah, you can bet it's special. After 222 regular season MLS games and 23 goals — all but 26 of them with Chicago — Nyarko is back for just his fourth playoff campaign.
"It makes the decision to move on from Chicago kinda worth it," Nyarko said. "Being in Chicago for that long, through the good through the bad, I finally decided to leave. If it had not resulted in a successful year and the playoffs, it would've been for nothing. I couldn't have justified that."
[ MORE: Power rankings — Going to the playoffs edition ]
Now DC is a sneaky, if not chic, pick to surprise in the East. The Black-and-Red have lost just once in their last seven games, and that was a Decision Day loss in which head coach Ben Olsen sat the vast majority of his starters in order to rest for Thursday. In the past six weeks, the No. 4 seed earned results against the trio of teams ahead of it in the Eastern Conference standings.
In other words, no one wants to see DC on their schedule right now. PST made the case for each team's championship chances on Monday, and Nyarko is convinced that DC can make a long, long run to the final.
"We are high in confidence right now, and the way we've closed out the season we discovered our identity," Nyarko said. "Everyone works for each other, covers each other, we attack together, and we keep up that intensity."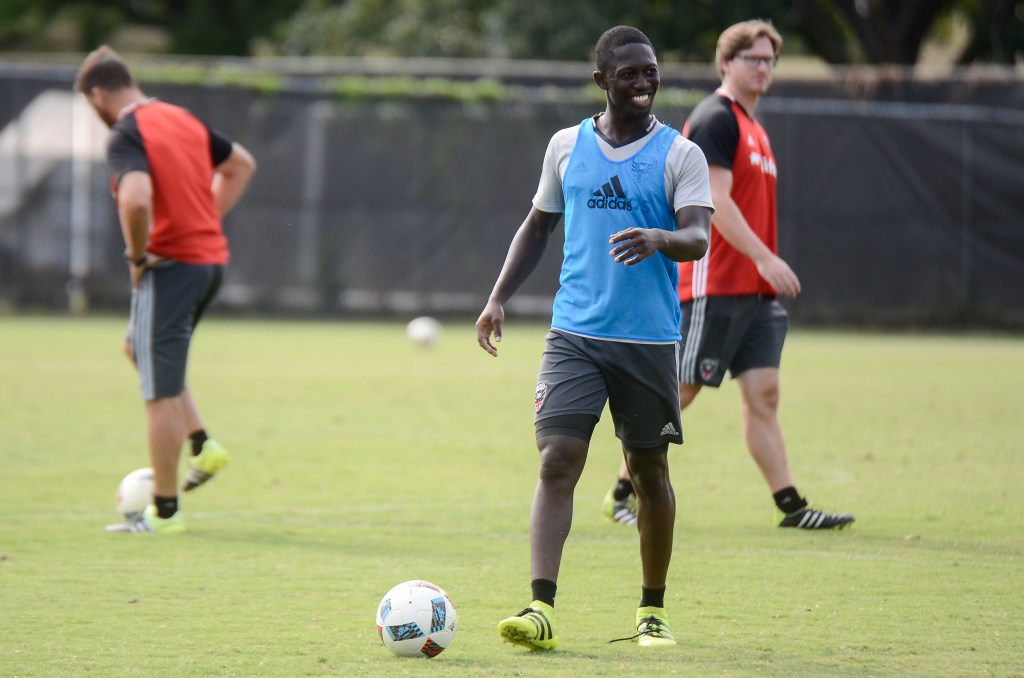 Nyarko's traditional stats aren't going to jump out at you; His four goals match his career-high, and his eight assists are second to Luciano Acosta, but Nyarko brings a different level of savvy to the squad.
On a team with United States men's national team center back Steve Birnbaum, you could argue that midfielder Nyarko is the team's best defensive asset. He does the dirty things and is fouled more than anyone else on the team, but has also completed the second-most key passes on the team (to Acosta).
And the advanced stats say he's getting the job done, too. Squawka has him in pretty good company as a Top Five midfielder when it comes to defensive performance score per game.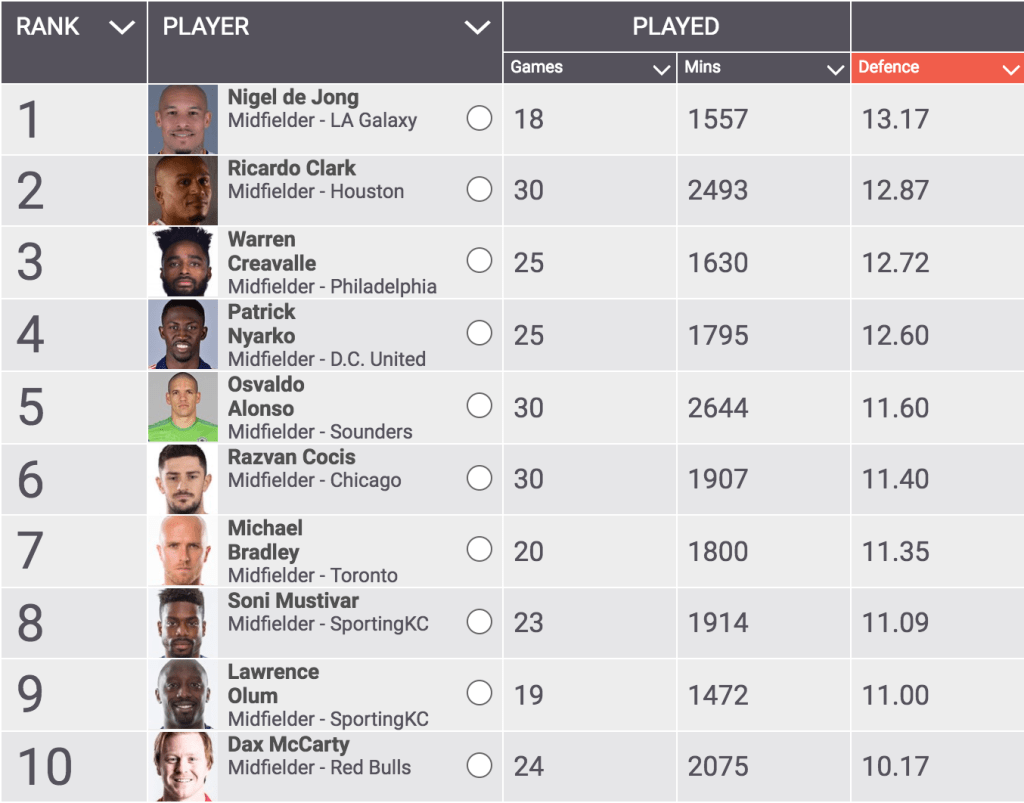 "It's unfortunate how the stats are usually what's preached out to the fans," Nyarko said. "I look for people who can make their team better. I'm ecstatic when the teams wins, and shattered when the team loses. I won't necessarily be the last person to touch the ball before someone scores, but before that, the double teams, the division, that's what I pride myself on. I know what I bring to a team."
Which isn't to say he wasn't scratching his head when DC started the season winless through five matches, especially when he was the new guy.
[ MORE: Three MLS sides advance to Champions League knockout rounds ]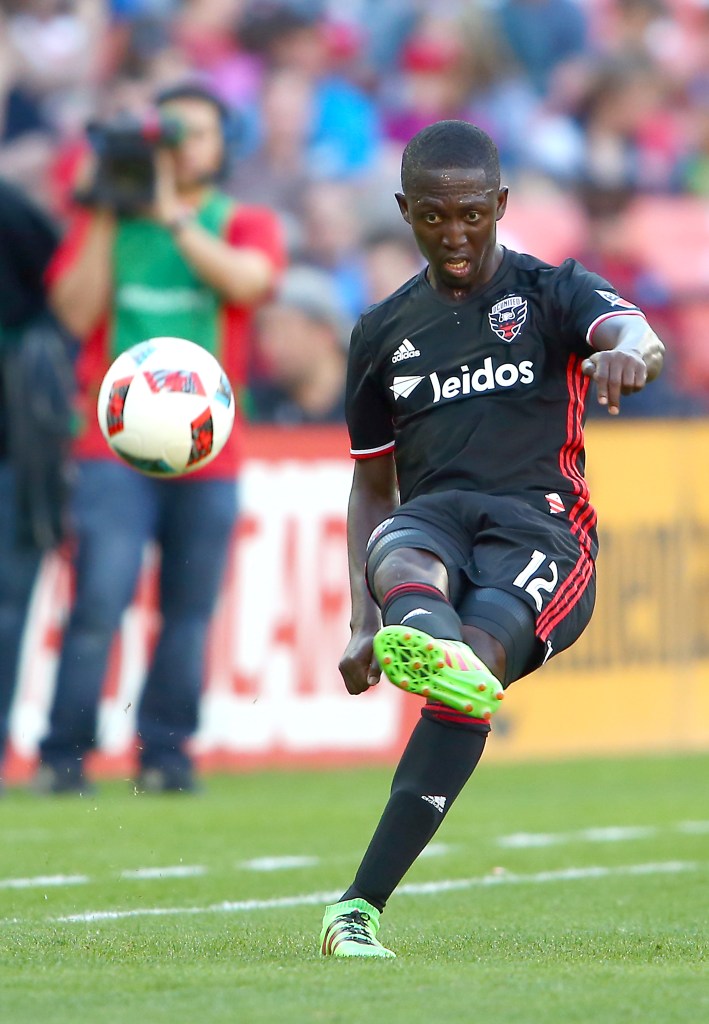 "This year, making the change was the hardest, not knowing what to expect, getting into a new team that had been in the playoffs the last few years," Nyarko said. "When things weren't going well, especially early in the year when I was inconsistent, I took a lot of the blame. Am I messing up the chemistry? I knew I was playing well, but you can't help but think that."
The midfielder credits Olsen and the veteran locker room for bringing the team together this season, calling Olsen the "ultimate player's coach". Nyarko only needs two fingers to count the times Olsen has lost his cool this season, and learned that his coach was a different breed when he approached him early in the season to talk about the offense.
"Usually I try not to get into coaches, but we weren't scoring as many goals," Nyarko said. "He wasn't worried about it. He made a comment like, 'I'm not gonna get on you guys, the chances are there, it's just not going in. I'm not going to yell. It's not like you're deciding not to finish.' I was like, 'Woah, this guy thinks like a player'. The freedom he gives you, he knows everyone's ability, and he doesn't restrict you. Don't be afraid to make a mistake."
Nyarko also points to a player as an emblem of DC's success, and that's Lamar Neagle. The ex-Seattle Sounders man has been in on 15 goals but hasn't complained that he's been used off the bench in his 10 of his 31 appearances.
"This guy's leading us in goals and he doesn't start and he's mentally strong enough to want to help our team," Nyarko said. "This is an exciting team that came along at the last part of the season and we hope to continue our push toward MLS Cup."