On Monday, PST's Nicholas Mendola made the case for (and against) the six sides vying for the Eastern Conference's place in MLS Cup 2016. Today, I'll do the same for the Western Conference.
[ FOLLOW: All of PST's MLS coverage ]
Real Salt Lake (6)
Why they could win it: Yura Movsisyan, Joao Plata and Juan Manuel "El Burrito" Martinez combine to form one of the league's most terrifying attacking trios (25 goals, 17 assists combined) … when they're at their best (more on that in the section below).
Why they won't: Momentum. They have none. Seven games without a win to finish the regular season (three draws, four losses). Scored all of two goals in their final six games. Five straight losses on the road (last win: July 31), which is where they'll be playing the LA Galaxy on Wednesday (10:30 p.m. ET) in the knockout round. They never actually figured what to do at center back alongside Justen Glad — you simply can't count on Jamison Olave or Chris Schuler to be healthy and stay on the field.
[ MORE: Power rankings — Going to the playoffs edition ]
Sporting Kansas City (5)
Why they could win it: They'll outwork just about anyone in the midfield, which is a trait that typically translates to success in the playoffs. The core of the team — Benny Feilhaber, Matt Besler, Graham Zusi, Dom Dwyer and a few others — have been there and won it all before. Realistically, they needed to win four points from their last two games to get into the playoffs, and that's exactly what they did. There's something to be said for that.
Why they won't: Though they faced the fewest number of total shots during the regular season, they gave up way too many big chances due to catastrophic mistakes at the back and deep in midfield. The lack of a consistent scoring option beyond Dwyer (16 goals) makes them extremely one-dimensional as it's too easy to cut off service to the lone man up top. A deep playoff run would have to look something like this: 1-0 win; 1-0 win in the first leg, 0-0 draw in the second leg; 1-0 win in the first leg, 0-0 draw in the second leg. Margin for error: extremely thin.
[ MORE: MLS Cup predictions ]
Seattle Sounders (4)
Why they'll win it: Momentum. They have all of it. Since Brian Schmetzer took over as interim head coach on July 26, they've suffered just two defeats (eight wins, four draws). Nicolas Lodeiro was the best no. 10 in the league the day he arrived, and he's been worth his weight in gold thus far (four goals, eight assists in 13 games). Jordan Morris gets stronger and stronger with each passing game, and that's never the case with rookies. Cristian Roldan solved their problem deep in midfield, perhaps extending the career of Osvaldo Alonso by two or three years if they roll with the same setup in 2017.
Why they won't: Have you ever seen what the Sounders do in the playoffs? I also still worry about Tyrone Mears and Joevin Jones at the two fullback spots. If teams can transition following a turnover quickly enough, they'll find a ton of joy down either flank.
[ MORE: The case for (and against) every team in the East ]
LA Galaxy (3)
Why could win it: They're the Galaxy, and Bruce Arena is still their head coach. Giovani dos Santos enjoyed an otherworldly end to the summer (seven goals, seven assists from late-July to early-September). With Robbie Keane out injured for extended periods, this is now his team. Lost just once at home all season — combined with RSL's road struggles, the Galaxy are a solid bet to get out of the knockout round. Oh, and Landon Donovan lives for the playoffs.
Why they won't: What's up with the midfield? Is it Baggio Husidic and no one else? Is Steven Gerrard going to be healthy? Is Jeff Larentowicz the answer? You do know Sebastian Lletget isn't a defensive midfielder, right? They're fine at the back, and still pretty scary on the attack (despite injuries — Gyasi Zardes), but you can't overlook the total absence of a midfield.
[ MORE: Biggest 2016 disappointment — Portland or Columbus? ]
Colorado Rapids (2)
Why they'll win it: 32 goals conceded during the regular season (fewest in MLS). No one has perfected the art of the 1-0 victory quite like Pablo Mastroeni's Rapids. 60 minutes will go by, and you'll have taken all of two shots, both from 35 yards out. One can't begin to imagine how frustrating it must be to play against team. Home losses in 2016: zero.
Why they won't: 39 goals scored during the regular season (second-fewest in MLS). If/when they go a goal down, they won't be able to get back into the game against a Cup-contending side. Their margin of error in this regard is practically nonexistent. Jermaine Jones returned to action after nearly four months on the sideline (knee injury) over the weekend, but there's no way he can be expected to contribute in a meaningful way on that kind of a turnaround, right? Right? Don't count this team — or him — out. Seriously, don't do it.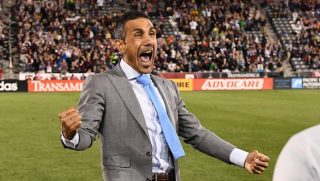 [ MORE: Decision Day madness in the West | And in the East ]
FC Dallas (1)
Why they'll win it: Here are two inarguable statements about FCD: they're the most talented team in MLS; they're the deepest team in MLS. Fabian Castillo was transferred two-thirds of the way through the season, and they didn't skip a beat. They can play with pace; they can grind it out in ugly affairs; they can pummel you with set pieces. However you choose to force them to beat you, they're happy to oblige. No one maximizes each and ever facet of the game quite like Oscar Pareja's Hoops. Matt Hedges was far and away the best defender in MLS this year, and Walker Zimmerman, his center back partner, was top-five (-three?) himself. Maxi Urruti, Michael Barrios and Tesho Akindele complement each other wonderfully and give Pareja an infinite number of tactical tweaks to apply.
Why they won't: Mauro Diaz is out for the season (torn achilles). That's a massive blow for any team, even FCD. No one has a better feel for the tempo of the game — when to push it; when to ease off the gas — than Diaz, and FCD will inevitably play themselves into trouble a handful of times each game without their guiding light. That's it, though. On paper, prior to Diaz's injury, it would have been nigh impossible to make a case against FCD completing the first treble in MLS history.