John Terry is a Chelsea legend but he can't go on forever.
[ MORE: Conte the new Mourinho? ]
In recent weeks we've come to see that now, perhaps more than ever, the 35-year-old is no longer first-choice at Chelsea and it will be intriguing to see if he starts against Southampton on Sunday (Watch live, 12 p.m. ET on NBC and online via NBC Sports).
Under Antonio Conte's new 3-4-3 system, Terry's lack of mobility may see him become a bit-part player for his beloved Blues the longer this season goes on. Terry's contract runs through the end of the current season but it may be his last.
There was much rigmarole (remember his tears and waving goodbye on the final day last season after not being offered a new deal?) about his contract being extended following his stellar play in each of the two campaigns as his importance to Chelsea became clear. As recent as the 2014-15 campaign he was immense, playing in every single minute as he led Chelsea to another Premier League title. He is one of the greatest central defenders of all-time and many believe he is still capable of playing at the top level for another few seasons.
Yet, Conte seems to be singing from a slightly different hymn sheet when asked on Friday about the future of his captain.
"It is logical John came back from injury and it's not easy to find quickly the right shape," Conte said. "John is an important player for us. If he plays or if he doesn't play, in the changing room and for the teammates and for the club. In this case it's always important the team and not to speak about individual players. I always take the best decision for the team and never for an individual player."
That last part is telling because for so long Terry has been Mr. Chelsea. Like Steven Gerrard at Liverpool, he has been, and always will be, more than an individual.
Last Sunday I was pitchside at Stamford Bridge as Terry came out on his own for warmups after being named in the matchday squad for the first time in six weeks following his recovery from injury. On his own, he got a huge round of applause and his connection with the fans and every facet of the club is undeniable and never-ending.
He embodies Chelsea after coming through the youth ranks to captain the first team to four Premier League titles, a UEFA Champions League, a UEFA Europa League title, five FA Cups and three League Cups. He has played in each of the last 19 seasons for the Blues and despite off-field issues, his importance on the pitch has never truly been questioned.
Until now.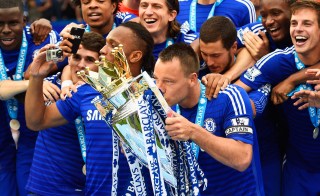 On his return to action — Terry was out injured from Sept. 11 until this Wednesday when he started in Chelsea's 2-1 EFL Cup loss at West Ham — it was clear that Terry was looking rusty. It was understandable but was it more than that?
We all know how good of a defender Terry is with his positioning and reading of the game second to none. But in Conte's new system he could well be the odd man out.
In Terry's absence Chelsea have kept three-straight clean sheets in the Premier League, winning all three games, and the play of David Luiz, Cesar Azpilicueta and Gary Cahill has been very impressive in a three-man central defense. Azpilicueta and Cahill have been marauding out of defense on the right and left side respectively and we all know how comfortable (and adventurous) Luiz is on the ball in the center.
I'm not saying Terry can't play in that formation but, much like Branislav Ivanovic, it doesn't suit him. He is better in a more compact unit being able to read the play in tight spaces and step in to intercept and win challenges. That's what he's done his entire career and there's no doubting playing in a three-man central defense requires much more mobility and stepping into midfield roles than playing in a solid back four does.
Conte's preferred system of a three-man central defense fits his needs to make Chelsea a more solid overall unit.
Speaking to ProSoccerTalk after the 4-0 win against Manchester United last Sunday, Conte told us about his change to three at the back following the 3-0 drubbing at Arsenal last month and how that has yielded three-straight clean sheets, and wins.
"After two defeats and conceding two or three goals in every game, it was important for us to change something and to find a new solution. I think this suit is very good for the team and our squad. Now we must continue," Conte told ProSoccerTalk. "I always thought that the system is not important. It is more important, the commitment to trust in the work and work very hard and also to follow the principles and my idea of football."
It doesn't seem like Terry, right now, fits into Conte's idea of a fluid, attack-minded three-man defense.
Terry will still play plenty of games for Chelsea this season but with his contract set to run out next July, this is starting to seem like one final, final swansong in his favorite shade of blue.
A Chelsea without Terry will be strange to contemplate but it is a reality becoming a lot easier to accept as Conte's new defensive system continues to make its mark.