SOUTHAMPTON — Ahead of one of the biggest games in club history, it has been reported that Southampton is at the center of interest from a Chinese company about a potential $250 million takeover.
[ MORE: Europa League tables ]
Southampton host Italian giants Inter Milan at St Mary's in a crucial Europa League Group K clash on Thursday, but plenty of talk in the buildup to that game has been about a possible change in ownership at the club.
According to a report by Bloomberg news agency, a six week period of exclusivity has already begun between current owner Katharina Liebherr with Chinese company Lander Sports Development. It has been reported that a $250 million price tag has been put on the club, however it is believed Liebherr is keen to find out more about Lander's intentions.
ProSoccerTalk understands that Liebherr is not openly looking to sell the club and will not offload Southampton in a hurry. We also understand that no deal for the club is imminent and no more news should be expected in the next 7-10 days.
[ MORE: 7,000 Saints fans take over Milan ]
It is also clear that Liebherr won't sell the ambitious Southampton unless she believes it can move forward substantially under any new ownership. However, like any Premier League team, if significant investment is promised from an outside source then it would be in the best interests of the club to find out more details.
In recent years Katharina has turned down many opportunities to sell the club to foreign investors which would've made her a huge profit. Yet every time an opportunity arose to cash in, her reason for not selling up was simply because she felt it wasn't in Southampton's best interests.
As of right now it is unsure whether or not Liebherr would instead consider investment from Lander, which could see her sell shares in the club to the Chinese investors, rather than selling up completely. But with the club rising to the upper echelons of the Premier League and money pouring in via lucrative TV and sponsorship deals, many other potential investors will sit up and take notice.
Liebherr was left the club by her late father Markus who saved Saints from the brink of extinction back in 2009. After Markus passed away in 2010, Katharina's heart has remained with the team and at a club awards dinner last season she was emotional as fans paid tribute to her father (one fan even had Markus' face tattooed on his arm, which  Katharina loved) and the connection is incredibly strong as she often jets in from her home in Switzerland to attend games.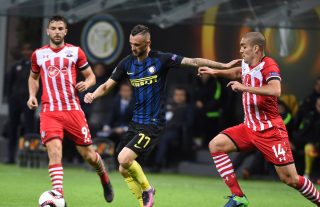 Southampton has come a long way since Liebherr purchased them as a third-tier team for around $22 million in 2009 with significant investment in the playing squad, infrastructure and the marvelous training facilities at the Staplewood campus nestled in The New Forest. They are likely to be a very valuable proposition after finishing in sixth-place last season in the Premier League and are competing in the UEFA Europa League this campaign, plus their famed youth academy had made them tens of millions of pounds in profit over the years. Taking all of that into account, the valuation of $250 million seems a little low.
As for potential investors, foreign money has poured into English soccer in recent years with Arsenal, Manchester United, Liverpool, Sunderland, Crystal Palace, Swansea City and Bournemouth either fully owned or part-owned by wealthy American investors, plus Manchester City is owned by Abu Dhabi based Sheikh Mansour, reigning PL champs Leicester City are owned by Thailand's Vichai Srivaddhanaprabha and Chelsea is owned by Russian billionaire Roman Abramovich.
Premier League side West Bromwich Albion (plus Midlands rivals Aston Villa, Wolverhampton Wanderers, Birmingham City who are in the second tier) are all now owned by Chinese companies and Hull City is currently in the final proceedings of a Chinese takeover.
So, who is the investor said to be lining up a bid for Saints?
Gao Jisheng is the leading man at Lander. The founder, chairman and CEO built the company on property deals and along with his daughter Jingna he owns a 59 percent stake of Lander. The company was valued at $1.4 billion last June by Forbes and over the past year it has switched from being a company focusing on real estate to one focusing on sports.
The rhetoric of China's president may have something to do with that change in business direction.
President Xi Jinping of China has called on the nation to embrace the global game and become a "world football superpower" after putting the game on the national curriculum for schoolchildren.
He has also pumped plenty of resources into soccer infrastructure in the nation, the Chinese Super League is attracting star players from around the world with huge pay checks and the likes of Manchester City have also sold a stake in the club to Chinese investors plus plenty of other European teams (Inter Milan, Atletico Madrid, Nice, Espanyol and Granada to name a few) have seen a sudden influx of investment from China.
It seems like Southampton may be the latest to benefit from China's growing soccer obsession.