Paul Pogba may not play Sunday against Swansea City after suffering a thigh injury in Thursday's 2-1 loss at Fenerbahce in the UEFA Europa League.
This stings in a big way, regardless of how you feel Pogba has played at Old Trafford (more on that later).
United has a brutal run of matches ahead, and badly needs to find its form — with Pogba — on Sunday at Swans.
[ MOURINHO: United played like "summer friendly" ]
The Red Devils have one win in its last four matches, the EFL Cup win over Man City. They dominated Burnley on Saturday but couldn't find a winner, and really needed six points between that match and Swansea to position itself for a Top Four spot.
STANDINGS
United is 7 points off fourth and five off fifth in the Premier League, and its only other recourse to return to the UEFA Champions League would be winning the Europa League.
Of course a team with United's talent can overcome either deficit, but look at the run the Red Devils face after Sunday's match at the Liberty Stadium.
Nov. 19 – vs. Arsenal (PL)
Nov. 24 – vs. Feyenoord (UEL)
Nov. 27 – vs. West Ham (PL)
Nov. 30 – vs. West Ham (EFL Cup)
Dec. 4 – at Everton (PL)
Dec. 8 – at Zorya Luhansk (UEL)
Dec. 11 – vs. Spurs (PL)
It gets a lot easier after that, but will it matter if, say, Jose Mourinho can't deliver at least 10 points in the Premier League through Swansea, Arsenal, West Ham, Everton, and Spurs (three at home)?
Which brings us to Pogba. The 23-year-old French star was expected to revolutionize United's play, and still probably will, only to find himself the constant target of scorn every time he doesn't deliver a match-winning play.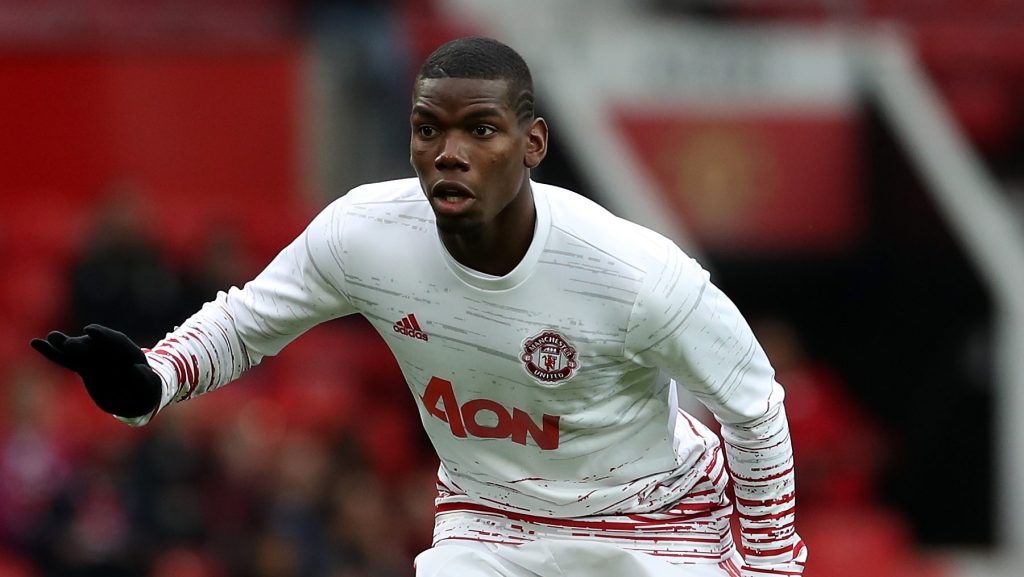 When a player's transfer fee sets a world record, that's understandable, but Pogba has in fact been quite a good contributor already. As he readapts to the Premier League, Pogba has the following numbers to his credit (PL only):
— He's completed 525 passes, almost 100 more than his closest competitor (Ander Herrera). He's also tops in completed passes per game and second in completed passes per 90 (Herrera again).
— His 18 key passes are the most on United. That's tied for 13th in the league with Eden Hazard and Dele Alli.
— The extremely-active Pogba has been involved in the fourth-most duels (79) in the PL.
— He's played the fifth-most successful through balls in the PL, behind only Alexis Sanchez, David Silva, Philippe Coutinho, and Mesut Ozil.
— Despite constant attention, Pogba is second to only Zlatan Ibrahimovic in shot attempts.
— He also has the fifth-best home passer rating in the Premier League, according to advanced stats site Who Scored.
Positionially, Who Scored has some other encouraging metrics. Pogba's stats improve the deeper he lies in the midfield, and he's significantly better at home than on the road in PL play (where United plays three of its next five).
Of course, the eye test matters and Pogba has yet to really dominate a match, but that's coming. And as longtime United midfielder Bryan Robson pointed out earlier this week, it takes time for any player to adjust to being a big money arrival in a new league. And Pogba has not been awful.
"I think he's doing okay. But it's just okay at the moment — we know there is better to come from Paul. He's a real talented lad and I'm sure when the team start getting a consistent run of good results then his confidence will come on and he will enjoy his football."
There's two ways to look at Pogba's possible absence on Sunday. For one, getting a week of rest could mean two weeks thanks to the international break. And Pogba not pulled out of Thursday's game with injury after 30 minutes, he may've found himself going 90 for the fourth time in 11 days (Ease up, Jose).
But having the chance to sync up with his teammates against a struggling Swansea City could set the table for a terrific and challenging month, and leave little risk of spending two weeks as low as 10th. United has 15 points and a plus-1 goal differential, with Southampton (at Hull) and Bournemouth (vs. Sunderland) capable of joining them on 15 points.
Plus, with Chelsea facing Everton and Spurs taking on Arsenal, three points puts United right back in the mix. That's achievable without Pogba, but don't let this slow start to Old Trafford superstardom let you imagine the Red Devils don't suffer when he's not available.