Gareth Southgate's final game in charge of England on an interim basis takes place on Tuesday in a friendly against Spain at Wembley.
After that, he should be given the England job on a full time basis.
[ MORE: How can USA win? ] 
Southgate, 46, was unexpectedly thrust into the role on a temporary basis following the incredible scenes which saw Sam Allardyce lose his job after just 67 days following a sting operation from the Daily Telegraph which showed him explaining how to circumvent FA rules over transfers. 
Since that dark time for the English national team in late September Southgate has steadied the ship admirably with World Cup qualifying wins against Malta and Scotland plus a draw away at Slovenia leading England to the top of Group F.
And although he didn't want the England managers job when it first became vacant when Roy Hodgson resigned following the shock 2-1 defeat to Iceland at EURO 2016 this summer, he now seems to be the right man at the right time for the Three Lions.
But why should he be given one of the most prestigious jobs in world soccer?
One of the main reasons is because England has tried literally everything else to get success. They've gone for expensive foreign imports (Fabio Capello and Sven Goran Eriksson), up and coming coaches at the time (Steve McClaren and Kevin Keegan) experienced heads (Hodgson and Allardyce) but none of it has worked. Another reason is because of the lack of clear English candidates.
If the English FA wants to appoint an English manager then only Premier League duo Eddie Howe or Alan Pardew would suffice. Aside from that, who else is there?
Southgate is in a situation where he is one of the only options England has left. Yet, don't mistake that for him being a fall guy or a yes man. He is strong, intelligent and disciplined and he has proven himself as manager of England's U21 side since he took the role in 2013. He has also proven that he will walk away if he feels the role isn't right for him, just like he did after being appointed head of elite development by the FA but he then left the role in 2012 when he was tabbed to become the technical director of the FA instead.
The former Crystal Palace, Aston Villa and Middlesbrough center back has already stated that maybe he won't take the England job if it was offered to him on a full time basis. However, England needs Southgate and he knows it and it is expected he will be offered the job sometime next week. The former England international (he played at EURO 96, missing the pivotal penalty kick in the semifinal shootout defeat to Germany, plus was in the squad for the 1998 World Cup and EURO 2000) should be given a four-year deal to build something sustainable and bring through the talented crop of players he's helped nurture at U21 level.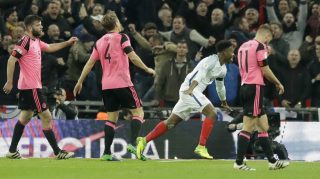 Yes, his record as a manager with Middlesbrough from 2007-09 leaves a lot to be desired (in two and a bit seasons in charge of the Riverside he led Boro to 45 wins in 151 games and they were relegated from the Premier League) but with England's youngsters he has worked wonders, losing just three of his 31 games in charge although again the young Three Lions struggled in the European Championships in 2015.
Southgate's understated nature seems to have resonated strongly with the senior players within the England setup. He is strict when he has to be but mostly laid back. He has helped nurture the careers of many of the current squad (Harry Kane, Dele Alli and John Stones to name a few) and they have his backing. The way he handled the benching of Wayne Rooney was class and he is no-nonsense. Southgate is someone you would here described as a 'players' coach' because he can connect with the younger members and has the respect from everyone for what he achieved as a player and now his ideas as a coach are clear, concise and there's no hyping things up. He just gets on with it.
Win, lose or draw against Spain at Wembley, Southgate should be handed the reins. England will qualify, once again, for the 2018 World Cup and after that, what's the worst that can happen? In 2014 World Cup it was a group stage exit in Brazil and in 2010 a Round of 16 humiliation at the hands of Germany.
Southgate can do no worse than that and he should be given a chance to develop this young England squad and help them fly under the radar, if that's ever possible with the intensely scrutinized Three Lions.