Jurgen Klinsmann's future as USMNT head coach has never been this much in doubt. And so it should be.
[ MORE: Gulati on Klinsmann ]
On this Wednesday morning, it feels like the lowest point of Klinsmann's much-scrutinized reign as U.S. national team boss and there's a very real possibility that two damaging World Cup qualifying defeats in five days could mark the end.
It wasn't so much the scoreline in the 4-0 defeat to Costa Rica on Tuesday which was concerning. It was the manner of the second half collapse which will be giving U.S. Soccer president Sunil Gulati a sleepless night as the team travels back to the U.S. bottom of the Hexagonal group following defeats to Mexico and now Costa Rica. It seemed like the players threw in the towel and didn't fight for their manager.
[ MORE: 3 things | Player ratings ]
With no more World Cup qualifiers until March 2017 (the U.S. host Honduras and head to Panama with four points expected at the very least) and a shortened January camp coming up, Klinsmann will have plenty of time to stew on these awful results over the past few days.
So will U.S. Soccer.
Gulati said last week that Klinsmann's job would be safe until the end of this World Cup qualifying campaign. Klinsmann's current deal as head coach of the USMNT and the technical director runs out after the 2018 World Cup. It seems like nobody at U.S. Soccer is remotely thinking about firing Klinsmann. That's the reality.
That's a problem.
At the end of the day, this is a result business. Right now, the U.S. isn't getting the ones they need. Klinsmann's long-stated goal for the U.S. is to get them to a World Cup semifinal. Right now, most fans would be happy with just qualifying for the 2018 World Cup in Russia.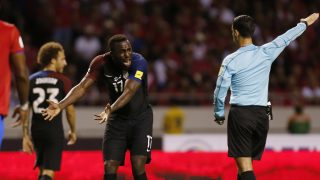 It is worth remembering that it is still very early in qualifying and there are still eight games and 24 points to play for. The U.S. has got two of its three toughest games out of the way (Mexico away being the other) and if they don't finish in the top three of the Hex and seal qualification to Russia 2018 it would be a huge shock. If that happened, it would also cost Klinsmann his job.
Last week when ProSoccerTalk's writers discussed the upcoming World Cup qualifiers I said the U.S. should be happy with one point from their opening two games of the Hex. There's no mistaking that Klinsmann's men were dealt a hard schedule to World Cup qualifying and if you chuck in the absence of influential, experienced players like Geoff Cameron and Clint Dempsey, plus the injury of Tim Howard in the first half of the Mexico game, then they were up against it.
Klinsmann has always welcomed criticism of him and his players as a sign that the U.S. is growing as a soccer nation. There will be plenty more critics of his team in the coming months.
The way the USMNT came out of the traps on Tuesday, they seemed timid and scared in Costa Rica. Then the shockingly poor defensive mistakes in the final 30 minutes prove that they not only didn't rise to the occasion but they also had no belief in themselves or the project. That's a massive problem. It's one Klinsman must sort out, if he's given the chance. He probably will get the chance to try and rectify it.
Klinsmann has had some severe ups and downs during his time in charge of the USMNT but this seems like the roughest waters he'll have to guide the team through.
Here's a look at some of the facts. I've grouped them into positives and negative achievements during his time in charge of the U.S. so far…
---
Positives
Getting out of the Group of Death at 2014 World Cup, reaching Round of 16
Winning 2013 Gold Cup on home soil
Marquee friendly wins over Holland and Germany in the summer of 2015
Reaching semifinals of Copa America Centenario 2016
Negatives
Knocked out of 2015 Gold Cup at semifinal stage vs. Jamaica
Losing in the CONCACAF playoff to Mexico, missing out on the Confederations Cup
Losing to Guatemala on the road in the fourth round of World Cup qualifying in 2016
Heaviest defeat since 1980 in World Cup qualifying, losing 4-0 to Costa Rica
---
Notice anything about those major negatives in tournament and qualifying play? Yep. They've all occurred in the past 18 months.
Firing Klinsmann would not be a knee jerk reaction. It has been coming.
He is the most divisive figure U.S. soccer has ever seen. He has staunch supporters and some despise him. He has criticized Major League Soccer, enraging many, and has not been scared to try and rip apart the U.S. soccer establishment at the seams and tell them what they're doing wrong. It's hard to keep doing that when the USMNT is struggling so much in a region they should simply be dominating.
The most frustrating thing for those who criticize his tactics and personnel choices is that Klinsmann doesn't seem to be held accountable for his actions. When he arrived in 2011 Klinsmann promised sweeping changes to the infrastructure and to improve the style of play. He may well have achieved the former, with U.S. soccer plowing plenty of resources in and plenty of young American players heading to Europe to play in academies on Klinsmann's advice, but the latter has not been achieved.
It is time for Klinsmann to take a long, hard look at himself.
His favorites in Omar Gonzalez, Jermaine Jones and Timmy Chandler and many others have been given chance after chance. They've proved they aren't good enough at the international level. His decisions to change up tactics time and time again (the bizarre 3-5-2 against Mexico last week highlighted that perfectly, as did the confusion from his players in-game which led to him switching back to a 4-4-2) and then blaming his players for their lack of ability to deal with it boggles the mind.
Klinsmann has thrown his players under the bus so many times I've lost count. Yet after the defeat to Costa Rica we heard something different from him. He held his hands up and was accountable.
"I take responsibility and it is no problem. It is a learning experience for us," Klinsmann said.
Will U.S. Soccer now truly take responsibility and address the elephant in the room head on? If Klinsmann was the manager of any other national team on the planet there's no way he would've lasted this long.
The most worrying thing for Klinsmann is that judging by their performance on Tuesday in Costa Rica, a large chunk of his players agree with that sentiment.