After the first batch of the final round of 2018 World Cup qualifiers ended in two defeats for the U.S. national team, plus their final game of 2016 in the books, now seems like a good time to discuss where the USMNT is at.
[ MORE: Klinsmann to stay or go? ] 
In a two-part series, ProSoccerTalk's writers will discuss the players and the coach, Jurgen Klinsmann, and assess the current state of the USMNT.
[ MORE: 3 things | Player ratings ] 
Here, we focus on the players.
---
What is the biggest problem area for the USMNT after these two defeats?
Joe Prince-Wright: The coaching area is obviously a concern. Anybody who has watched this team closely in the past 12 months can see there's been a steady decline, irrespective of a few good results. However, the big concern for me is defensively. The USMNT looked so solid this summer in defense but losing Geoff Cameron through injury and then deciding not to start DeAndre Yedlin has completely ruined any of the defensive stability which was being built. There are so many issues right now but my main concern is rebuilding that solid defensive base.
Nick Mendola: It's almost all mental. Not to say Tahiti or San Marino would be a world power simply with better relationships — the Americans still aren't at an elite level with talent — but there's a clear disconnect between the coach's intentions and the players' desires. Putting it on either side is a major mistake. We've all seen talent fail because of relationships, see Jose Mourinho's final season at Chelsea. But which is easier to fix? The reason I now would accept a Klinsmann firing is that the Americans are far too talented to be outclassed and out-efforted by Costa Rica, and the points left on the table by the poor start against Mexico could come back to haunt them. My fear isn't changing coaches, though, it's who they line up to replace him. If someone comes in and dismisses foreign-born players, the Americans won't be back on their feet until qualifying for 2022. Yay, Qatar.
Andy Edwards: I struggle to find a ton of fault in the players this morning. Here's why: every one of them, to a man, are playing better for their club team than the national team. If this were a new development, I'd be happy to look past it and write it off as an uncharacteristically bad camp for a number of guys. But it's been the case for years now. Were a number of key players extremely poor over the 180 minutes of qualifiers this round? Absolutely, but consider this: if they were poor enough against Mexico to publicly criticize after the game (John Brooks, Jermaine Jones, Michael Bradley), which Klinsmann did, then don't turn around and pick them against three days later. He's frustrated by them turning in quality performances for their club teams, then "letting him down" with the USMNT, failing to realize and/ or accept that he's the one at fault for that.
Matt Reed: The central midfield has been so overrun in these two games, and considering the U.S. will have to face both Mexico and Costa Rica again that doesn't bode well for them. Michael Bradly and Jermaine Jones simply don't mesh well anymore, and I'm not sure if you can chalk that up to age but changes certainly need to be made in the heart of the midfield.
Kyle Bonn: The biggest problem areas are man-marking and link-up between defense and attack, but that's just two of a host of things.
---
Which players, if any, came out of the last week with any pride intact?
Joe: I would say Christian Pulisic, Fabian Johnson, Bobby Wood and Jozy Altidore. I don't think you can put much blame on a rusty Brad Guzan either. There will be little to no pride shown by any player over the last two games. They will want to move on as quickly as possible. Unfortunately for them, these results and performances will linger until March…
Nick: Bobby Wood, Jozy Altidore, Christian Pulisic, and probably Fabian Johnson.
Andy: Christian Pulisic is already a star. On Pulisic: Imagine the shock to the system he must feel every time he departs from Borussia Dortmund, where he's guided and deployed by the brilliant Thomas Tuchel, for USMNT camp, where he's now under the instruction of a tactical caveman. It'll be great to see him instantly back to his best this weekend.
Matt: Christian Pulisic and Bobby Wood each provided strong displays in the attack, but neither really had the opportunity to affect the match consistently because of the fact that Costa Rica clogged the midfield and made it difficult for the USMNT to distribute the ball up front.
Kyle: The two attackers. Bobby Wood had the best moment in an otherwise bleak international break, and Jozy Altidore put in a good defensive shift despite few chances up front. Christian Pulisic also proved his worth, although he wasn't utilized enough or properly.
---
Do we expect too much from this group of U.S. players?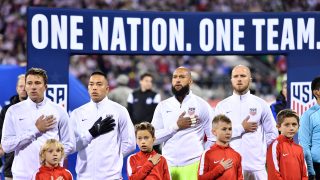 Joe: I expect this U.S. team to easily get out of the CONCACAF World Cup qualifying. Easily. Right now they've put themselves under immense pressure and another defeat either against Honduras at home or on the road to Panama will leave them in a perilous situation. With the players they have I expect the U.S. to get out of their group at the World Cup, then anything else is a bonus. I don't think that's too much to asking but obviously something is going wrongs.
Nick: That depends on the expectations. I expect the USMNT to consistently qualify for the World Cup as a top three team in CONCACAF. Given the potential from a golden generation from any smaller side in the confederation, as we've seen with Honduras or Costa Rica in the past decade, it shouldn't be too much to expect. However, those who expect this crop of players to consistently emerge from World Cup "groups of death" as a given, well, that's a lot for me to digest.
Andy: Absolutely not, at least not personally. My expectations have dropped significantly from, say, 2012 to present day. In Klinsmann's first 12 months in charge, I was hopeful he could deliver on the grand ideas he sold everyone. Once it became quite clear to me, sometime in 2013, that he couldn't/wouldn't be "taking the USMNT to a new level" (i.e. a World Cup semifinal, or even a return to the quarterfinals), it was about damage limitation. Between the 2014 World Cup and the 2015 Gold Cup, my expectations became "please don't embarrass the program any further." That's not asking too much, from the players or from Klinsmann. The players care immensely, which is quite clear to see in their giving of everything on the field.
Matt: In a way, yes. I think that we're all used to the USMNT qualifying for the World Cup by now that we sort of take it for granted. That being said, CONCACAF isn't the most overwhelming region to play in but it's absolutely a difficult one. Mexico and Costa Rica look to be shoe-ins for Russia 2018, which essentially leaves 1 and a half spots available for the U.S. I do believe the USMNT will make the World Cup but this cycle has shown that nothing is a certainty and that we still have a long way to go before joining the likes of a Brazil, Germany, etc.
Kyle: No, absolutely not. This is a quality group of players overall and they need to have high expectations. Beating Mexico in Columbus clearly isn't too much to ask, and getting points against a team they beat 4-0 just three months ago is also a normal expectation.
---
For you, who is the biggest name USMNT player who should not start in the next batch of World Cup qualifiers in early 2017?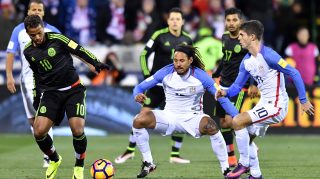 Joe: I'm going to say Jermaine Jones' international career is coming to an end. I'm just not sure what he adds to this team and his penchant for hacking opponents isn't helpful. He leaves Michael Bradley often trying to face two central midfielders on his own.
Nick: Well, Jermaine Jones is suspended, so we'll skip him. I don't think there's another truly big name player who won't be starting come March, since it will be interesting to see how Bradley looks without Jones (again). Perhaps with Geoff Cameron.
Matt: Jermaine Jones. I think when you look at how productive Sacha Kljestan has been in MLS both as a distributor and defender, he has to not only be in the 23-man roster but in the starting XI as well.Take it as what you will, but Kljestan and Pulisic were really gelling in some of the previous friendlies, and I want to see how the Red Bulls man orchestrates the midfield against good competition.
Kyle: Jermaine Jones. My goodness he was awful. Fitness aside, he had zero usefulness to this team anymore.
---
With the USMNT clearly needing a clear out in defense, who would be your back four to start against Honduras next March?
Joe: My back four would be: Yedlin, Cameron, Brooks, Johnson. Only one of those started in defense against Costa Rica and we could see that Brooks, who was sublime in the Copa America in the summer, looked lost and nervous. Cameron provides experience to Brooks and Yedlin and you can't underestimate how much his injury hurt the U.S. national team. Overall, the U.S. must go to a flat back four and use those four guys. If any are missing, why not try Cameron Carter-Vickers, Steve Birnbaum or Kellyn Acosta? The rest have shown they aren't up to scratch.
Nick: Three remain the same, with DeAndre Yedlin, John Brooks, and Geoff Cameron. I'd really like to see Eric Lichaj or a new option at left back. Keep Fabian Johnson advanced and spare us Chandler, Michael Orozco, and the Klinsmann old guard.
Andy: I'm not sure I agree with that premise. Just about everyone along the backline was poor at some point or another in these two games, but I think we have to ask ourselves why/how that was. Individual mistakes occurred, without a doubt, but the tactics didn't exactly do the defense any favors. A strong defense doesn't consists of four (or three, or five) defenders; it's a product of quality defenders, of course, but also a midfield that protects it from the front, and a game plan that provides avenues through which to relieve pressure on the defense. The USMNT had none of those in these two games, and the defense was left hanging again and again and again. Once more, every defender Klinsmann picked to start over these two games is playing extremely well for his club team at the moment.
Matt: You have to go with what works. I've heard a lot of people say that the Copa America Centenario was a tournament without much meaning, but I saw a lot from that backline in the competition. For me, DeAndre Yedlin, John Brooks, Geoff Cameron and Fabian Johnson is still your best bet.
Kyle: I don't think they need a clear out at all, I think they need better tactical direction. They are good players who were put in positions to fail. The back four should be: Johnson, Cameron, Brooks, Yedlin. Yes, Fabian Johnson is really a midfielder, but he's the best we got at LB at the moment. If Timmy Chandler continues to play well at his club, he should continue to get a spot in the squad, but Yedlin right now is the best option after he's improved defensively.
---
The central midfield balance just isn't right. Is that Jones and Bradley's fault? Just one of them? Or just the formation they're asked to play in?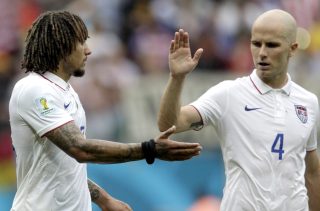 Joe: Jones is the bigger issue here. As I mentioned above, Bradley spends half this time fighting fires on his own. In the past a true holding midfielder has looked better alongside Bradley and that allows him to roam forward when necessary and link up with Altidore and the other attackers. Right now, Jones is the one doing that and he had no defensive discipline. I think Bradley has been getting a rough deal.
Nick: It's the players more than the formation, and I have a hard time choosing one over the other. As it stands, Bradley's status as one of the most complete USMNT players ever means I'd sit Jones before bailing on Bradley.
Andy: Bradley/Jones has never worked, so of course it's not working right now either. Sometimes, picking your 11 best players doesn't equal the best 11-man lineup. Bradley/Jones especially doesn't work as a midfield-two when the coach says things like "they need to get into more one-on-one duels," which is just factually incorrect of the Mexico game. The only thing that would have managed to do is to create even more space through the heart of midfield, but I shouldn't have to explain that to the manager of the USMNT.
Matt: I think Bradley will always do the defensive work necessary, however, his passing at times is so far off. I think the bigger issue between the two is definitely Jones. He was beaten left and right in both the Mexico and Costa Rica matches and doesn't possess the pace to get back. There's moments when he can create in the attack, but Jones just doesn't look like the player he was two years ago. Given the problems the U.S. has had in the back recently, I'd even go with a deep lying midfielder in a 4-1-3-2 come March. Perhaps a Danny Williams, Perry Kitchen or even Bradley to simply sit in front of the backline and help break up attacks.
Kyle: Jones has no use. He's slow, lumbering, clumsy, and inaccurate. I'd like to see Bradley's on-field response to new coaching before tossing him under the bus, however. Put Bradley with Kljestan and see what happens.
---
Are you concerned with Michael Bradley's recent displays?
Joe: No. As I mentioned, he has had an inept partner in midfield. If you look at the defensive work he brings there are few who can match that. He may have gone through a slight slump in form but with his experience and quality, I expect him to come out the other side and lead this team.
Nick: Very. Even on his worst days, Bradley was capable of those mind-blowing diagonal balls and touch passes. At worst his service on free kicks and corner kicks was still passable. It's all screwy now, and simple passes are also an issue at times. It feels counterintuitive to criticize him, but displays don't lie.
Matt: I think it's been a steady decline for Bradley since Brazil in 2014. He's done well for the most part in MLS but that form hasn't carried over to the national team. He's simply been outplayed by the Mexican and Costa Rican midfields and just looks slow in his decision-making.
Kyle: Not yet. Again, I'd like to see him respond to new coaching. He is clearly lost under Klinsmann, unsure how to proceed tactically. I'm not ready to indict him to a failed product yet.
---
Is it time to go with youth for Klinsmann? Should Green, Gooch, Morris, Pulisic all become starters?
Joe: I would say Pulisic should be a starter and go as far as asking for both Lynden Gooch and Jordan Morris to have big roles off the bench and work their way into the starting lineup. Right now, Gooch's energy alongside Bradley in midfield could be exactly what this team needs. Sure, they're young, but the experienced players have shown me over the last week they can't get past Mexico and Costa Rica isn't there. Klinsmann is always preaching about youth development. Now it is time to back it up and play them.
Nick: Pulisic — 100 percent. The others? No. I'd like to see Green get a look and Morris/Gooch to continue to get time and spots on the bench, but Bobby Wood and Jozy Altidore are both going to be factors in Russia. No reason to sit them.
Andy: We've still got to qualify for this thing, and we've only got eight games to do it. Now's not the time to scrap everything and start over. There was a time for that: it was the end of the 2014 World Cup, but guys like Kyle Beckerman, Michael Orzoco and Chris Wondolowski, among others, kept getting called up for whatever reason. As I've clearly outlined in the above rants, the talent is presently there to qualify for Russia and make another round-of-16 run.
Matt: The problem with the U.S. at the moment is that they have youth in very few positions. When you talk about Green, Pulisic and Gooch there is some flexibility in terms of where they can play but typically they're best used on the flanks. If there's a way to get them all involved I don't think there's much to lose at this point but I think Pulisic is the only guarantee to start at this stage. The Morris injury was definitely a blow coming into these two matches though because he's had a fantastic first season in MLS and I really wanted to see what he could off the bench.
Kyle: No. Pulisic is clearly ready, but the others are not. This team needs new direction, but a complete clear-out is not healthy to the squad.