In a world focused on non-traditional statistics, the most complete and valuable player in this Major League Soccer season is Osvaldo Alonso.
It's a simple enough statement that may seem shocking, considering the work and prowess of those who have staked claims to the Landon Donovan MVP Award.
[ MORE: Klinsmann unafraid ]
Sebastian Giovinco and David Villa possess electric skill sets and otherworldly production, and are instant all-timers for the nascent league. Next, take the historic traditional numbers posted by the Red Bulls' Sacha Kljestan and Bradley Wright-Phillips, eye-popping stuff.
Then there's Alonso.
The 31-year-old Seattle Sounders midfielder wasn't going to get an MVP nod thanks to the weight given to goals and assists (in every league around the globe), but he should be a household name by now.
Not all of that is down to statistics. Alonso has been perhaps the perfect mate for Michael Bradley in the United States men's national team's midfield, but has not been given the chance despite earning citizenship in 2012. Alonso defected from Cuba in 2007 after earning 16 caps for the national team, and the island nation has not granted his request for a release (He doesn't believe it will ever come, either).
As much as a green card should have played a role in his stardom, perhaps it's yellow and red cards that cost him votes from around the league. Alonso is a midfield menace who plays as if winning the ball grants him access to oxygen.
[ VIDEO: Stunning NCAA comeback ]
"My position is different than the forward, but I try to play for me and for the team," Alonso said.
"My type of game is keeping the ball and is made on winning the ball. I don't score a lot of goals or do a lot of assists, but I try to provide the rest of my team. We've got a lot of players who can score a lot of goals and I'm very happy for them. I'm doing the job the coach told me to do, and I'm very happy to win that way."
Alonso keeps the ball better than anyone in MLS, at least this season. His 91 percent pass accuracy was only met by Darlington Nagbe, and Alonso completed 20 percent more of his passes than his Cascadia Cup rival. That 60 percent completion mark was also the best in the league.
Rather than risk boredom with a bevy of further stats on tackles, interventions, and passing, let's look at a chart that sums up his performance from advanced stats site Squawka. Amongst players who made more than 20 appearances this season, Alonso is second only to Giovinco in performance score (both are not MVP finalists, which is inexcusable).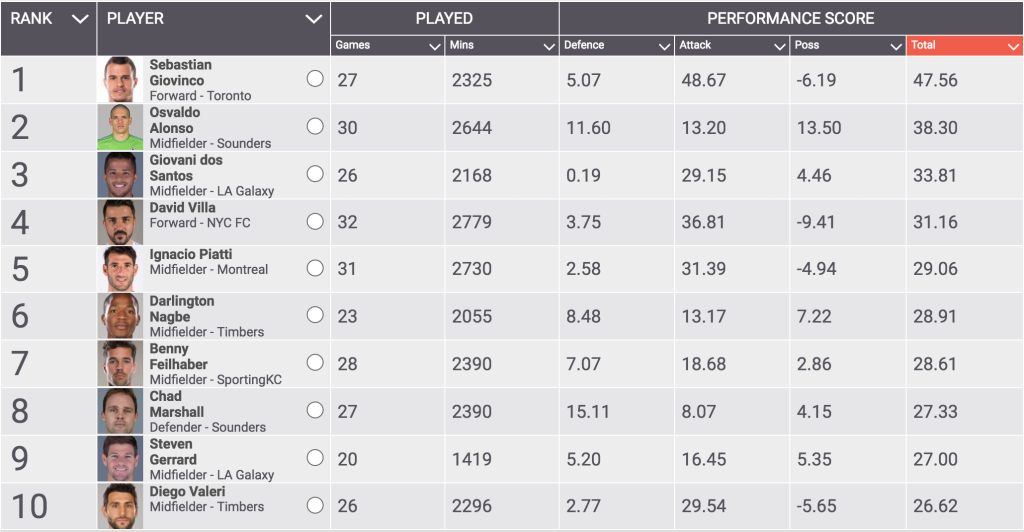 What's worth noting, though, is how many other members of the Top Ten earned their keep with a heavy contribution from one area. Alonso is in double digits in all three categories: 27th in defense, 48th in offense, first (by far) in possession.
That last number matters a lot to the MVP suggestion, too. Alonso's 13.5 score is more than five points better than the closest competitor (Real Salt Lake's Javier Morales).
To sum it up in a colloquial fashion, Alonso is a boss. Given his hard-nosed demeanor, you might think he loves digging into opponents and craves contact. That's not necessarily wrong, but his answer to the question of what gives him the most joy is interesting.
"For me, I like a good pass. Take the ball from the offense and open the game from the back. But everything I do, I like to do."
[ MORE: Relegation fears for Leicester City? ]
The love for a game and seeking out a better future for himself is what gave him the impetus to risk it all in defecting from Cuba, famously slipping away from his national teammates on a stop to an American big box store a decade ago.
"It was tough when I came here to make a decision because in that time, it was not sure if I would come back or see my family again," Alonso said. "I'm so lucky that I did that and I play soccer because not everybody can make that decision to leave behind family, friends, everything in Cuba and come to a new country for a game."
It's allowed him to start and raise a family in his new country, one in which he wants to do little else besides play soccer and spend time with his family.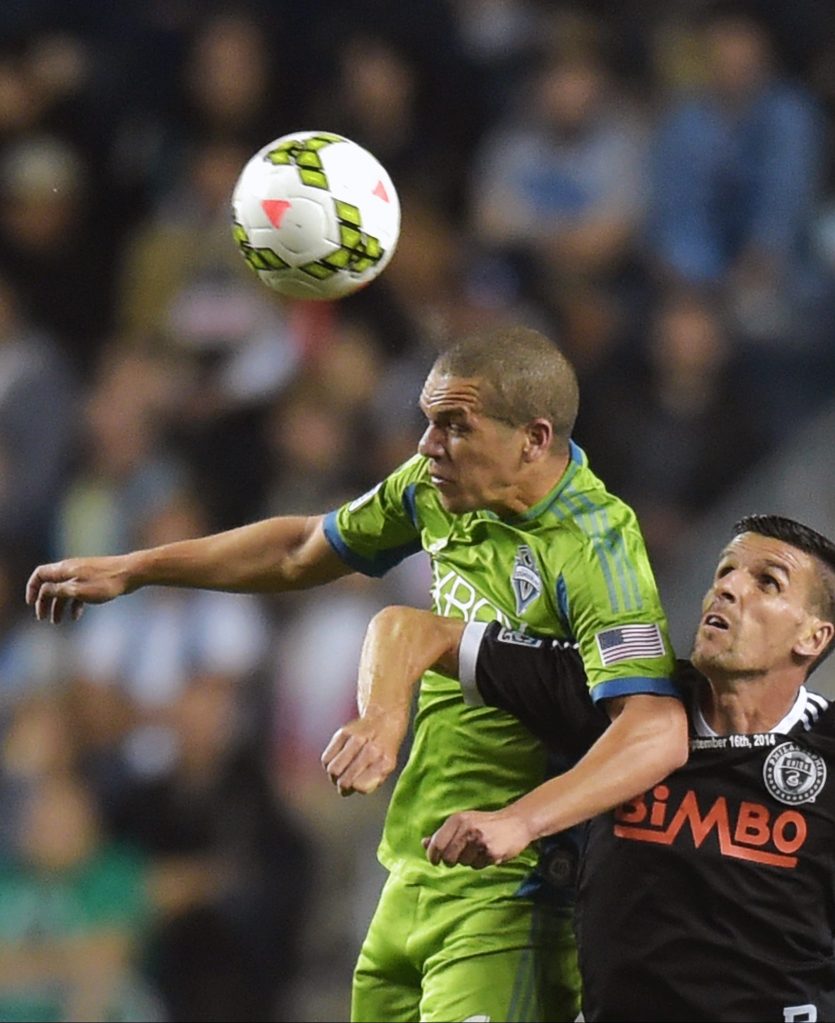 Alonso's immigrant story a clear success, there have been repercussions like the aforementioned lack of a release from Cuba. Even at 31, he's the player the United States needs right now in its MNT set-up. Alonso has spent years waiting for a response from Cuba, and fans even started a Change.org petition hoping for intervention from then-FIFA president Sepp Blatter.
Still, Alonso is fairly sure the door is closed, saying it's "I don't know but I don't think so. It's going to be difficult."
[ MORE: Offseason moves paying off for Newcastle ]
So he'll focus on leading his upstart Seattle Sounders onward into MLS glory. Alonso is one of the few players who was thriving with the Sounders before Sigi Schmid left the club, and his stock didn't tumble once Brian Schmetzer took the reigns. With Obafemi Martins' sudden departure and Clint Dempsey's heart troubles, Alonso has underscored the adjective in "Most Valuable Player".
He'll take the field again in Tuesday's first leg of the Western Conference final, battling with Jermaine Jones and the Colorado Rapids.
"I'm very lucky to be in this team for a long time, but my main thing is to give everything I have for the team I have," Alonso said.
Kickoff is 10 p.m. EDT.