He went down kicking and screaming until the very end.
After five years at the helm, Jurgen Klinsmann was fired as both the head coach of the U.S. national team and Technical Director of U.S. Soccer Federation (USSF) on Monday by USSF president Sunil Gulati, the man who tasked him with taking the USMNT to new heights on and off the pitch.
[ MORE: Klinsmann fired ]
Following two defeats to open up the Hexagonal round of 2018 World Cup qualifying last week, the German coach simply ran out of lives.
ProSoccerTalk understands senior USMNT players spoke with USSF following the defeat to Costa Rica and ahead of their upcoming meeting with Klinsmann in California on Monday where his fate was sealed. Not for the first time Klinsmann had pushed people within U.S. Soccer to breaking point.
In truth, he's been pushing everyone to the limit ever since he took charge but over the past 18 months a steady, then rapid, decline ended inevitably. He challenged the media, fans and the wider public to criticize his side more and if they did, then that showed the U.S. was becoming a better soccer nation.
Most viewed it as patronizing and labeled Klinsmann as arrogant. He often told them they didn't know what they were talking about as the most divisive figure U.S. soccer has ever seen called for a complete overhaul on how the game was talked and thought about, which many didn't feel there was a need for.
At the end of his five-year spell, we can now look at how it all unraveled but first, let's look back to his first-ever conference call as USMNT boss on Aug. 1, 2011. Klinsmann was asked about the identity of the U.S. national team and how he will try to develop that.
"Down the road, it should be our goal that we build something that people here in the United States identify with," Klinsmann said. "There comes a lot of ingredients into the pot for that – it's the culture here, the diversified culture, and it's the way people look at soccer, the way people have their own lifestyles. Step by step, we throw all those bullet points into a pot and see how we can make something positive and identifying out of it.

"I like that discussion. I like that topic, because that's what soccer is about. Soccer is about identifying with your favorite team, with your favorite style. Hopefully we can build something that the people really like. Obviously, it's also based on the player material that you have at the end of the day."
At the end of the day, it just didn't happen.
There was no progression of the style of play and fans don't identify with this team who are a mix between a side who can bunker in and grind out 1-0 wins and a side which believes they can play free-flowing attacking soccer even though their personnel suggests otherwise. The second half against Costa Rica told us that much. There was no cohesion. No identity. And, most damaging for Klinsmann, it seemed like the players just didn't care anymore.
The U.S. national team's identity is no different now than it was under Bob Bradley in 2011 and many could argue it's so muddled that the USMNT is now in a worse place, at least on the field, than it was five years ago when Klinsmann took charge. It's no surprise that Bruce Arena, fired as head coach by Gulati in 2006, is the man the USMNT is now looking to. They want to return to their old identity and have turned to a familiar face.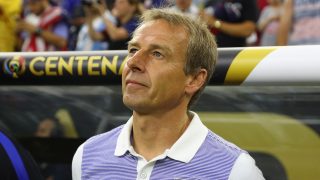 With so much tinkering tactically from Klinsmann, so many personnel changes and so many ideas thrown out there and then quickly thrown in the trash can, the legacy of the legendary German striker on the playing side of things didn't live up to expectations.
He guided the U.S. out of the "Group of Death" at the 2014 World Cup but their inadequacies against Belgium at the Round of 16 stage were there for all to see. He led them to a fourth-place finish at the Copa America Centenario this summer but apart from the 2013 Gold Cup victory and a few marquee friendly wins overseas against a weakened Netherlands and Germany in 2015, there's not much else to really look back on and smile about.
Over the past 18 months there's been much more to look back on and grimace about for fans of the USMNT.
First came the 2015 Gold Cup debacle which saw the U.S. finish fourth, its worst performance since 2000. Then came the CONCACAF Cup defeat to Mexico which robbed the USMNT of a Confederations Cup berth, another stated goal of Klinsmann's. Then came the defeat to Guatemala in the fourth round of World Cup qualifying after another Klinsmann tinker job. Then came the defeats to Mexico and Costa Rica over the past 10 days. The latter was the final straw.
But it wasn't like Gulati and U.S. Soccer hadn't been thinking about firing Klinsmann for a while.
On the 18-month time scale, ProSoccerTalk understands that key figures from within U.S. Soccer flew to meet privately with senior players on the USMNT as far back as early 2015 to discuss Klinsmann's position in charge of the team, such were the doubts from some.
This was coming. The end game was inevitable. And still, on the same day he was fired, Klinsmann launched another attack on the fans, U.S. soccer community and media which showed that over the five years he felt little progress had been made by those watching and supporting his team.
"I'm not afraid," Klinsmann said to the New York Times about maybe being fired. "What you need to do is stick to the facts. Soccer is emotional, and a lot of people make conclusions without knowing anything about the inside of the team or the sport. I still believe we will get the points we need to qualify, and I am even confident we could win the group… The fact is, we lost two games. There is a lot of talk from people who don't understand soccer or the team."
In the end it was clear from the inside that his team and Klinsmann weren't on the same page at all. That was a fact.
So many issues arose over his five years in charge, mostly with players and how some were treated differently than others while in camp, plus the likes of Landon Donovan, Benny Feilhaber and countless others publicly shamed by Klinsmann. His widespread disdain towards Major League Soccer and large chunks of his squad moving from Europe to MLS for big paydays hardly helped either.
Many players got preferential treatment. Many were snubbed completely. Many will not be sad to see the back of him. There are tales of some players being ridiculed by Klinsmann for ordering room service deserts while he then turned a blind eye when cigars and whisky were found in the hotel rooms of others. It was an uncomfortable tenure for many, but then, that's what Klinsmann wanted to create from the very start.
Some players will thank him openly for not only giving them the chance to play for the U.S. but in helping them find clubs in Europe and improving them as players. There was plenty of good which went on but there's no doubting that Klinsmann's departure has created a divide in the USMNT locker room with some players actively voicing their concerns over the coaching situation and others backing Klinsmann in his time of need.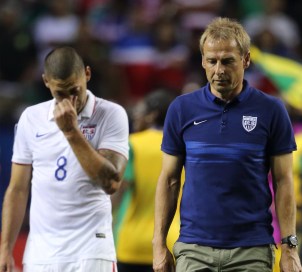 Those scars won't heal overnight and the U.S. national team locker room will not be a happy place the next time they come together. Luckily that isn't until January 2017 for a camp, when the vast majority of the squad won't be available anyway due to playing commitments in Europe.
Aside from the players, Klinsmann was so much more than a coach. He was installed as a figurehead for U.S. Soccer and he constantly tried to push the boundaries. He didn't change. He was stubborn. He repeated many of his criticisms time and time again.
Klinsmann's constant undermining of U.S. fans and the American media as a soccer nation wasn't pretty but it was a key part of his plan. It backfired.
He wanted to try and elevate the level of expectancy on the USMNT and behind-the-scenes you could argue he did plenty in his role of technical director which will help the U.S. in the future. Yes, his long stated goals of reaching the Olympics wasn't reached in both 2012 and 2016, but with so many young American players like Christian Pulisic, Cameron Carter-Vickers, Lynden Gooch and even John Brooks now coming through the ranks at top-flight clubs in Europe, Klinsmann's ideas are having some impact.
It helped that U.S. Soccer backed him financially to help shake up the youth teams and the direction of the program and when you look at performances at the U-20 World Cup in 2015 you can argue progress has been made, to a certain extent, at youth level. But like the USMNT, It just didn't happen as quickly as Klinsmann wanted.
Stagnation and regression set in over the past 18 months.
Klinsmann wanted progress and wanted fans and the media to ask more questions of not only him but his players. When the big questions came calling and criticism followed more frequently since early 2015, he then told everyone they didn't know what they were talking about.
Until the very end Klinsmann stayed true to what he believed in as it felt like he was almost on a one man crusade to try and elevate U.S. Soccer to the next level.
His final act of that ultimately unsuccessful crusade was to fall on his own sword which was made sharper by his own actions.
In the end, it was his only option.