A European minnow picked up a massive win against one of Germany's best, while both Premier League sides managed draw's in Wednesday's UEFA Champions League action.
[ MORE: Leicester moves into UCL final 16 ]
Arsenal conceded inside the final 15 minutes against Paris Saint-Germain in their 2-2 draw at the Emirates Stadium, while Manchester City left Germany with a 1-1 draw against Borussia Monchengladbach despite both sides finishing the match down a player.
Arsenal 2-2 Paris Saint-Germain — RECAP
Borussia Monchengladbach 1-1 Manchester City — RECAP
Elsewhere…
Upset special! Despite already having ensured a spot in the knockout phase, Bayern Munich's chances of topping Group D took a great tumble after suffered a shocking 3-2 defeat on Wednesday against Rostov. Douglas Costa blasted the visitors in front after 36 minutes, however, it was Rostov that responded emphatically. The Russian side leveled the match up prior to halftime, before Dmitriy Poloz put Rostov out in front from the penalty spot five minutes after the break. Juan Bernat quickly pulled Bayern back level, but the hosts had the final say when Christian Naboa beat goalkeeper Sven Ulreich on a brilliant free kick with under half an hour remaining.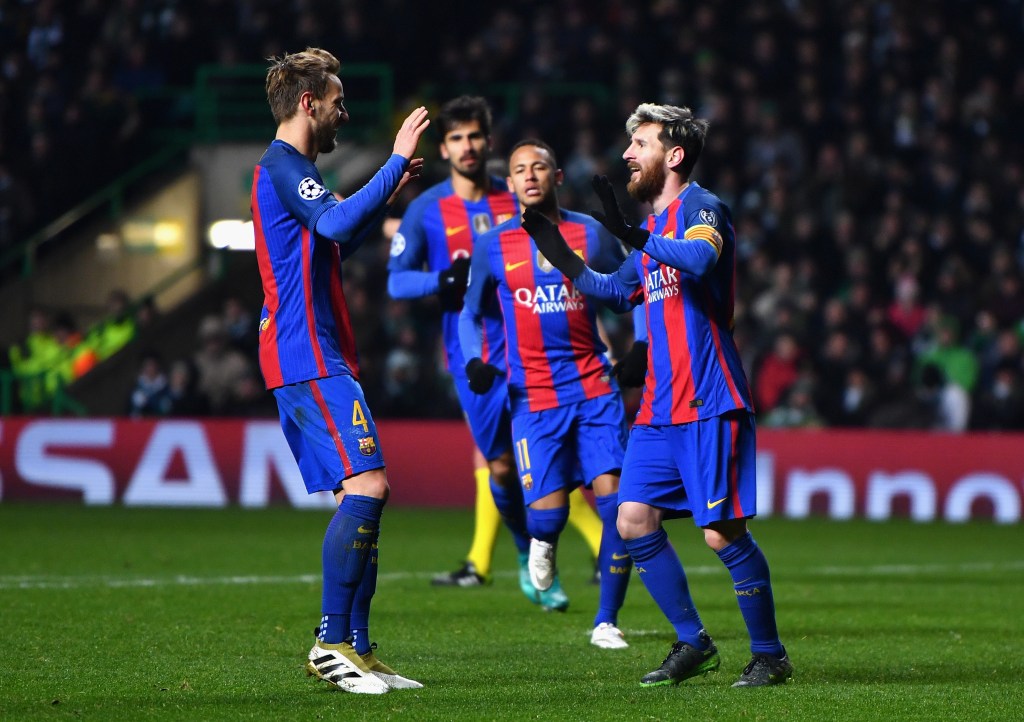 Lionel Messi's brace gave Barcelona a 2-0 victory over Celtic on Wednesday as the la Liga side locked up the top spot in Group C. The Argentine striker netted on both sides of halftime, first volleying a Neymar chip past the Celtic keeper and then hitting from the penalty spot in the 56th minute.
Benfica held a convincing three-goal advantage heading into the halftime break against Bestikas, but the hosts managed to pull three of their back in the second stanza for an exciting 3-3 draw. The visitors picked up the decisive lead inside of the opening 31 minutes, but goals from Cenk Tosun, Ricardo Quaresma and Vincent Aboubakar ensured that both clubs would share the points.
Atletico Madrid wrapped up Group D's top spot as Kevin Gameiro and Antoine Griezmann each tallied against PSV Eindhoven as the Spanish side won 2-0.
Elsewhere
Ludogorets 0-0 Basel
Napoli 0-0 Dynamo Kiev
Group A 
Arsenal — 11 pts
PSG — 11 pts
Ludogorets — 2 pts
Basel — 2 pts
Group B
Napoli — 8 pts
Benfica— 8 pts
Bestikas — 7 pts
Dynamo Kiev — 2 pts
Group C
Barcelona — 12 pts
Manchester City — 8 pts
Borussia Monchengladbach — 5 pts
Celtic — 2 pts
Group D
Atletico Madrid — 15 pts
Bayern Munich — 9 pts
Rostov — 4 pts
PSV Eindhoven — 1 pt
Follow @MattReedFutbol